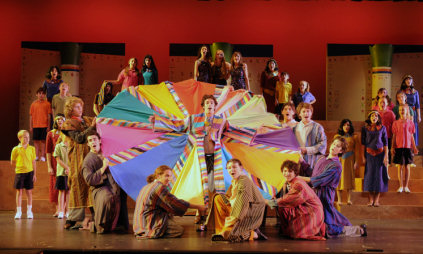 It ain't always easy being a Biblical figure. Especially way back in Genesis. Joseph managed to end the book on a high note, but it took dreams, fate, forgiveness and, according to Andrew Lloyd Webber and Tim Rice, it took a lot of great music ranging from hoedowns to disco to calypso to some old time rock 'n' roll. And San Diego Junior Theatre, with creative guidance by Director/Choreographer Holly MacDonald, had a lot of fun with their journey back to Those Canaan Days, all narrated with style, humor, and glamour by a trio of narrators – Katerli Crail, Devon Hollingsworth, and Marianne Zumberge.

David Siciliano is an easy-going, fun-loving Joseph who helps his father Jacob (Alex Dunbar) re-live his youth (David doing a handstand to help Jacob re-live it better). David never loses that youthful, childlike demeanor throughout the show. Even as his not-so-nice and innocent eleven brothers get jealous over the Technicolor Dreamcoat Dad gave to his favorite son Joseph, and as Joseph's dreams keep depicting a future in which their small stalks of corn are bowing down to his big one. What else are older brothers to do but beat the younger brother up and throw him in a pit (in this case, the orchestra pit – a nearly bottomless cavern that has Joseph hollering all the way down. Twice!). But the brothers are kind enough to pull him back up when they see the chance to sell him into slavery when a nomadic group of Ishmaelites come riding by on their camel – a camel that spits into the first several rows of the theatre at every opportunity.

Thus Joseph begins his life as an Egyptian slave to the wealthy businessman Potiphar, whom Jacob Sampson plays with a comically affluent voice and style, while blissfully naïve as to his scandalous wife (Sarah White) who spends her days trying to seduce her husband's slave, a frightened Joseph, who has risen up to become the chief slave in the house. Joseph's frantic attempts to escape her advances are foiled by Potiphar's other jealous servants, and poor Joe ends up in bed with Potiphar's wife, large feathers concealing them as they cause "a mighty rumpus," finally causing Potiphar to realize the truth and go into anguished melodrama as he rushes up to the bed, scattering the feathered fans, and discovering his wife and Joseph in bed together…playing patty cake. But that was apparently bad enough, and he sends Joseph to prison.
And there, when all seems lost, the voices of the children's chorus begin to pick up Joseph's spirits. Before you know it, he's on a roll interpreting dreams including the visions of the king of Egypt, with Alex Dunbar as the Elvis-like Pharaoh. Unfortunately, Joseph wasn't able to forewarn anyone that the king's microphone was going to be out (you know heads are going to roll for that!). But Joseph does warn Pharaoh about the upcoming famine, getting himself promoted to Egypt's #2. And Joseph's poor, famine-plagued brothers in Canaan may be bowing down to Joseph yet.

The ensemble of brothers and their wives do a great job in several scenes. Kevin Barber heads up the country-western dirge/hoedown One More Angel in Heaven as he leads the group in broken-hearted despair while mourning Joseph for their father's sake, and rowdy hootin' and hollerin' as soon as Jacob steps out. Morgan Hollingsworth starts Those Canaan Days on the violin, but with a Fiddler on the Roof tune. He reacts coolly to a verbal correction, smoking away in silent French disdain, before finally playing the right melody and leading his brothers in a hilarious rendition of the French ode to starvation (whilst one of the brothers shakes salt on anyone or anything he can find – whether it's a fellow brother of a doomed fly buzzing about the hungry brothers). Ryan Luster is good as Judah, leading the fun-loving Benjamin Calypso, encouraging the whole audience to join in and help smooth over his little brother Benjamin's run-in with the law over a cup allegedly stolen from Pharaoh's household.

That Pharaoh's household is part of Heidi Atchison's elaborate set that includes hieroglyphs embedded in the pillars – some of which light up like jewels. Costume Designer Lynn Choplin has the actors in several great outfits including some funky 70s clothes for their big, electric disco number Go, Go, Go Joseph and, of course, Joseph's fateful Technicolor Dreamcoat.

Photos by Ken Jacques.

Performs April 25 - May 11, 2008

Rob Hopper
National Youth Theatre

~ Cast ~

Joseph: David Siciliano
Narrators:
Katerli Crail
Devon Hollingsworth
Marianne Zumberge
Jacob/Pharaoh: Alex Dunbar
Rueben: Morgan Hollingsworth
Simeon: Kevin Barber
Levi: Robert Turner
Napthali: Jacob Bieber
Issachar: Teddy Fantano
Asher: Philip Greenberg
Dan: Julian Montijo
Zebulun/Potiphar: Jacob Sampson
Gad: Vincent Pasquill
Benjamin: Alexander Salomon
Judah: Ryan Luster
Jacob's Wife/Potiphar's Wife/Ensemble: Sarah White
Jacob's Wife/Ensemble:
Rissa Dickey
Gabrielle Jarrett
Rachel Liuzzi

Wives:
Hannah Aarons Bains
Betsy Dunbar
Alana Fineman
Lauren Green
Casey Jaquez
Nicole Jaquez
Hannah Lo
Kimberly Marron
Jamie Myers
Olivia Peck
Molly Salas

Ensemble:
April Kaneaster
Amanda Kleske
Paige Pendarvis
Alden Phinney
Dakota Ringer
Spencer Williams

Children's Ensemble:
Tatiana Aarons Bains
Holly Barnhart
Hallie Bodenstab
Alexandra Brady
Gage Bulette
Samantha Canela
Brooke Collins
Dylan Hoffinger
Gillian Kelly
Barrett Lo
Peter Myers
Sophia Oberg
Caroline Peck
Casey Purlia Johnson
Alexa Querin
Scott Roberts
Jade Verbick
Christopher Weeks
Nathan Wetter
Madeline Williams

Director/Choreographer: Holly MacDonald
Music Director: Patrick Marion
Assistant Director: Torre Younghans
Set Design: Heidi Atchison
Lighting Design: Matthew Novotny
Costume Design: Lynn Choplin
Hair/Make-Up Design: Walter Allen
Sound Design: Robin Whitehouse
Properties: Karen Bohrer