Night of the Living Dead
By Lori Allen Ohm
From the George Romero/John Russo Classic Film
Fallout from a satellite probe shot to Venus returns to Earth carrying a mysterious radiation that transforms the unburied dead into flesh-eating zombies. Seven people trapped in an isolated farmhouse, held hostage by the ravenous ghouls, begin to turn on each other as the dead encroach. A gripping terror-filled monochromatic play that brings all the fright of the cult classic to life. This blend of thrilling horror laced with touches of black humor envelops the audience in the action and unfolds into a shocking theatrical ending.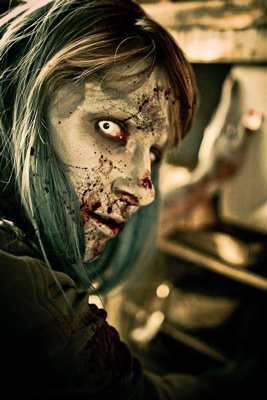 Directed by Layne Rackowsky
Auditions:
August 16
Ages 12-19 years of age
By appointment, Please call 623-815-7930
Please prepare a 1 minute monologue.
Callbacks August 18 6-9:00
Performances October 10-November 2, 2014
Character List
Barbara
Johnny
Harry Cooper
Helen Cooper
Karen Cooper
Tom
Judy
Ben
Corpse
Radio Voice-over
News Anchor
Dr. Grimes
Bill Bardough
Chief McClellan
Deputy #1
Deputy #2
Zombies
If cast there is a $100 production fee. Some scholarships available. There is no fee to audition.
---
The Tales From the Arabian Nights
Director: Chris Hamby
This is a delightfully humorous and action-packed re-telling of some of the tales from THE THOUSAND AND ONE NIGHTS. The sultan, bewitched by a magic scimitar, decrees that he will marry a new bride every evening and chop off her head the next morning. To save her neck, clever Scheherazade tells her husband a tale which isn't quite completed by the dawn's early light. So he postpones the execution a day. Scheherazade keeps up the parade of stories for a thousand and one nights, finally winning him from the scimitars evil spell. The show is brought to life by an ensemble of actors that rarely ever leave the stage.
Auditions open to ages 8-19 (Please check dates)
Ages 8-12 Audition July 27 1-3:00pm
Ages 13-19 Audition July 28 6-9pm
Callbacks July 29 6-9:00
First Rehearsal July 30 6-9:00
Performances September 12-28
Open Call, no appointment needed. Please be on time. Late auditioners will not be seen.
Production fee $100.00 if cast, no fee to audition. Scholarships are available.
Auditions will consist of cold readings from the script. Please be prepared to sing and dance if needed at callbacks. (There are 3 short, simple songs in the show.)
Shariar-the Sultan
Scheherezade, a Stoyteller
Dalila, the Sultanna
Mustafa, a mysterious Saleman
Omar, the Soothsayer
Grand Vizier, advisor to the Sultan
Dunyazad, sister to Scheherezade
Khalifah, a Fisherman
Fatimah, a Wife and Mother
Ali Baba, a clever Thief
Kassim, dim witted brother to Ali Baba
Morgianna, a clever Servant
Captain, of 39 thieves
Thief, 1 of 39
Mohammed, a Snake Charmer
Zubaida, his Nosey Wife
Shukat, a Prince
Ming, a Princess
Speedy, a Messenger
Goblin
Imp
Demon
---
Be Part of the Gerry Cullity Original
June 29: Calling all Stars...Bring us
Your 'A' Game & Audition with DST!
General Auditions. Sun., June 29, 5pm.
'Friends' Auditions. Friends of Desert Stages Theatre audition Sat., June 28, beginning at 9am. Learn how you can join Friends of Desert Stages Theatre by contacting the Box Office!
Ages. This show is a DST On Stage Production for actors 3 to 19
Note. No experience needed. Please wear appropriate dance shoes; no flip-flops or sandals will be allowed.
Show Run. August 22 - September 21

Book by Lewis Carroll
Music & Lyrics by Gerry Cullity, founder, Desert Stages Theatre
Original Adaptation by Gerry Cullity, founder, Desert Stages Theatre

Enjoy Gerry Cullity's original adaptation of this classic, including original music and lyrics. Join the adventures of young Alice as she explores a zany wonderland in this children's classic by Lewis Carroll. On an idle afternoon, by chance, following a White Rabbit who disappears into its burrow, Alice herself stumbles into the rabbit hole and soon is immersed in a colorfully and exciting Wonderland. Whimsical songs and discoveries surround her as she encounters a crew of madcap characters including the Queen of Hearts and, yes, an army of playing cards.

Desert Stages Theatre
4720 North Scottsdale Road
Scottsdale, Arizona 85251
p 480.483.1664 f 866.717.2702
www.DesertStages.org