SummerWorks Camps Begin May 30
Broadway Bound 1 is THE summer camp for kids 7- 18 years of age who love musical theater! Campers will work with a musical director and choreographer to perform famous Broadway numbers for our showcase at week's end. No previous music or dance experience is necessary to enjoy this fun-filled workshop that runs May 30-June 2.
SummerWorks is part of YouthWorks Academy arts and education programming for ages 3– 18 year olds. YouthWorks Academy classes and camps teach creative approaches to life skills with exciting and enriching themes that inspire and instill a love for the performing arts.
For our littlest rising stars we offer ourImagination Series, beginning with Once Upon a Time… May 30-June 2 from 9am-12pm. Our youngest campers are able to use their imaginations to bring fun characters to life through dramatic play, art, and music. These camps are a great introduction to theater and the performing arts. Each camp has a new theme so your actor can take one or all three sessions and have a unique creative experience every time. Each session is ideal for both boys and girls aged 3 – 6 years.
---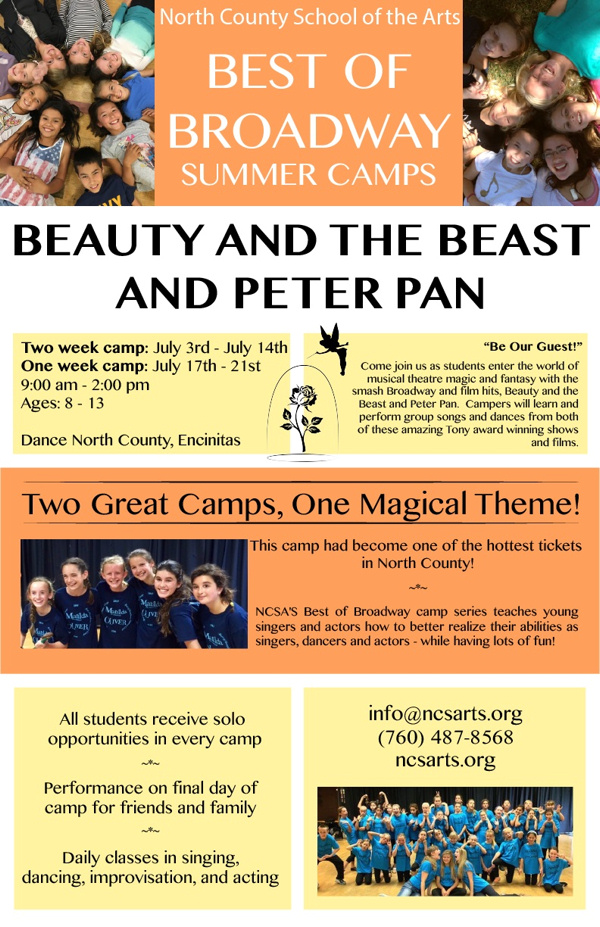 ---
Musical Theatre of Anthem Announces Its
2017 Summer Performing Arts Institute
Anthem, Ariz. Apr. 25, 2017 – Musical Theatre of Anthem (MTA) will host its annual Summer Performing Arts Institute June 26-30 for ages 6-18. Participants will learn from award-winning, experienced directors, vocal directors and choreographers, many of whom will also be directing shows for the upcoming season.
Summer Performing Arts Institute (SPAI)
Ages: 6-18
June 26-30 (M-F)
9:00 a.m. – 3:00 p.m.
Cost: $275
Whether you have participated in MTA's SPAI or it is your first year, you are guaranteed to learn a TON of material in dance, tap, voice, acting, and improv. The instructors have Broadway, Off-Broadway, World and National Tour experience, and are awarding-winning in their disciplines. Participants will rotate between the various classes and instructors in their specialties. The material will include selections from our upcoming season! There will be live performances showcasing what the participants have learned in the classes.
Workshops are held at Musical Theatre of Anthem, 42323 N. Vision Way, Anthem, AZ 85086. Space is limited! Register online at www.musicaltheatreofanthem.org. Payment is due upon registration. A 10% sibling discount is available. Scholarships are also available for those who might not otherwise be able to participate . See website for details.
About MTA
Musical Theatre of Anthem (MTA) is an award-winning, non-profit theater company located in Anthem, Arizona. The mission of MTA is to develop youth and adults within the field of performing arts while enhancing their intrinsic creativity and brokering their vast talents. MTA trains and educates youth so that they can become the artists, patrons, and leaders of tomorrow while providing opportunities to adults that empower them and foster their creativity. MTA's principles include casting all who audition in select productions, presenting high quality shows that everyone can enjoy, and providing a positive environment where performers can practice teamwork and communication skills while experiencing the pride of accomplishment. Supported in part by the Arizona Commission on the Arts which receives support from the State of Arizona and the National Endowment for the Arts.
---
BROADWAY COMES TO WAYNE AS ASPIRE PAC OFFERS A MASTER CLASS WITH TONY-NOMINATED ACTRESS KERRY BUTLER
Wayne, NJ, April 4, 2017 – On Sunday, April 30, Aspire Performing Arts Company will bring Broadway to the 'burbs, welcoming Tony Award–nominated actress Kerry Butler for a special Broadway Master Class!
This one-day Master Class for aspiring performers ages 11–18 will focus on audition technique and include one-on-one instruction and feedback from Ms. Butler. Students will receive valuable insight into the professional performance process, and learn the keys to a great audition, including selecting the right song, developing a character, and preparing an audition binder.
"I love working with and helping young people achieve their dreams," Ms. Butler said. "Their enthusiasm is infectious! They are so eager to perform and learn, and it is a great reminder of why I chose this profession."
Kerry Butler was nominated for a Tony Award for Best Actress in a Musical for Xanadu. Other Broadway credits include Belle in Beauty and the Beast, Disaster!, Catch Me If You Can, Sherrie in Rock of Ages, Audrey in Little Shop of Horrors, Penny Pingleton in the original cast of Hairspray, Eponine in Les Misérables, Blood Brothers, and The Best Man. On television, she has appeared on 30 Rock, The Mindy Project, Rescue Me, Law and Order, Elementary, The Mysteries of Laura, White Collar, Blue Bloods, One Life to Live, and most recently the Gilmore Girlsreunion for Netflix, and the feature film The Miseducation of Cameron Post. She has an album of Disney songs entitled Faith, Trust, and Pixie Dust.
"Since starting Aspire PAC in 2011, it has been my goal to not only provide local children and teens with the chance to participate in theatrical productions, but also to give them opportunities to work directly with Broadway professionals and gain a better understanding of the theater industry," said President and Artistic Director Lisa Beth Vettoso. "There is no substitute for exposure and access to the best talent, and we're thrilled to be able to provide that in this Master Class with Kerry Butler."
Date: Sunday, April 30, 2017
Time: 12:30PM-4:30PM
Location: Our Lady of Consolation, 1799 Hamburg Turnpike, Wayne, NJ 07470
Ages: 11-18
Cost: $135 per student
Limited space is available. For more information and to register, visit Aspire PAC at www.aspirepac.com or call 201-220-4933. You can also find Aspire PAC on Facebook, Twitter, and Instagram.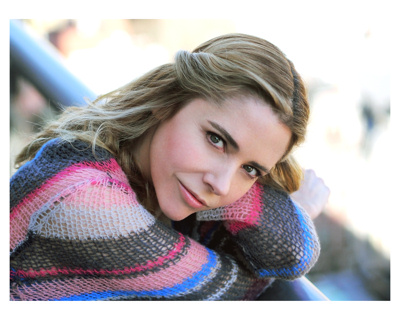 ---
Desert Foothills Theater

Tyce Green Class "Rock the Performance" Masterclass





Sunday March 19, 2017
5:30-8:30


CLASS SIZE EXTREMLY LIMITED

for Tyce Green Masterclass!

Bring your best song—the one that fits YOU. We're going to find the highlights of your piece and show the most honest side of your character through technique, emotion and physical behavior.

It's very important to choose a song that you LOVE, one with which you connect. Everyone in the participation class will have an opportunity to showcase their song and work to friends/family at the end of the evening.

Tyce Green is an actor, audition coach, and producer in the Broadway community. He has performed in and produced shows with numerous Tony Award winning, nominated, and established Broadway performers. As an actor, he has appeared Off-Broadway and in numerous regional productions around the country. As a vocal & acting coach, he specializes in auditions, college audition prep, and is a go-to source for building repertoire for acting and musical theatre performers.


Performance: March 19, 8:30-9:30PM. Each masterclass participant gets two FREE tickets to the cabaret.

Masterclass participant fee: $75
CLICK HERE to register as a class participant!


Class may be audited (includes ticket to the performance) for $20.00.

Performance-only tickets $15.00.
Use button (Buy Tickets Now, below) to purchase audit

or cabaret-only tickets.




Can't make this masterclass? Spotlight Youth Theatre also has one on Saturday, March 18. Click here for their facebook page where it's listed.



IMPROV IT
(ages 12-17)

Join Javier Gilmore for improv fun! Learn long form and short form improv skills in this 6 - class session. Grow performance techniques through games, activities, and exercises which will also build confidence and social skills. Register today!
Ages 12 - 17
Day/Time: Tuesdays 5 - 6:30pm
Dates: April 4th - May 9th, 2017
Location: Holland Community Center
---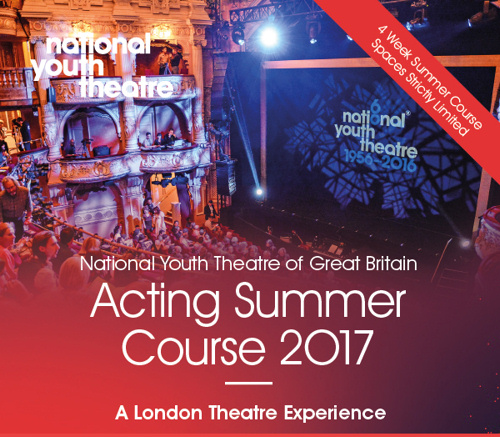 ---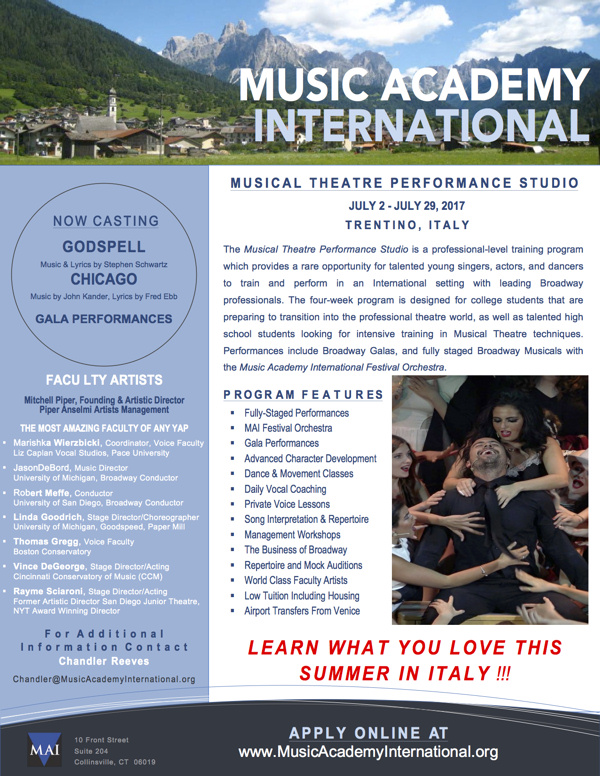 ---
Join your friends at Piper this summer for the best July ever!

Musicals for all ages, Starlings improv, Shakespeare, mystery, pirates, field trips and more.

---
STARLINGS
Ages 7 - 11
One Week Programs
Actor's Tool Kit An Improv Workshop

Two Week Programs
The 100 Dresses
As You Like It
Musical Theater
Robin Hood

---

FOUR WEEK PROGRAMS
Ages 11 - 17

Piper Theatre Workshop
As You Like It with Lisanne Shaffer
Clockwork
The Mystery of the Yarn Barn with Aaron Novak
Pippi Longstocking and the Pirates with Lindsey Sproul

The Musicals
Hatch with Ryan Michele Woods
Pippin with Meredith Hackett


Learn more on our website
pipertheatre.org
---
Please feel free to email or call us for more information: 718-768-3195 or register@pipertheatre.org.

Registered already? Pass this email on to your friends!
---
YouthWorks Academy
New Spring Class Schedule
Spring into 2017 with a YouthWorks Academy class! YouthWorks Academy offers a wide range of arts education classes where students ages 3 to 18 with varying degrees of skill and experience are instructed by local and national professional teaching artists. Theater Works youth programs are especially geared towards fostering young performers in developing and honing their acting and stage presence skills. TheAcademy program teaches life-skills, enriches self-esteem, and broadens horizons with a focus on building confidence through individual and group achievements. Academyclasses culminate with a classroom sharing or performance of understanding for friends and family to attend.
Intro to Musical Theater Voice
This class is designed to help students improve and enrich their musical theater vocal skills for auditions and performances. Special focus is placed on teaching students how to connect to the material of their songs through solo, duet and trio work in order to provide the most convincing performances possible.
February 4 – April 22 (No class on March 18 & April 1)
7-12 years of age
Saturday 10am-11am
$175
Enroll HERE
Teen Musical Theater Voice
In this teen only class students will continue to explore the relationship between voice and breath with character and singing. Emphasis will be placed on auditioning for musical theater productions as well as on solo and duet vocal work.
February 4 – April 22 (No class on March 18 & April 1)
13-17 years of age
Saturday 11:15am-12:15pm
$175
Enroll HERE
Home School Playmakers Presents, Fractured Fairytales
Join us for a special day time class! Students enrolled will be cast in a zany and wacky retelling of some of the most familiar fairytales but with a definite twist. This class will culminate in a performance for family and friends.
February 9 – April 13
7-17 years of age
Thursday 10:00am-12:00pm
$195
Enroll HERE
Acting 101
What's a monologue? Where is downstage? How do I create a character? All of these questions and more will be explored in this beginning acting class. Students will be given an overview of acting and its many parts and pieces. This class is perfect for the young performer still navigating the world of the theater and for those with no experience.
February 2- April 6
7-12 years of age
Thursday 5:00pm-6:00pm
$175
Enroll HERE
More Acting for the Stage
Our continued teen acting class will focus on scene work and audition prep. This class will be a great continuation for some performers and those new to the stage. Prerequisite: Acting for the Stage or previous Theater Works summer camp or Academy acting class. Contact Chris Hamby at chamby@theaterworks.org if instructor approval is needed or requested.
February 1- April 5
13-17 years of age
Wednesday 5:00pm-6:00pm
$175
Enroll HERE
---
Theater Works
Peoria Center for the Performing Arts
8355 W. Peoria Avenue
Peoria, Arizona 85345
boxoffice@theaterworks.org
623-815-7930
---
SPRING 2017 CLASS REGISTRATION IS OPEN!
CLASSES START JANUARY 30TH

CHECK OUT:
POP STAR MUSICAL (ages 8 - 12)
Pop Star Musical will blend musical theater style with pop music for a fun, energetic, musical theater class. Students will learn one song each and a group number all while dancing and singing like a pop star! Students need jazz shoes and clothes for easy movement.
JAZZY FEET (ages 8 - 12)
Join Jazzy Feet and learn the basics of ballet and jazz for musical theater. Students will dance to the music from the musical Annie along with similar music. Dance along with this well-known, favorite musical and learn how to move those feet for your next audition. Students need jazz shoes and comfortable clothes to move in.
INTERMEDIATE ACT IT OUT! (ages 8-12)
In this intermediate level class, students will build on skills learned from previous Act It Out classes. They use the foundation from the basic skills they've learned and apply it to learn more about creating a character. An in-depth study on character development can help students shine in auditions and performances alike! Come learn and play in this weekly class.

CLICK TO OUR WEBSITE FOR MORE INFORMATION