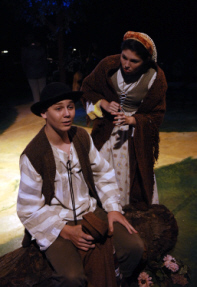 Parents would forever protect their children from the dangers of the woods, but even if you put your child all alone in a tall tower with no entrance except by climbing up her very, very long hair, somehow the world will find a way in. It's how we respond to these dangers, as an individual and as a community, that can end up defining us. Even if it kills us.

Such are some of the themes that Stephen Sondheim explores in his version of Grimm's fairy tales that combines Cinderella, Jack and the Beanstalk, Little Red Riding Hood, Rapunzel and others into a brilliant musical. It's all wrapped around the story of a normal couple, a baker and his wife, who are childless due to a witch's curse. The witch pushes them into a scavenger hunt through which we catch glimpses of the other fairy tales in progress. When the first act ends, all seems well and set to end happily ever after. But the second act explores what happens after happily ever after…

Jacob Sampson and Maddy Barker are the normal people, a poor baker and his wife who are finally told by their neighbor, the Witch, that she has cursed them with a childless existence unless they can get her a cloak as red as blood (Little Red Riding Hood?), a cow as white as milk (Jack may sell his for some magic beans), a slipper as pure as gold (like the kind Cinderella might wear to a ball), and hair as yellow as corn (Rapunzel has more than enough to spare). Both Jacob and Maddy keep us grounded with their humanity – the heart and soul of the show with good understated humor.
And then there are all the colorful characters they meet along the way. Catie Marron is the cruelly pragmatic, slightly vindictive Witch next door who is also good as the overly protective mother of Rapunzel. Before too long, she will transform from a hunched and hideous hag into a beautiful but frustratingly powerless witch who warns the other villagers about The Last Midnight. Nicki Elledge is right on in her portrayal of Little Red, reacting to the big, bad Wolf (the towering Donny Gersonde) with a little nervousness and a lot of excitement, so focused on the exhilarating danger that she's hardly listening to the wolf's lyrics. She also does a nice job of getting her blood-red cloak back from the Baker, and later giving it back to him with a hesitant toss inspired by concepts she is just beginning to understand. She also wields a butcher knife with glee – a possibly inheritable trait, as Red's Grandma (Sarah White) has a similar disposition. Jenna Locke plays Cinderella, a calm and nicely subtle presence who wearies of running from her persistent Prince Charming. Her parting from the charming (but not sincere) prince is done with a nice mixture of sadness, acceptance, relief, and gained wisdom. And then there's Jack. David Siciliano is hilarious and creative – a dimwitted but extremely loyal youth whose love of his pet cow and his mom are absolute, as is his fear of his angry mom played by April Kaneaster (when he gets in trouble, he runs away from mom while protectively covering his behind).
Other great performances come from said cow with Matthew Reilly acting exactly like an excited cow would act whenever Jack is around, trying to get away from non-Jack owners, and playing dead. Morgan Hollingsworth as Cinderella's Prince provides a great voice with a royal lilt and nice singing, which includes his Agony duet with his brother prince played by Donny Gersonde who pursues an amusingly bored Rapunzel (Jackie Thornton) who strums her fingers on her lonely tower perch and has a sure-fire way of flicking her tears into her blinded prince's eyes to cure him – before she goes completely crazy. Jordan Bunshaft makes for a spry Mysterious Man who duos as the Narrator, guiding us through the musical fairy tale. And the ensemble takes us into and through the woods, imparting wisdom, laughter, sadness, and entertaining characters throughout the journey.

Directors Desha Crownover and Katie Rodda clearly have a great vision for the show that the cast and designers achieve – hitting the humor and the morals of the tale with terrific success. San Diego Junior Theatre puts this one on in their intimate confines of the theatre-in-the-round space at The Theatre on Third in Chula Vista, Tony Cucuzzella's set and the actors' movements taking advantage of the setup, and allowing us to be right there in the middle of it. In fact, most of us have to literally walk through the woods to get to our seats.

Performs September 20 - 30, 2007.

Rob Hopper
National Youth Theatre

~ Cast ~
Jack: David Siciliano
Steward: Jacob Fineman
Narrator/Mysterious Man: Jordan Bunshaft
Wolf/Rapunzel's Prince: Donny Gersonde
Cinderella's Prince: Morgan Hollingsworth
Baker: Jacob Sampson
Cinderella's Father: Dakota Ringer
Little Red Riding Hood: Nicki Elledge
Rapunzel: Jackie Thornton
Jack's Mother: April Kaneaster
Stepsisters: Casey Jaquez, Hannah Leavenworth
Baker's Wife: Maddy Barker
Cinderella: Jenna Locke
Little Red's Grandmother: Sarah White

Snow White/Bird/Tree: Maddy Bersin
Witch: Catie Marron
Cinderella's Stepmother: Rissa Dickey
Sleeping Beauty/Bird Tree: Paige Pendarvis
Bird/Tree/Giant: Kimberly Marron
Cow: Matthew Reilly
Cinderella's Mother/Tree: Desiree Corriente

Directors: Desha Crownover and Katie Rodda
Additional Musical Staging: Emily Shackelford
Music Directors: Patrick Marion and Desha Crownover
Production Manager/Set Design/Lighting Design: Tony Cucuzzella
Costume Design: Lynn Choplin
Stage Manager: Michael Barahura