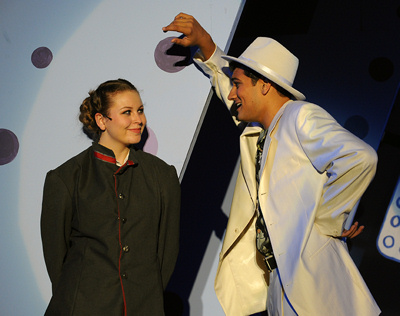 THE SHOW:
Music and Lyrics by Frank Loesser, Book by Jo Swerling and Abe Burrows, based on a story and characters by Damon Runyon.
When it comes to predicting the odds on love between Guys and Dolls, all bets are off. Can brazen, cocky gambler Sky Masterson convince holy roller Sister Sarah Brown to leave her New York Christian mission long enough to have dinner Ė in Havana? Floating crap game organizer Nathan Detroit bets an awful lot of lettuce that he canít. But Adelaide, Nathan's fiancť of fourteen years, warns him too late that no matter how much of a lowlife a guy is, you can never be too sure some doll won't fall for him. Especially after a couple glasses of Bacardi-flavored milk in this classic romantic comedy musical of no-good gamblers and their disapproving dolls who want them to go legit. Logic says they should never be together, but love overrules all such logical nonsense and inspires one of the great musical scores including Lucky be a Lady, Sit Down Youíre Rockiní the Boat, Iíll Know, Iíve Never Been in Love Before, and the title song.
THE PRODUCTION:
San Diego Junior Theatre remounts the first show I saw there twelve years ago, with Steve Anthony both directing and designing the choreography for this classic. The show is set amongst Jay Heisermanís almost Seussical city set pieces and lots of David Peltonís eye-catching costumes.
Benjamin Shaffer is a fun and quirky Nathan Detroit who delivers a heartfelt Sue Me to his frustrated, eternal fiancť Adelaide. Elizabeth Morse is a hoot as said fiancť with great expressions and amusing creative touches throughout including the Lament of her boyfriend-induced medical condition. Talia Berkstein is our Sister Sarah, her lovely vocals shining in If I Were a Bell and her Iíve Never Been in Love duet with gambler Sky Masterson (Isaac Brieske), Isaac later leading a dynamic Luck Be a Lady scene.
Itís a deep cast with talented guys and dolls throughout. The trifecta of Ben Sutton, A.J. Foggiano, and Corey Hable lead us through the starting gate with the Fugue tor Tinhorns, with Ben and A.J. also teaming up for a terrific title song quinella. Spencer Williams delivers a tender More I Cannot Wish You to Sarah as Arvide. Alexis Park is a hysterical physical comedian as the mission bandís paranoid cymbals girl who faces the wild world of New Yorkís sinners with nervous courage and her comforting cymbals always at the ready. The entire band of mission musicians, residents and tourists of New York City, Hot Box gals and gambling guys keep the city humming throughout with strong performances from the opening introduction to big city life to A Bushel and a Peck, the Luck Be a Lady dice game, and Ben Sutton leading the cast through a soulful rendition of Sit Down, Youíre Rockiní the Boat.
Performed July 26 - August 11, 2013
Photos by Ken Jacques
Rob Hopper
Facebook
Instagram

Executive Director
National Youth Arts
~ Cast ~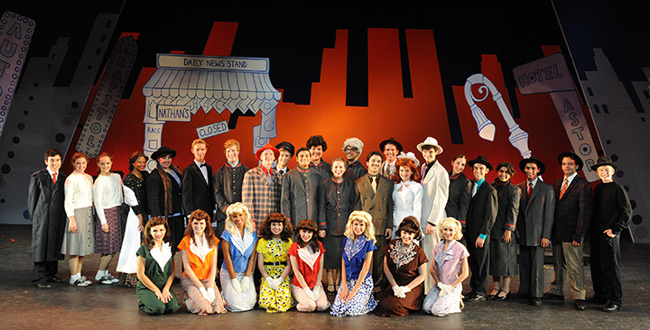 Add Artist Page

Sarah Brown: Talia Berkstein
Sky Masterson: Isaac Brieske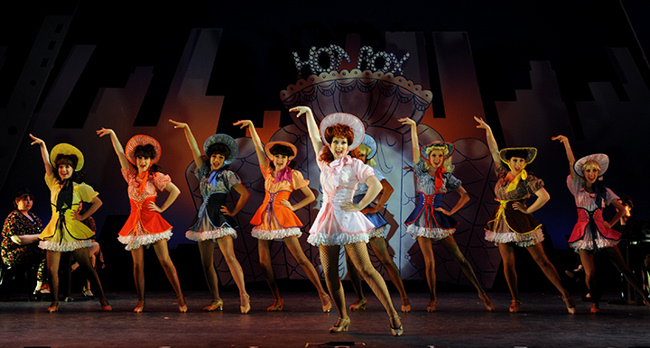 Adelaide: Lizzie Morse
Nathan Detroit: Ben Shaffer
Nicely-Nicely Johnson: Ben Sutton
Benny Southstreet: A.J. Foggiano
Big Jule: Patrick Gates
Harry the Horse: Corey Hable
Arvide: Spencer Williams
General Cartwright: Alexa Bitsko
Lt. Brannigan: Darian Spencer
Gambler's Chorus:
Alex Huber
Johnathon Michel
Joshua Morones
Lane Palhegyi
Scott Roberts
Jacob Rodebaugh
Hot Box Girls:
Alexa Cohen
Brooke Collins
Alana Fineman
Lilith King-Smithson
Charly Montgomery
Kelly Prendergast
Hanna Samson
Kayla Solsbak
Cubans/Mission Chorus:
Kendall Buggs
Kimberly Marron
Sarah Murray
Alexis Park
Casey Purlia Johnson
Madeleine Williams

Director and Choreographer: Steve Anthony
Music Director: Richard Morrison
Set Design: Jay Heiserman
Lighting Design: Matthew Novotny
Costume Design: David Pelton
Hair and Make-up Design: Francia Cohen
Sound Design: Robin Whitehouse
Properties: Karen Bohrer