THE SHOW
Book by Alan Knee, Music by Jason Howland, Lyrics by Mindi Dickstien, based on the novel by Louisa May Alcott
Based on Louisa May Alcott's own family experiences (and novel), LITTLE WOMEN, follows the adventures of Jo, Meg, Beth and Amy March as they grow up in Civil War America. The beloved story of the March sisters is timeless and deals with issues as relevant today as when they were written. This wonderful narrative has been brought to life as an exhilarating musical filled with glorious music, dancing and heart. LITTLE WOMEN embodies the complete theatrical experience, guaranteeing a night filled with laughter, tears, and a lifting of the spirit. The powerful score soars with the sounds of personal discovery, heartache and hope -- the sounds of a young America finding its voice.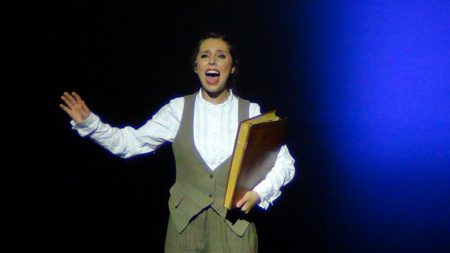 THE PRODUCTION
Jackie Foster starred in the role of the passionate and adventurous Jo March. Miss Foster completely embodied Jo's spirit with amazing depth which is seldom seen in young performers. Her top notch vocals which served to support her stellar consistency of character means she gave a Broadway-caliber performance which can only be described as "Astonishing". Rebecca Dhillon, who portrayed the courageous and loving Marmee, made playing an adult alongside one's peers look effortless. Her beautiful and touching rendition of "Days of Plenty" brought tears to this reviewer's eyes. The three March sisters, performed by Kaela Marriott (Meg), Charity Monroe (Beth) and Lirenza Gillette (Amy) were brought to life showing their exuberance and innocence. Miss Marriott did a fantastic job of portraying Meg's youth and subsequent maturation throughout the show. Her rendition of "More Than I Am" alongside Trevor Haumschilt (Mr. Brooks) was a truly lovely duet in which both actors left a memorable mark. Miss Monroe brought a sweet, calming depiction of Beth's quiet, inner strength which serves the family when it is forced to continue without their beloved sister. Her light and lovely vocals were very pleasant with a particularly pleasing performance of "Some Things Are Meant To Be". Miss Gillette gave an outstanding performance as Amy, the youngest March sister, easily capturing her annoying and headstrong spirit. Her vocals throughout the show were absolutely splendid, especially during the duet "The Most Amazing Thing". All of the sisters had engaging voices that blended well in the rousing choruses of "Our Finest Dreams" and "Five Forever" along with Chris Ruddy who played the role of Laurie, the friendly neighbor across the way. Mr. Ruddy did a fine job finding Laurie's humor and clearly demonstrating his joy at being considered one of the family.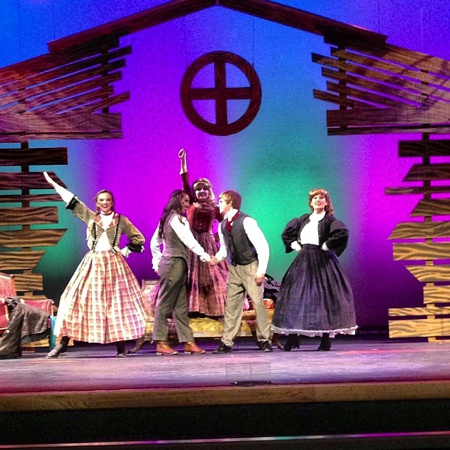 Noah Sims, as Professor Bhaer, gave a wonderful and mature-sounding vocal performance with particularly spectacular moments in "How I Am". Austin Thatcher did a great job of showing Mr. Laurence's growth from cranky old neighbor to caring and supportive friend. Margaux Payton, in the role of Aunt March, found the perfect blend of brilliant bossiness and kindness for the character. She also did an impressive job of handling Aunt March's little dog, using the poise and concentration needed when dealing with animal performers. Emily Nunn (Mrs. Kirk) and Allison Leete (Clarissa), while portraying small roles, gave outstanding and notable performances. The remainder of the cast filled out the stage nicely with some of them doing a great job during their modest, yet shining moments.
The sets, designed by Michael Hoffman, while minimal and somewhat abstract did a serviceable job of grounding the show in the several different locations throughout the show. It is worth noting that the Poway High School Drama Department is remarkably fortunate to have access to the lovely and technically advanced Poway Performing Arts Center. Impressively directed by Katie Wilson and superbly musically directed by Nancy Gray, the show left the audience, stunned, impressed and wishing there was more.
Performed February 7 - 15, 2014
Dana Carr
National Youth Arts
~ Cast ~
Add Artist Page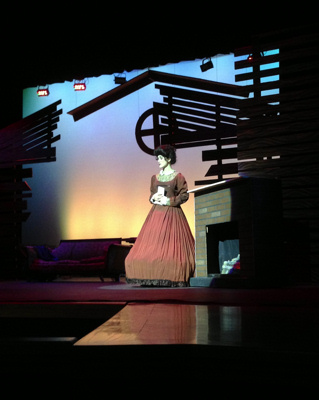 Jo: Jackie Foster
Marmee: Rebecca Dhillon
Laurie: Chris Ruddy
Professor Bhaer: Noah Sims
Meg: Kaela Marriott
Beth: Charity Monroe
Amy: Lirenza Gillette
Mr. John Brooke: Trevor Haumschilt
Mr. Laurence: Austin Thatcher
Aunt March: Margaux Payton
Mrs. Kirk: Emily Nunn
Clarissa: Allison Leete
Rodrigo: Kyle Kesler
Sir Braxton Prendergast: Mendel Baljon
Troll: Don Jorgensen
Hag: Sarah Bedford
Knight: Andrew Koster
Ensemble (Dancers at the Ball, Ice Skaters, Hags, Trolls, Monks, Beachcombers, New Yorkers):
Mendel Baljon
Sarah Bedford
Casey Brown
Sarah Butikofer
Richa Calla
Taylor Cashman

Maren Christensen
Marisa Cooper
Audrey Davis
Payton Fitzpatrick
Mckenna Harchol
Laura Hirsh
Melyssa Hoffmann
Mackenzie Johnson
Don Jorgensen
Kyle Kesler
Andrew Koster
Rachel Koster
Allison Leete
Chelsea Luo
Natalie Marriott
Emily Medile
Elisa Moncrief
Emily Nunn
Olivia Orton
Maddy Pattinson
Alexis Peterson
Margaux Payton
Tatiana Rivera
Ashling Rogerson
Annie Stone
Kate Thorvick
Sarah Weise