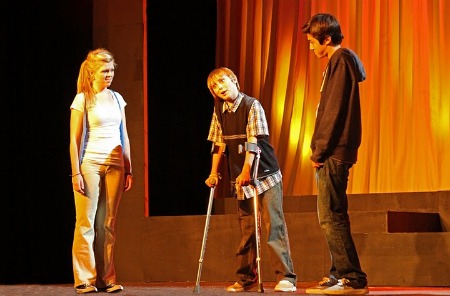 THE SHOW:
Music and Lyrics by Jason Robert Brown, Book by Dan Elish, Robert Horn as co-librettist.
Thirteen. It's a number with many negative connotations. Possibly none more negative than being thirteen years old. Puberty, acne, peer pressure, junior high. Good times only compounded for Evan when his parents get divorced and he is moved from the bright lights of New York City to the Dairy Queens of Appleton, Indiana. Perhaps things can get a little better in "The Lamest Place in the World" if he can make some new cool friends at his new school (Dan Quayle Junior High) and get them to his upcoming Bar Mitzvah. But will he lose his new real friends in the process?
THE PRODUCTION:
It's the debut production of PaccoArts, and from a hilarious ring tone to a fan blowing cheerleader Kendra's hair around supermodel style (which later appears on stage as a guy with a leaf blower pestering Kendra), Director Sean Tamburrino had a lot of fun with this one along with Choreographer Allisan Whitman, Assistant Director Allie Trimm who originated the lead role of Patrice on Broadway, and Sean's cast of teenage triple threats.
That cast is led by "13+1"-year-old Christopher Ruetten as a dynamic and likeable Evan, likeable even when Evan is making disappointing social choices as he strives for popularity. The sweet, genuine and charming Emily Goedken plays his outcast friend Patrice, helping create a very believable, easy (but often strained) friendship with Evan. While twelve-year-old Reed Lievers is a riot as the anti-Tiny Tim – the boy with a terminal illness and knows how to work it. The trio work off each other very naturally.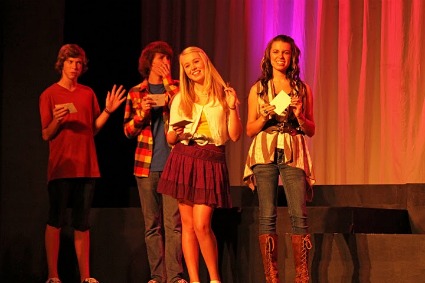 But that doesn't stop Evan from wanting to hang with the popular Quayle kids. Tyler Lemire is an amusingly "tongue-whipped" dumb jock Brett with the hots for Kendra, backed up by his humorous friends Malcolm (Joe Stein) and Eddie (Danny Helms) who are a hit in their groovy Hey Kendra. Sophia Linkletter sparkles as the ditzy lead cheerleader cluelessly twirling her blond hair around her fingers as she accepts dubious romantic advice from best friend/secret rival Lucy, with highly talented Alexis Thomson oozing cold, backstabbing cleverness as she makes her own Opportunity to get the boy and adeptly leads the school's eager It Can't Be True gossip mill.
The director and his team put together an especially strong ensemble who inhabit their roles every moment, bringing extra bits of energy and humor throughout. Humor and energy increased by Allisan Whitman's creative choreography from Hey Kendra to Being a Geek to the big opening and closing numbers of each act, completing an impressive opening show for PaccoArts and an especially comfortable Escondido summer night at the nicely updated Kit Carson Park Amphitheater.
Performed July 23 - 31, 2010
Rob Hopper
Facebook
Instagram

Executive Director
National Youth Arts
~ Cast ~
Add Artist Page

Evan: Christopher Ruetten
Archie: Reed Lievers
Patrice: Emily Goedken
Kendra: Sophia Linkletter
Lucy: Alexis Thomson
Brett: Tyler Lemire
Eddie: Danny Helms
Malcolm: Joe Stein
Charlotte: Samantha Belgum
Cassie: Jackie Foster
Molly: Callie Sheahan
Richie: Austin Wright
Simon: Chase Fischer
Rabbi: Daniel Boyd
Ensemble:
Ashlee Bates
Haley Batzer
James Bowen
Elizabeth Bowersox
Savannah Boyle
Drew Bradford
Danielle Caha
Jalie Fransway
Kyle Kesler
Brooke Kesler
Katie Kostecka
Meg Lievers
Denise Neumerkel
Adam Quest
Elizabeth Richardson
Marysa Robinson
Cassidy Sheahan
Terryn Shigg
Allyson Taylor
Tara Young

Director: Sean Tamburrino
Choreographer: Allisan Whitman
Musical Director: Sean Tamburrino
Special Guest Director: Allie Trimm
Producer: Bruce Blackwell
Stage Manager: Elise McClellan
Assistant Stage Manager: Dan Boyd
Assistant Choreographer: Cassie Waddington
Production Assistant: Kelli Harless
Intern Director: Kelsie Piini
Sound: Christopher DeArmond
Sound Technician: Miranda Porter
Lighting Design: Tony Arellano
Spotlights: Kevin Larmer
Costumes: Annette Lievers
Photographer: Peter and Natalia Neumerkel
Videography/Promo: Thrive Films