After her father left to fight his own inner demons, leaving her with a selfish stepmother and her two taunting stepsisters, Ashgirl has found solace in the comforting warmth and sanctuary of the ashes in the family hearth. But when a foreign royal family visits and announces a ball where the prince will try to find a wife, Ashgirl's desires for love and friendship are rekindled, as is hope that she can still forge a happily ever after life. Such lives don't always come easy or without courage. The Seven Deadly Sins, and the even greater power of Sadness, seek to plunge humanity into misery. And they fight to dash Ashgirl's newfound hope and optimism, preferring her to live forever hidden away in her comforting ashes.

British playwright Timberlake Wertenbaker has created a dark and intriguing adaptation of the Cinderella story with a poetic script that delves deeply into the obsessions, fears, and self-doubts we all struggle with from time to time, and that can threaten to ruin us if we give in to them. Here these inner demons are personified with the Seven Deadly Sins who lurk in the forest and are plotting to crush our hopes. Director Amity Ecker came across the script in graduate school and is now staging it with the Foothiller Players of Grossmont High School. The result is a highly original night of drama with several great performances and visual treats.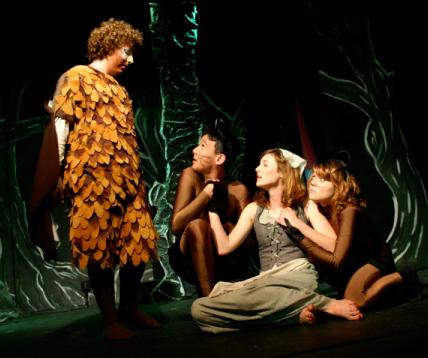 Kali Faulwetter is Ashgirl, doing a nice job capturing the girlish optimism that begins to grow as she prepares for the ball with the faint hope that she might be pretty without the covering of ash, and she is especially convincing as her inner fears pull her back and threaten to destroy her. Creating those fears is the amazing group of Seven Deadly Sins led by the "eighth" member of their group – Sadness. Caitlin Steinmann is downright chilling the way she attacks her prey with calm determination, saying just the right things to send her icicles through human hearts, doing so with a sort hypnotic voice that is difficult to resist, using her body to slowly approach and then, as she puts it, separate her prey from its friends.
Joining her are seven delightful portrayals by the amusing but very deadly sins. Ryan Fallis is hysterical as the lazy and lethargic Slothworm who has many of the best lines in the show (he won't pounce on their victims, but he will lie and wait). His comic timing, slow speech, and slow body movements that always seem to be done in protest are perfect. Jonah Paraiso is the charismatic Greedmonkey whose eyes and limbs are always greedy for tormenting humans. Bryce Mayer is the proud Pridefly who organizes them into action, Greg Zoumaras is the red Angerbird, Dana Conard is the evil and slinky Envysnake, Willie Schwartz is amusing as the crouching Gluttontoad, and Rhiana Bible rounds off the sins as the fiery Lust.
But Ashgirl does have friends who can help her if she lets them. Most of them are the comforting animals of the forest – Clay Alexander as the wise Owl, Chad Armstrong as the friendly but nervous Otter, and a couple of mice played by Doug Nau as Boymouse and Nikki Bartlett as Girlmouse with a perfect "girlmouse" voice. Other potential helpers include Sarah Powell as the Fairy in the Mirror who has a fun comic style to let you know she ain't your ordinary fairy that you find in the mirror. And then there's the prince himself, Amir (Andrew Erath), dealing with pressure from his pragmatic but caring mother (Olivia Berlin) and creating a nice and idealistic character who joins Ash Girl for a good, anxious, awkward first date scene.
Not helping Ashgirl too much is her family. Kendra Kelly is a cold stepmother whose every action has her own best interests in mind. Sophia Ethridge is the amusing, food-obsessed stepsister Judith who also enjoys seeing or reading about suffering – but is terrified when her turn comes to suffer. Robyn Sablove is the other stepsister Judith whose immature taunting flees after being compelled into painful surgery on her foot – the hurt, anger, and vengeance she feels afterwards is palpable. Elsewhere, Sam Roberts is the somewhat mysterious tortured soul living in the forest, and Tyler Arthur is the likeable Paul, second to the prince, who is weakened by the Envysnake.

Amity Ecker's production is also a hit visually and audibly. Sound Designer Stephen Johnson has put together a great mix of forest sounds and music that can humor or haunt. Set Designer Brittany Hauselmann has designed a lovely set created with elbow grease from the cast and crew that depicts a dark, twisted forest straight out of the inner crevices of our minds. And Kristen Turkle's costumes are fantastic – good clothing for the humans, excellent animal and fairy costumes, and especially impressive outfits for the Seven Deadly Sins that capture their personalities with the same insight that the sins use in either trying to make us turn the world into a cinder or keeping us hiding in the ashes.

Performs November 14 - December 1, 2007.

Rob Hopper
National Youth Theatre

~ Cast ~

Ruth & Spider: Sophia Ethridge
Judith: Robyn Sablove
Ashgirl: Kali Faulwetter
Princess Zehra: Olivia Berlin
Prince Amir: Andrew Erath
Paul: Tyler Arthur
Slothworm: Ryan Fallis
Angerbird: Greg Zoumaras
Envysnake: Dana Conard
Gluttontoad: Willie Schwartz
Pridefly: Bryce Mayer
Greedmonkey: Jonah Paraiso
Sandess & Spider: Caitlin Steinmann
Lust: Rhiana Bible
Man in the Forest: Sam Roberts
Owl: Clay Alexander
Otter & Otto: Chad Armstrong
Fairy in the Mirror: Sarah Powell
Girlmouse: Nikki Bartlett
Boymouse: Doug Nau

Director: Amity Ecker
Assistant Director: Matt Krahling
Stage Manager: Jackie Ho
Sound Design: Stephen Johnson
Costume Designer: Kirsten Turkle
Property Design: Jennifer McKenzie
Lighting Design: Mark Tranquilli