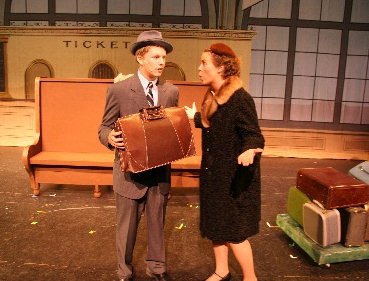 I don't know what's wrong with these kids today! Of course, the older generations have been whining about the young generations since time out of mind. No – even further back than that. Even as early as the 1950s. That's when that new "rock 'n' roll" stuff started wigging the parents out. And that's the setting for Bye Bye Birdie – a musical satire inspired by the rise of Elvis Presley. In this case, a mythical rising rock star named Conrad Birdie who is being drafted into war. Though the story is really about the would-be English teacher who decided to start a music agency and who sees Birdie as his big chance to make the agency successful if he can turn Conrad into a star before he ships off to the army. And his efforts are about to turn the sweet, quiet, little town of Sweet Apple, Ohio on its stem.

C. Hook Theater put this show on in the Joan B. Kroc Theater in San Diego. Mark Arapostathis, the director, has been the artistic director with Peter Pan Junior Theatre for decades now, giving kids in the area from fourth to eighth grade opportunities to shine in lavish productions. And he started C. Hook last year to provide opportunities for all those students
who have moved on to high school. These students include veteran of Peter Pan and C. Hook, Andrew Erath, as the music agent who could have been an English teacher, Albert Peterson. He does a nice job trying to spin the media while introducing Birdie as A Healthy, Normal, American Boy. And he does it with the help of his sort-of fiancé of umpteen years – Rose Alvarez – with Karisa Archer turning in some good comic timing and expressions as she deals with a frustrating fiancé and an even more frustrating potential mother-in-law (Chloe Liddell as Albert's amusingly bitter and melodramatic mother).
Rose agrees to help Albert make Birdie a success before he joins the army, with the understanding they'll then be able to get married, and so they descend on Sweet Apple, Ohio where Birdie (Steven Brault, who is a riot at his "Healthy, Normal, American Boy" press conference) will give the local president of the Conrad Birdie Fan Club One Last Kiss before he heads overseas. And the president of the Sweet Apple branch is…
Kim MacAfee. Catch is, she just got pinned by boyfriend Hugo Peabody (Matthew Plummer). What's a young woman to do? Long-time Peter Pan Junior Theatre alum Megan Wheeler is a charming Kim as she tries to balance becoming a mature woman and going beserko over a kiss from Conrad Birdie (to the chagrin of poor Hugo, but he's not gonna give up without a fight). Kim's parents are a tougher sale. Especially dad. At least, until he hears that they get to be featured on The Ed Sullivan Show (insert music from a heavenly choir). The irritated dad (Sam Halgren) who can't believe his daughter is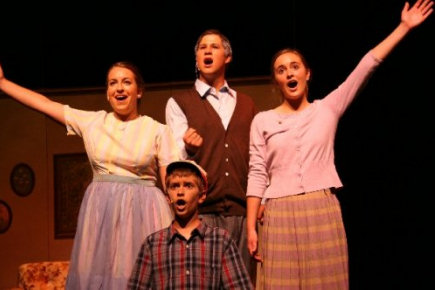 using words like "puberty" and "Mussolini" right in front of him, the more understanding mother (Robyn Sablove) who develops a bit of a crush on Birdie herself, and little brother Randolph (Cameron Wheeler) combine for an entertaining lament about Kids today.

Bonnie Alexander admirably leads the town in their screaming and swooning over Conrad Birdie, and good cameos come from Mallory Orr as a bartender and Valerie Wright as Gloria Rasputin (the ditzy dancer that Mom Peterson tries to use as a wedge between her son and Rose). The cast as a whole shines in the Birdie-led number Sincere that leaves the whole town fainting in excitement, and the energetic optimism of We've Got a Lot of Living to Do.

Performs June 18 - 21, 2008

Rob Hopper
National Youth Theatre

~ Cast ~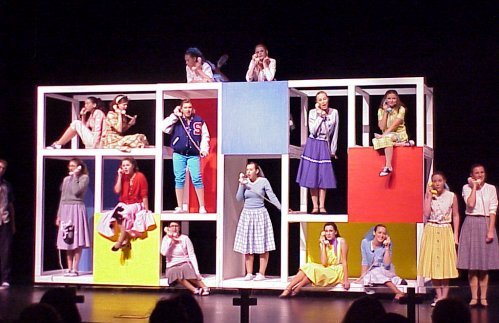 Albert Peterson: Andrew Erath
Rose Alvarez: Karisa Archer
Kim MacAfee: Megan Wheeler
Ursula: Bonnie Alexander
Mr. Harry MacAfee: Sam Halgren
Mrs. Doris MacAfee: Robyn Sablove
Conrad Birdie: Steven Brault
Hugo Peabody: Matt Plummer
Mrs. Mae Peterson: Chloe Liddell
Randolph MacAfee: Cameron Wheeler
Gloria Rasputin: Valerie Wright

~ Teenage Boys ~
Freddie: Zack Alper
Karl: Landon Rivers
Harvey: Clay Alexander
Ralph: Blake Johnston
Ritchie: Malachi Beasley
Squiggy: Austin Potts
Potsie: Steven Brault
Arthur: Matt Plummer

~ Teenage Girls ~
Nancy: Kate Herrod
Helen: Valerie Wright
Alice: Laura Erath
Margie: Miki Holmes
Deborah Sue: Rebecca Horton
Penelope: Bridget Foley
Suzie: Emma Hayman
Jonnie: Mallory Orr
Wendy: Elizabeth Salmon
Rhonda: Carolyn Reynolds
Micki: Kylan Stevens
Elaine: Bethany Mullert
Rhoda: Katie Wrieden
Betty: Amanda Olea
Laura: Ashley Wrieden
Kathy: Rhiana Bible
Angie: Deanna Thurman
Kelley: Laurelle McVicker

~ Sweet Apple Adults ~
Mayor: Clay Alexander
Mayor's Wife: Elizabeth Salmon
Mrs. Cunningham: Emma Hayman
Mr. Johnson: Blake Johnston
Mrs. Johnson: Katie Wrieden
Mrs. Merkel: Rebecca Horton
Mrs. Chips: Laurelle McVicker
Mrs. Malph: Kate Herrod
Mrs. Webber: Carolyn Reynolds
Mr. Chips: Landon Rivers
Mrs. Fonzarelli: Rhiana Bible
Mrs. Cleaver: Mallory Orr
Mrs. Anderson: Bridget Foley
Mrs. Douglas: Ashley Wrieden
Mrs. Nelson: Bethan Mullert

~ Sweet Apple Station ~
Train Conductor: Landon Rivers
Baggage Handler: Deanna Thurman

~ Penn Station ~
Train Conductor: Blake Johnston
Baggage Handler: Amanda Olea
Reporters:
Mallory Orr
Carolyn Reynolds
Elizabeth Salmon
Policemen:
Zack Alper
Malachi Beasley

~ Ed Sullivan ~
TV Cameraperson: Blake Johnston
TV Stage Manager: Kylan Stevens
TV Audio Person: Landon Rivers
Conrad's Guitar Man: Zack Alper

~ Bar ~
Sally F. Pete: Mallory Orr
Customers:
Miki Holmes
Laura Erath
Bethany Mullert
Katie Wrieden

Director: Mark Arapostathis
Vocal Director: Elaine Arapostathis
Music Director: Howard Kantorowski
Stage Manager: Darlene Salmon