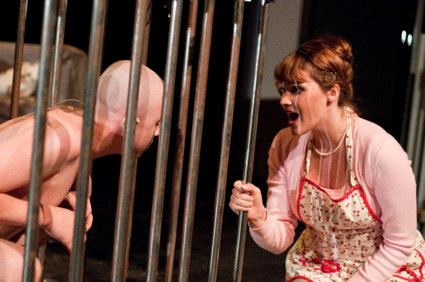 THE SHOW:

There's no baseball in Bat Boy. No hot dogs or Cracker Jacks. But if you're looking for a musical with murder and cannibalism, and just a dash of incest and bestiality, then this dark comedy inspired by the tabloids is your musical – the tragic story of how a half-man, half-bat youth is thrust from his savage world in a dark cavern into the even more savage world of "Christian Charity" in Hope Falls, West Virginia.

Meredith Parker, the wife of town veterinarian Thomas Parker, is the first to take pity on him as he awaits euthanasia in a cage, dubbing him "Edgar." Edgar proves a quick study, piquing the interest of Meredith's daughter Shelley. But a family's buried secrets, nervous townspeople, and Edgar's own spiritual quest for self-knowledge are all destined to collide.

THE PRODUCTION:

Director Michael Schwartz and his talented group at Canyon Crest Academy in San Diego probes the mysteries behind Bat Boy with a good mixture of human pathos and over-the-top comedy. Hunter Schwarz captures it all brilliantly in the title role, transforming from the creature that only knows survival and food and fear to become a human touched by newfound love and family while battling his primal nature. His physical acting fully embodies both his character and emotions as he reacts to the unknown world he's thrust into, is comforted by the soothing Meredith, searches for meaning and love from others, and looks upon his past and his savage instinct with fear.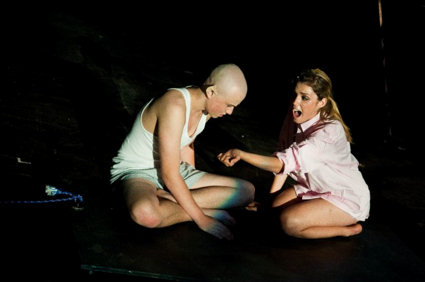 Emma Stratton imbues her role with a genuine, gentle maturity and motherly concern for the caged boy, not to mention her golden vocals. Also with an amazing rock musical voice is Erin Wuthrich as Shelley who nails the typical teenager who finds herself starting to grow up emotionally as she sees Edgar transform. Together the three of them are spot on as Edgar goes from grunts to Shakespeare in a whirlwind English lesson. But the family can't be whole so long as Dr. Thomas Parker, played well as a lonely and frustrated man by Nick Scutti, sees Bat Boy only as a troubling albatross that could hold the key to regaining his wife's affection.
Meanwhile, this arts school always has a deep cast, filling the town of Hope Falls with fear and humor and dancing forest fauna. As the ignorant tough guy Rick, who is smart enough to respect Bat Boy's ability to kill, Izzy Pollack expertly leads the hillbilly Taylor family that finds the Bat Boy, while Nora King delivers as his sister Ruthie whose physical and mental deterioration after being bit culminates in a disturbingly well-portrayed seizure. A few other highlights include Connor Murphy as the calm Southern lawman, Torrey Mercer as an outrageously militant and ambitious mayor, Lily Detwiler as her hilariously ditzy clerk who really loves her clerking duties, Tracy McDowell as a loving and fiercely protective mother of the Taylor kids, Peter Hoban as the leader of the town's big religious revival, and Antonio Romero as the charismatic Pan leading the beautifully costumed (Nadja Lancelot) forest in song. The ensemble shines as Pan's animal followers and as fickle, clueless townsfolk, all playing in front of a dynamite school band and under the melodramatic lighting (Jason Bieber) and sound effects (David Corsello) befitting a show called Bat Boy: The Musical.
Performed May 7-14, 2010
Rob Hopper
Facebook
Instagram

Executive Director
National Youth Arts
~ Cast ~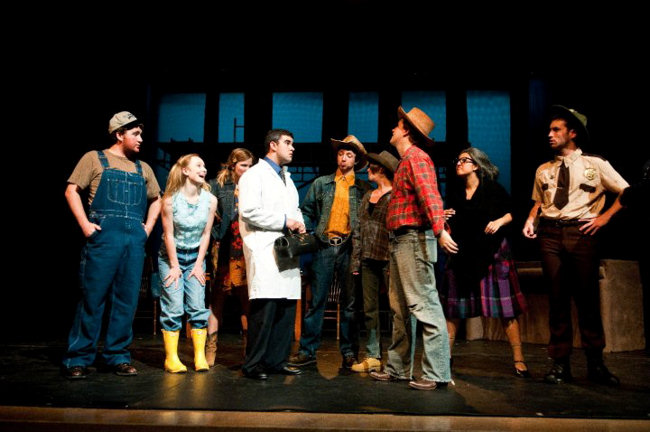 Add Artist Page

Bat Boy: Hunter Schwarz
Meredith Parker: Emma Stratton
Dr. Thomas Parker: Nick Scutti
Shelley Parker: Erin Wuthrich
Sheriff Reynolds: Connor Murphy
Rick Taylor: Izzy Pollack
Ron Taylor: Jordan Raoufpur
Ruthie Taylor/Arthur Miller: Nora King
Mrs. Taylor: Tracy McDowell
Lorraine: Amanda Ghosh
Maggie: Torrey Mercer
Daisy: Lily Detwiler
Bud: Eric Huckabee
Ned/Meredith's Mother: Lindsay Mitgang
Roy/Doctor: Jordan Cavanaugh
Clem/Meredith's Father: Patrick Kelley
Reverend Hightower: Peter Hoban
Pan: Antonio Romero
Ensemble:
Michael Popov
Natalie Allen
Brianna Hebert
Nicolette Burton
Kate Frampton
Kyra Heenan
Danielle Pompeo

~ Band ~
Drums: Drew Pelisek
Bass: Daniel Oldham
Guitar: Griffin Boyd
Keyboard: Nicole O'Shea

Director: Michael Schwartz
Music Director: Tim McKnight
Choreographer: Andrea Lemaitre
Guest Choreographer: Brian Shay
Technical Director: Becky Pierce
Sound Designer: David Corsello
Scenic Designer: David Corsello
Costume Designer: Nadja Lancelot
Lighting Designer: Jason Bieber
Fight Choreographer: Brandon Taylor
Assistant Director: Sarah Scull
Stage Manager: Kerri Blake