Twentysomething artists living at the edge of the millennium in Manhattan, struggling with AIDS, drugs, and the inability to pay Rent. Jonathan Larson's hit rock musical hit the youth theatre scene a couple years ago, not without a little bit of controversy, and this summer is now being taken up by youth groups in San Diego. That includes this outstanding production staged by ACT-San Diego under the direction of San Diego musical theatre favorite Leigh Scarritt, featuring a cast brimming with so many of the county's strongest local talents that they've double-cast all the major roles.
The slightly younger cast includes incoming high school freshman Benjy Malings as Mark Cohen and Hunter Schwarz as Roger Davis, the two roommates around which the story revolves. Mark is trying to forge a living with his video camera. Roger is a musician trying to write one great song before AIDS takes him, a disease he contracted from his girlfriend before she took her own life. Benjy and Hunter are a couple of the younger teens in the cast, but are both coming along nicely as actors and singers, with Benjy charismatically joining the lesbian lover of his ex-girlfriend in a good Tango Maureen and Hunter broodingly fighting himself as he gets a chance with a new love thanks to neighbor Mimi.
Said Mimi is played by Judy Mora, an exceptionally talented performer with a voice that seems to easily nail the demanding vocals. Her portrayal of the character might be even more impressive, offering us a fresh take on the character from her first moments on the stage in Light My Candle. Instead of instantly flirting with Roger, this Mimi is initially tired, cold, and a little out of it, but slowly warming to the boy next door during the course of the song, by the end of which she is playful but still very real. She seems completely in her character throughout, adding little touches that seem reflexive and seem to emanate from the heart of who Mimi is – loving, uninhibited, but tied to an addiction to drugs that has a hold on her comparable to her love for Roger.
Other outstanding performances include Sarah Knapp as Maureen Johnson, the bisexual poet who always has women in leather flirting with her. Sarah's natural and creative sense of humor and personality is a perfect fit for a beguiling Maureen. Torrey Mercer stars as her lesbian lawyer lover Joanne with nice understated humor and vocals that wow. Eighth grade talent Dylan Hoffinger is a loving, lively, vulnerable, and amusing transvestite Angel Schunard. While Jordan Cavanaugh takes center stage as Angel's lover Tom Collins in a beautifully performed and staged scene I'll Cover You.
Director Leigh Scarritt has a brilliant eye for the characters and story, paying attention to every detail and movement from the main characters to the many talents in the ensemble that fill countless roles, including panhandlers who work the audience with realistic earnestness, sadness, and hopelessness. Tiffany Jane delivers the choreography that ranges from vibrant to tender to amusing as the cast moves to the music produced by a four-person band that rocks the rock musical with precision and soul.
Performs August 7 - 16, 2009.
Rob Hopper
National Youth Theatre
~ Cast B ~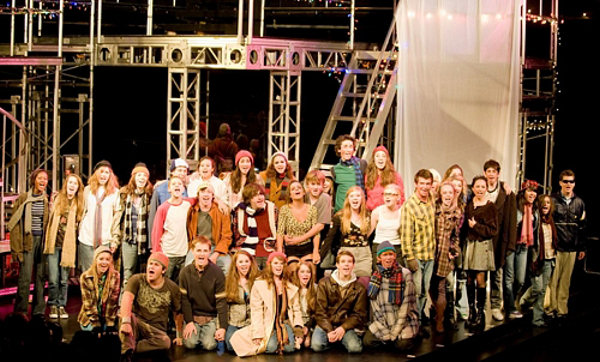 Mark Cohen: Benjy Malings
Roger Davis: Hunter Schwarz
Mrs. Cohen: Chelsea Gustafson
Cindy: Molly Duffy
Kid: Kaleigh Stegman
Tom Collins: Jordan Cavanaugh
Benjaming Coffin III: Jeremy Payne
Joanne Jefferson: Torrey Mercer
Angel Dumott Schunard: Dylan Hoffinger

Mimi Marquez: Judy Mora
Maureen Johnson: Sarah Knapp
Mr. Jefferson: Austin Potts
Mrs. Jefferson: Nicole Athill
Steve: Peter Hoban
Gordon: Ross Warren
Ali: Alex Nassar
Pam: Rayna Starr
Sue: Lily Detwiler
Paul: Eric Huckabee
Squeegieman: Izzy Leung
Blanket Person: Emma Stratton
Vendor: Zoe Katz
The Man: Ross Warren
Restaurant Owner: Lea Fung
Mr. Grey: Eric Huckabee
Alexi Darling: Zoe Katz
Roger's Mother: Marissa Lebert
Mimi's Mother: Karina Rodriguez
Featured Ensemble:
Nicole Athill
Kaitlyn Baker
Michelle Cabinian
Kelli Colarusso
Lily Detwiler
Molly Duffy
Lea Fung
Derrick Gaffney
Chelsea Gustafson
Kyra Heenan
Peter Hoban
Eric Huckabee
Zoe Katz
Marissa Lebert
Izzy Leung
Matt Maretz
Alex Nassar
Molly O'Meara
Rachel Pence
Tina Peterson
Austin Potts
Karina Rodriquez
Antonio Romero
Ben Silbert
Rayna Starr
Kaleigh Stegman
Ross Warren

Director: Leigh Scarritt
Choreographer: Tiffany Jane
Stage Manager: Jamie Cabral
Technical Director/Sound Designer: Andrew Miller
Lighting Designer: Charlie Malings