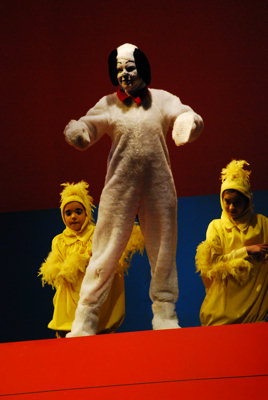 Lucy, Linus, Sally, Schroeder, Snoopy, and of course, Chuck. Charles Schultz's well-known characters are now timeless and recognized around the world. Almost as well know is Clark Gesner's musical adaptation of the comic strip in which the characters come to life on the stage in a series of monologues, scenes, and musical numbers that remind us just how hard it is to face the challenges of growing up...especially if you're named Charlie Brown.
ACT San Diego, a new theatre company, has gathered together a group of energetic, committed, and vocally talented students to create their version of this classic musical. Two casts over two separate weekends work to bring these two-dimensional characters into the three-dimensional onstage world at the Lyceum Theatre in downtown San Diego.
The first weekend's cast includes the phenomenal voices of Torrey Mercer and Chelsea Gustafson as Sally. Both of these young ladies belt out their numbers with gusto and confidence. Mercer's Lucy is just as annoying and edgy as you want her to be, and Gustafson's Sally has a one-track mind as she takes on the indecipherable Peanuts teacher (Marissa Lebert).

Another stand-out performance comes from
Judy Mora
as Snoopy. Although the role is typically played as a male, Mora's powerhouse vocals and winning personality prove why the director (
Leigh Scarritt
) decided to cast her in the role. Mora definitely steals the show with her poignant comedic timing and her well-executed riffs, especially in her last big number "Suppertime," which becomes a gospel extravaganza that showcases her vocal talents.
Cameron Elmore
(Charlie Brown),
Mason Mercer
(Linus), and
Max Oilman-Williams
(Schroeder) all turn in commendable performances for the men of the Peanuts Gang, each dedicated to their characters and committed to their vocals and choreography. 
In addition, Scarritt's choice to include a mass ensemble to round out the sound and presence of the Peanuts gang was a nice touch and gave the audience a chance to pick out some of their favorite other characters including Frieda (
Martina Lopez
), Marci (
Angela Han
), Pigpen (
Tristan Detwiler
), Peppermint Patty (
Kaitlyn Baker
), Violet (
Hannah Quirk
), and a cute pair of Woodstocks (
Raelyn Mason
and
Brielle Mussomeli
). Each of these actors inhabited their characters quirks, attitudes, and hairstyles from the beginning of the show all the way through to the last "Good night."
ACT's first weekend cast was enthusiastic, entertaining, and a pleasure to watch. If their second weekend cast is anything like the first, then there is no doubt that You've Got a Good Cast, ACTSD. Yes, it's true. That was a bad pun. Gooooooood grief.
Performs May 8 - 17, 2009.
Walter Allen
National Youth Theatre
~ Cast ~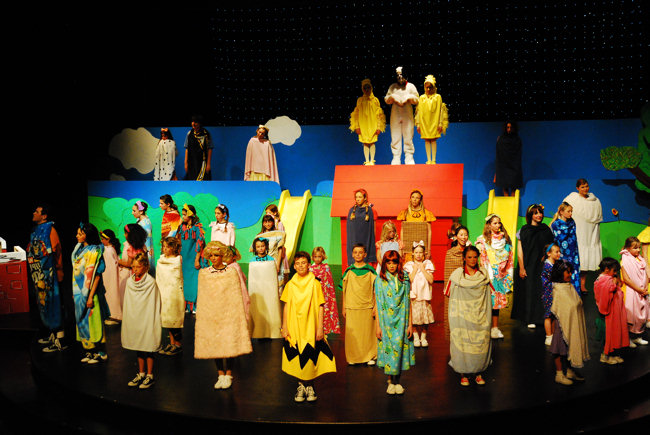 Frieda: Martina Lopez/Skyla Wheeler
Linus: Mason Mercer/Peter Hoban
Little Red-Headed Girl: Kaleigh Stegman
Marcie: Angela Han/Kelsey Spelich
Peppermint Patty: Kaitlyn Baker/Lindsay Mitgang
Pigpen: Tristan Detwiler
Sally: Chelsea Gustafson/Lily Detwiler
Schroeder: Max Oilman-Williams/Chase Morrin
Teacher: Marissa Lebert
Violet: Hanna Quirk/Chloe LaRosh
Woodstock:
Raelyn Mason & Brielle Mussomeli/Julia Bernicker &
Felicity Bryant
Natalie Allen, Kate Buckley, Isabella Davis, Kyra Heenan, Alicia Martinez, Alex Mezouari, Karina Rodriguez, Evelyn Sparks, Kaleigh Stegman
Additional Members of the Peanuts Gang:
Natalie Allen, Skyler Andrews, Kate Buckley, Michelle Cohen, Isabella Davis, Kyra Heenan, Sophia LaRosh, Alicia Martinez, Tess McCreery, Alex Mezouari, Nina Roudi, Karina Rodriguez, Dominica Savant-Bunch, Vanessa Sharif, Victoria Sharif, Evelyn Sparks, Lauren Ulmer, Melanie Ziment