Peter Pan
by Young Star Musical Theatre
Pirates, Lost Boys, Indians, fairies, mermaids, and children who fly and the boy who would never grow up were all in Prescott this past week. Or was Prescott transported to Neverland? It often felt like it as Director Shmaine Shepherd and her cast and crew brought that world to life with such vividness, enthusiasm, and great splashes of creativity.
Brittany Reed is the boyish Peter Pan determined to keep on being boyish. And Brittany has both the vocals and the boyish youthfulness to soar in the part. Having him wonder over the miraculous movement of a hobbyhorse, and lightly punching Wendy in the nose with his ďkissĒ to get her to open her eyes and take the darn kiss, add much to the character. Brittanyís singing of the mesmerizing Neverland and exuberant Iím Flying are terrific, getting help from the Darling children he picks up in London. Bria Maskovich delights in what can often be a bland part, portraying humor, the disappointment of unrequited love, and a good blend of motherly and girlish personality, with a good voice to boot. Her brothers John (Ben Auer) and Michael (Jake Childers) are obviously enjoying their new adventure that sis has brought them on, all adding to the bigger-than-life Iím Flying scene that ends the first act.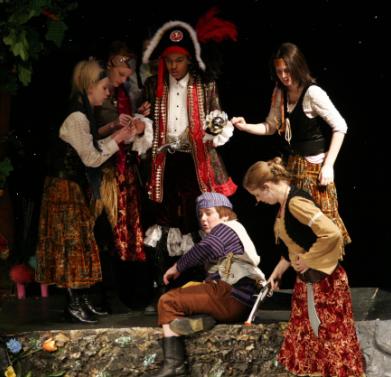 And then thereís the boo-hiss bad guy of bad guys, the infamous Captain Hook. And 15-year-old Michael Ciraulo thrives on his villainy, filling it with a perfect blend of vileness and hilarity as the leader of the pirates, adding a few one-liners himself both planned and off the fluffy cuff of his pirate shirt. They also added an April Foolís joke for the closing night in which he temporarily surrenders to Peter Pan. He is catered to by a humorously clingy Smee (RJ Mayer) and a bevy of beautiful female pirates who amusingly commiserate with their poor leaderís stress while tending and primping the vain captain who depends on their attentive grooming.

The ensemble includes the wild Lost Boys whose enthusiasm makes the I Wonít Grow Up scene one of the best of the show, and the Indians led by Tiger Lily (Audrey Roberts) who electrify the place in the big Ugg-A-Wug song-and-dance number choreographed nicely by Shmaine Shepherd. Of which we get a preview at the beginning of the second act when dozens of adorably tiny Little Indians and Tinkerbelle Fairies introduce us to Neverland. No wonder Peter Pan didnít want to leave!

Performed through April Fool's, 2006. No, really!

Rob Hopper
National Youth Theatre

~ Cast ~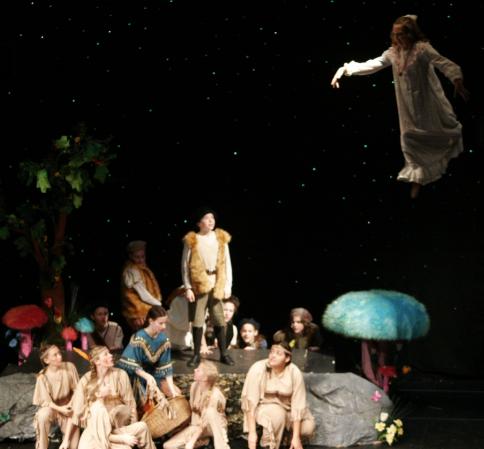 Peter Pan: Brittany Reed
Hook: Michael Ciraulo
Wendy: Bria Maskovich
John: Ben Auer
Michael: Jake Childers
Tiger Lilly: Audrey Roberts
Mrs. Darling: Caroline Marolf
Mr. Darling: Michael Ciraulo
Jane: Audrey Roberts
Dog/Nana: Alessandra Castaneda
Adult Wendy: Elizabeth Place

~ Lost Boys ~
Tootles: Nolan Sturdevant
Curly: Katie Van Boeing
Slightly: Samantha Austin
Nibs: Ashley Place
Twin 1: Kayla Kite
Twin 2: Kelsey Diefendorff
Omnes: Colleen McDowell, Mason Burchfield, Elizabeth Marolf

~ Pirates ~
Starkey: Andie Adams
Smee: RJ Mayer
Cecco: Matt Johnson
Noodler: Elizabeth Place
Cookson: Dawn Heuer
Carly Jonovich
Caroline Marolf
Katie Brandt
Kaitlyn Ramsey
Michael Ciraulo
Janae Ferwerda
Matt Johnson

~ Indians ~
Alessandra Casteneda
Lacey Harris
Kelcey Harris
Krista Evers
Cheyenne Wells
Sarah Scott
Caroline VanDine
Mikaela Ray
Heather Hancock
Nick Yanitelli
Michael Ciraullo
Caroline Marolf
Carly Jonovich
Meg Coleman

~ Little Indians ~
Matt Auer
Daniel Pietz
Isaac Berg
Andrew Lawhead
Andrew Akers
Andrew Scott
Jeremy Woolnough
Austin West
Noah Hilker
Austin Menagarelli
Vince Porter
Alexander Hampton
Christian Gamboa
Michael Cunningham
Caleb Haines
Cody Smith

~ Tinkerbelle Fairies ~
Mikayla Bradshaw
Bailey Thompson
Kayla Parsons
Hannah Hiker
Elise Ashby
Emma Pearson
Sage Taylor
Shana West
Amanda Williams
Karis Menagarelli
Elizabeth Aranda
Katie Bradstreet
Diamond Galbraith
Sarah Gonzales
Cali Smith
Anastacia Sullivan
Addie Wells
Meghan Carmichael
Jonnie Lee Fain
Abby Kirschbaum
Tori McDowell
Jessica Gomez
Hattie Grace
Gianna Day
Elexia Castaneda
Lexie Mitchell
Nancy Olney
Madison Rotolo
Michaela Stephens
Nicola Taylor
Jessica Childers
Taylor Courtland
Jessica Pitez
Bailey Petrovsky
Justine Thompson
Haley Ward
Brittany Carradine

~ Mermaids ~
Krista Evers
Meg Coleman

Director & Choreographer: Shmaine Shepherd
Music Director: Debbie Place
Stage Manager/Set Designer: Kim Auer
Costume Mistress: Julie Bradshaw