Guys and Dolls
by Young Star Musical Theatre
The classic musical comedy about Guys and Dolls has rolled into Prescott's historic Elks Theater thanks to the group at Young Star Musical Theatre, and the odds are 8-to-5 that before it's over some sinning gamblers are going to have to hang up the dice if they want to end up with the dames.
Featuring entertaining characters and a memorable musical score that includes hits like Sit Down You're Rockin' the Boat, If I Were a Bell, I've Never Been in Love Before, the Fugue for Tinhorns, and the title tune, this show is usually a safe bet, and this one is no exception.
Dyson Posey and Jessica Place star as Nathan Detroit and Adelaide – a no-good organizer of a local floating crap game and a dancer at the Hot Box Club who have been engaged for fourteen years. Nathan loves her but is a bit reluctant about marriage. Adelaide loves him but not his profession, contemplating how wonderful he would be if he were different. Dyson has a likeable charm as Nathan, and Jessica Place is hilarious as Adelaide, using her voice, facial expressions, and comic timing to make her Adelaide's Lament and love spats with Nathan into the most amusing scenes of the show.
The other guy and doll consist of Billy Reed as big-time gambler and womanizer Sky Masterson and Heather Hancock as Sister Sarah – a straight-laced Christian soldier on a mission to fight gambling and drinking. Both demonstrate fine voices and strong performances highlighted by their duet ballad I've Never Been in Love Before, Sarah having another great duet with Adelaide in Marry the Man Today and loosening up (thanks in part to some Bacardi-flavored milk) in If I Were a Bell, and Sky letting it all ride while wishing for some Lady Luck.
The ensemble features notable performances by Carly Jonovich and Matt Johnson as gangsters Harry the Horse and "Big" Jule respectively, a host of young Hot Box Dolls backing up Adelaide in the club, and Benny Southstreet (Michael Ciraulo) and Nicely-Nicely (Jeffrey Malone) who end up leading the cast in the big revival number Sit Down You're Rockin' the Boat. Director/Choreographer Shmaine Shepherd gives all the gangsters a big chance to shine individually in the well-choreographed Luck be a Lady Tonight scene.
The cast is outfitted in costumes (Julie Bradshaw) that sparkle like Vegas. The background art (Terese Soto) fits with the splashy costumes for a snazzy New York City skyline, though time-warping us a bit out of the Fifties with billboards advertising musicals like Grease, The Wiz, and Chicago. The show is set at a quick pace, at times a little too quick that rushes through some of the comedic and dramatic moments before they can take effect, but overall the production is well done and highly entertaining including clever touches by Director Shmaine Shepherd beginning with the big opening that has Lieutenant Brannigan (Timothy Seastrand) vainly chasing Nathan Detroit amongst the New York crowds who are rushing around throughout the theatre.

Performs through October 29, 2005.

Rob Hopper
National Youth Theatre

~ Cast ~


Hot Box Doll: Hannah Beebe
Mission Band: Jesse Blum
Mission Band: Mykayla Bradshaw
Gangster & Adelaide (Thurs.): Kelly Campbell
Gangster: Allesandra Castaneda
Hox Box Doll: Cierra Castaneda
Gangster: Jake Childers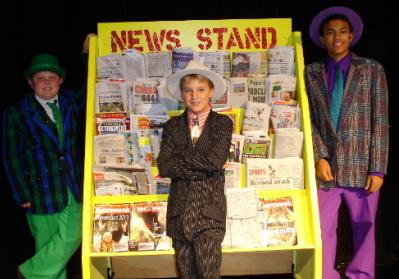 Benny Southstreet: Michael Ciraulo
Gangster & Harry (Thurs.): Alyssa DeLuca
Sarah: Heather Hancock
Harry the Horse: Carly Jonovich
Big Jule: Matt Johnson
Hot Box Doll: Emily Lawhead
Nicely-Nicely: Jeffrey Malone
Angie the Ox: Caroline Marolf
Hot Box Doll: Elizabeth Marolf
Rusty Charlie: Bria Maskovich
Hot Box Doll: Kayla Parsons
Gangster: Ashley Place
Adelaide: Jessica Place
Gangster: Elizabeth Place
Nathan Detroit: Dyson Posey
Gangster: Kaitlyn Ramsey
Sky Masterson: Billy Reed
Hot Box Doll: Brittany Reed
Gangster & Angie (Thurs.): Audrey Roberts
Mission Band: Carly Rotolo
Hot Box Doll: Emily St. Germain
Mission Band & The General: Nicole St. Germain
Lt. Brannigan: Timothy Seastrand
Hot Box Doll: Lexy Shepherd
Gangster & Sara (Thurs.): Chelsea Soto
Gangster: Tristan Soto
Mission Band: Anastacia Sullivan
Arvide: Caroline Van Dine

Director & Choreographer: Shmaine Shepherd
Vocal Director: Debbie Place
Stage Managers: Caroline Marolf and Carly Jonovich
Sound & Lighting: Dawn Castaneda
Set Design Artist: Terese Soto
Costume Mistress: Julie Bradshaw