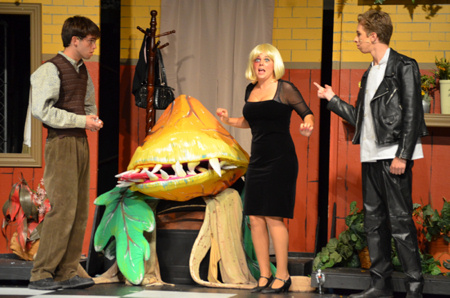 Little Shop of Horrors is Alan Menken and Howard Ashman's dark comedy about a man-eating alien plant bent on world domination. The Plant chooses the inauspicious Mushnik's Flower Shop on Skid Row to gather his strength. The bumbling Seymour, who does odd-jobs at the flower shop, discovers The Plant and christens it Audrey II , named after the buxom blonde who also works at the shop. The real Audrey falls for Seymour after her sadistic boyfriend, dentist Orin Scrivello, disappears. The show is narrated by a Greek Chorus of street urchins, and could end in tragedy.
YAT's production was sterling!!
This reviewer has had the good fortune of reviewing this show's star, Anthony Vacio, in two of his prior productions (Tony in West Side Story and Claude in Hair). I mention this only because he was great in both, and as different as those two roles are, Seymour goes in yet a completely different direction, and Vacio pulls it off like a natural. He has a pleasant voice, a natural acting style, and a great look. I really felt a connection with him!
Sierra Schultz had Audrey's lisp and accent down to a science, and her eyes sparkled like emeralds. Her singing was powerful and moved the audience to spontaneous verbal outcry. She was funny, beautiful, and heartwarming.
The trio of men: Sam Alper (Mushnik), Kendall Kiplinger (Orin), and Leif Corbiel (Plant) put up a great effort, but it was hard for anyone not to be outshined by the four urchins. Usually, I find a favorite urchin to watch, but in this production I loved each urchin for their uniqueness. Cari Callen (Ronnette) was clearly "the voice" and was a strong leader type, but Marissa Cabading (Chiffon) was awesomely powerful as the strong Latina voice in the group. As for Bella Snyder, how did her parents know the perfect first name for her? I would have been happy to simply gaze on her beauty, as she is a "10", but Bella is more than just a pretty face. Her riffs at the end of the show were mesmerizing. But as good as all three of these girls were, Megan Singer's antics delighted the audience. Ashleigh is an added character, so one never knows how much of the credit should go to Megan or the Director Perry Lee. But, either way, she was a highlight of the show for me.
Speaking of Perry Lee, not only did he do a stellar job of directing a show with fabulous pace, blocking, and feel, but he also captained the choreography, which was just perfect! Aside from the wonderful urchin dancing, Alper was the best Mushnik dancer that I have ever seen. It would be nice to see Alper play the part when he is about 20 years older.
Finally, the harmonies in this production were exquisite! Kudos to Music Director Matthew Ignacio who kept the singers honest and true.
My only real criticism was that I wished the volume of the music and the performers would have been significantly louder. I do not know if their sound system was malfunctioning, or if it was kept intentionally low, but I urge them to turn it up louder for next weekend, because I am recommending that everyone go see it next week. YAT has more shows on Thursday 10/23 through Sunday 10/26.
Performed October 18 - 26, 2014
Scott M. Kolod
NYA Reviewer
~ Cast ~
Add Artist Page
Chiffon "Chi Chi": Marissa Cabading
Crystal: Bella Snyder
Ronnette: Cari Callen
Ashleigh: Megan Singer
Mushnik: Sam Alper
Audrey: Sierra Schultz
Seymour: Anthony Vacio
Orin: Kendall Kiplinger
Audrey II: Leif Corbeil
Bernstein: Harrison Shoaf
Ms. Luce: Rachel Kolb
Skip Snip: Kyler Waitley
Ensemble:
Harrison Shoaf
Rachel Kolb
Kyler Waitley
Maggie Glenn
Sophia Gardner
Giselle Gonzalez
Astrid Pett
Caleb Williams

Director: Perry Lee
Music Director: Matthew Ignacio
Intern Stage Manager: Kyla Garcia
Audrey II Puppeteer: Amanda Clifford