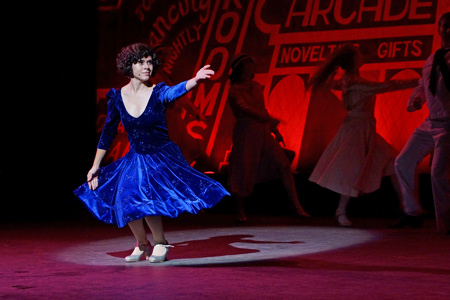 THE SHOW:
Book by Michael Stewart and Mark Bramble, lyrics by Al Dubin, and music by Harry Warren, based on the novel by Bradford Ropes.
Julian Marsh is doing a show! And it's one of the biggest tap shows ever – the immortal 42nd Street that debuted on the silver screen at the height of the Great Depression in 1933 and debuted on Broadway in 1980. Filled with such numbers as Lullaby of Broadway, We're in the Money, You're Getting to be a Habit with Me, Shuffle Off to Buffalo, Young and Healthy, and its famous title tune combine with a feel-good script about a young girl from Allentown, Pennsylvania who lands on Broadway with big dreams and ends up with the starring role, all combining for one entertaining and tap-happy slice of musical theatre gold.
THE PRODUCTION:
As soon as the curtain raises just enough to see the tapping legs of dozens of spot-on dancers, it's clear that Young Artists Ensemble in Thousand Oaks, California has put together another remarkable summer production. Ginny Grady directs this one with her daughter, former NYA Award winner and now Broadway performer Tessa Grady, re-creating Gower Champion's original choreography. Visually the show includes some beautiful rented costumes and nice set backgrounds by Mark Andrew Reyes, while a superbly talented youth orchestra is a feast for the ears as they flawlessly perform the show's classics.
Isabelle Moore leads the way as the charming, starry-eyed Peggy Sawyer. Her excitement at the prospect of dancing for her dreams, disappointment as those dreams crash, and exhausted determination as hope is rekindled are all beautifully portrayed. And her singing and dancing would clearly make veteran
Broadway star Dorothy Brock jealous. Leah Dalrymple is brilliant as the amusingly vain and jaded Brock complemented by some gorgeous vocals. Austin Robert Miller runs the show with confident control as superstar director Julian Marsh, even hilariously directing leading man Billy (Julian Comeau) to sing the super-high note of Lullaby of Broadway in his place. Austin and Isabelle work great together throughout including his "pep talk" to get her ready for her love scene and the show's closing scene that perfectly captures all they've both discovered thanks to each other.
Julian Comeau delivers fantastic dancing and singing as the show-within-the-show's leading man, including his Young and Healthy courting of Peggy and his tribute to the stage's beautiful Dames. Nia Coleman is amusing as the co-writer Maggie with a big, fun personality, with her co-writer Bert (Quincy Unseth) playing very well off each other. Emma Camp is a hoot as Anytime Annie, shining with Maggie and Bert in a nicely staged Shuffle Off to Buffalo. Other entertaining performances come from Christopher Reilly as rich Texas bankroller Abner Dillon and Matthew Kesner as Dorothy Brock's true love Pat Denning. And the entire cast simply stuns as comedians and dancers who come into a small fortune in We're in the Money, captivate in a powerfully performed 42nd Street, and inspire us to our dreams in Lullaby of Broadway.
Performed July 26 - August 3, 2013

Photos by Paul Cranmer
Rob Hopper
Facebook
Instagram

Executive Director
National Youth Arts
~ Cast ~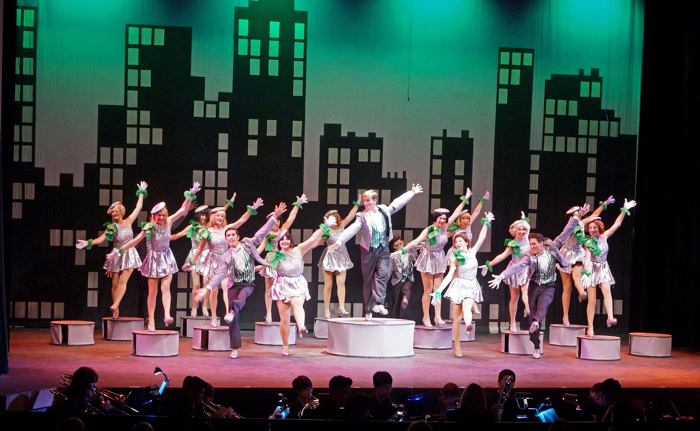 Add Artist Page
Julian Marsh: Austin Robert Miller
Peggy Sawyer: Isabella Moore
Dorothy Brock: Leah Dalrymple
Billy: Julian Comeau
"Anytime" Annie: Emma Camp
Bert: Quincy Unseth
Maggie: Nia Colemon
Abner Dillon/Ensemble: Christopher Reilly
Pat Denning/Ensemble: Matthew Kesner
Mac: Reno Selmser
Phyllis: Madison Clark
Lorraine: Rachel Goldman
Gladys: Hannah Rachel Tamkin
Diane: Lexi Greene
Ethel: April Lucille Pollock
Winnie: Kat Monzon
Oscar/Doctor/Ensemble: Daniel Niemi
Boy Ensemble:
Tom Giron
Benjamin Gutierrez
AJ Morales
Aaron Sallan
Tap Ensemble:
Gabby Chambers

Jenna Friedman
Sara Gilbert
Julie Greiner
Lauren Hinkley
Daniela Iezza
Katie Jones
Audrey Miller
Samantha Speer
Ballet/Jazz Ensemble:
Lauren Alexander
Jessica Bernardin
Meagan Chew
Capri Corwin
Sarina Freda
Julie Greiner
Daniela Iezza
Lyrissa Leininger
Anthea Grace Stobie
McKenna Tedrick

~ Orchestra ~
Conductor: Susan Treworgy-Calkins
Reed I: Rachel Klavir
Reed II: Kevin Alvarez
Reed III: Alec Proudfit
Reed IV: Jeremy Stein

Reed V: Matthew Castellanos
Trumpet I: Nathan Serot
Trumpet II: Daniel Yao
Trumpet III: Forbs West
French Horn: Teo Kim
Trombone I: Daniel Nebens
Trombone II: Joseph Alex Reyes
Bass: Sarah Haggerty
Percussion: Katie Real
Drums: David Goldberg
Piano: Noah Fields

Director: Ginny Grady
Choreographer: Tessa Grady
Music Director: Zachary Spencer
Conductor: Susan Treworgy-Calkins
Producer: Megan McDonough
Artistic Director: Mark Andrew Reyes
Associate Producer: Mary Kimball
Stage Manager: Brynn Spencer
Scenic Designer/Technical Director: Mark Andrew Reyes
Lighting Designer: Gary Mintz
Costume Designer: Ariella Seltzer
Sound Designer/Engineer: Richard Blake
Assistant Director/Assistant Stage Manager: Nick Berke