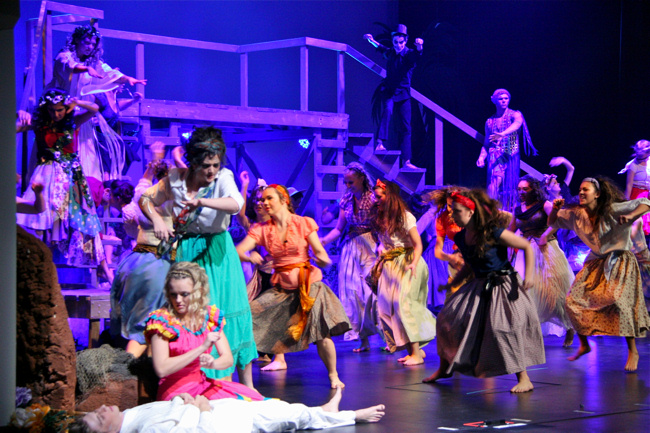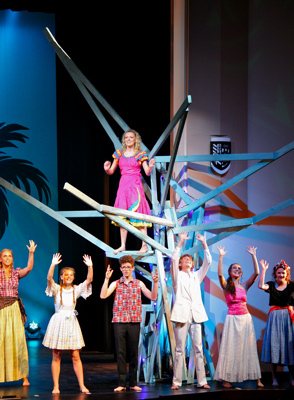 THE SHOW:
Hans Christian Andersenís classic tale of The Little Mermaid has been adapted by Rosa Guy into the beautiful, heartbreaking, but hopeful story of the peasant island girl Ti Moune who falls in love with Daniel, a son of the French nobility that rules her Caribbean island. Her love is so strong that she makes a deal with Papa Ge, the Demon of Death, to sacrifice her life in order to save Daniel's. But class and racial prejudices are strong emotions as well, and the Frenchman Daniel may not be willing to defy his family and his upbringing that seek to keep the two apart. Itís a powerful and touching story of hopeless love, and of one girl who still loves despite its hopelessness. Lynn Ahrens and Stephen Flaherty (Ragtime, Seussical) have transformed the story into a highly popular musical full of poetic lyrics, engaging reggae, and mesmerizing ballads.
THE PRODUCTION:
Director Janice Robillard and her cast and creative team at Xavier/Brophy Theatre delivered a highly impressive production of Once On This Island. Nathan Wardís set has a pair of stairs and ladders leading up to a catwalk where the gods are often perched in the sky above their mortals, and in the right-hand corner grows a stylistic, symbolic tree. Raining down from the sky are some gorgeous effects by Lighting Designer Jonah Nelson beautifying the island world and setting the mood.
The cast is packed with talents, led by Ali Getz starring as Ti Moune. Her charisma and vocals drive the bright scenes as she prays to embark on her unique destiny, inspires the nobility to dance, and plays with the inhabitants of the island teeming with life. And when things are darkest, she powerfully captures the sadness and fear. That includes her movingly
portrayed parting with her parents Ė Jeremiah Johnson as Tonton Julian who reluctantly knows he has to let her follow her path, and Liz McGovern whose lovely vocals and heartbreak as Mama Euralie all combine for a poignant Ti Moune. And it includes the fear as she faces the god of death, Phillip Rapa as an entertaining Papa Ge, in the haunting Forever Yours.
The other gods include Sammi Bennett with some warm and beautiful singing as the goddess of love, more great vocals by god of water Jack Rose bringing down the dramatic Rain, and Talia Khan leading a spirited Mama Will Provide. Jacob Browning delivers a sonorous ballad of Some Girls. And his girl Andrea (Sedona Urias-Ramonett) brings yet more remarkable vocals and a terrific performance as her jealousy subsides to pity for the naÔve island girl. Rounding out the cast is a large and dynamic ensemble of storytelling singers, dancers, and actors who elevate the production throughout with their vibrancy in Mama Will Provide, drama in Pray, and hope in Why We Tell the Story.
Performed October 16 - 19, 2013
Rob Hopper
Facebook
Instagram

Executive Director
National Youth Arts
~ Cast ~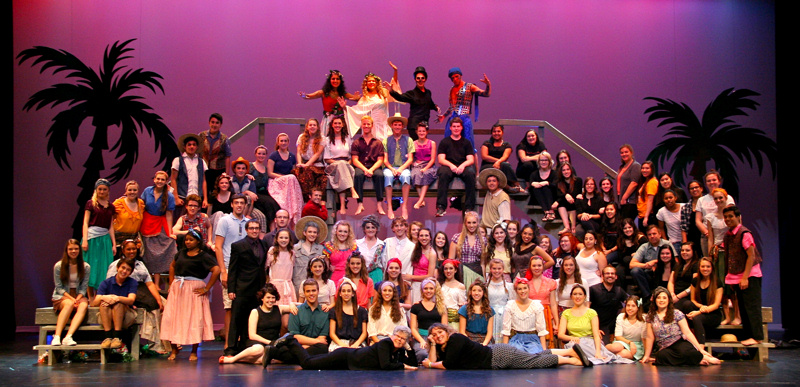 Add Artist Page

Little Ti Moune: Katelyn Weber
Ti Moune: Ali Getz
Mama Euralie: Liz McGovern
Tonton Julian: Jeremiah Johnson
Erzulie: Sammi Bennett
Asaka: Talia Khan
Papa Ge: Phillip Rapa
Agwe: Jack Rose
Daniel: Jacob Browning
Andrea: Sedona Urias-Ramonett
Armand: Tanner Gurule
Daniel's Father/Featured Storyteller: David Tonner
Daniel's Son/Featured Storyteller: Joey Underwood
Gatekeeper/Featured Storyteller: Grayson Kelly
Mme. Armand/Featured Storyteller: Sophia Leon
Young Girl/Featured Storyteller: Liz Grannis
Featured Storyteller/Ensemble: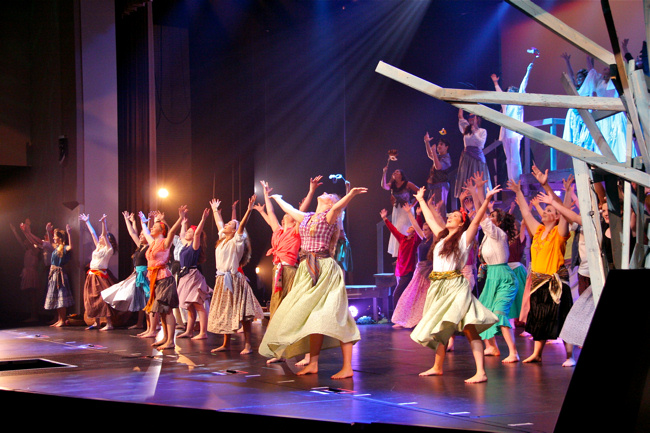 Payton Bioletto
Madison Breuer
Vella Clayton
Andrew Contreras
Erick Deyden
Sophia Deyden
Kate Gmelich
Addie Gralen
Abby Hebert
Ashlynn Holloway
Lizzie Hosier
Barrette Janney
Colby Klemish
Anna Koehler-Celaya
Taylor Long
Meredith MacLennan
Monica Madden
Carmel McCullough
Sam McGehee
Julia Miller
Ciana Newberry
Hannah Pai
Jeremy Pasia
Eden Polich
Chloe Ranshaw
Collin Ryan
Elias Sabbagh
Jamie Tucker
Betsy Underwood
Maria White
Annika Yandell
Tatumn Zale

Director: Janice Robillard
Music Direction: Reynaldo Saenz
Choreography: Kristina Nagaran Ulrich and Caroline Wagner
Set Design/Technical Director: Nathan Ward
Light Design: Jonah Nelson
Sound Design: Kyle Schneider and Preston Doyle
Costume Design/Coordination: Mary Romine
Prop Design/Student Crew Supervisor: Teresa Corderman
Stage Manager: Margaret Golonka