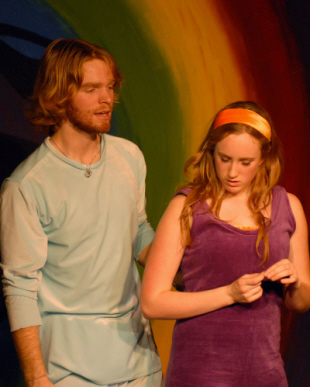 Featuring the music and lyrics of Stephen Schwartz from the 1970s, more ancient words from the Book of Matthew, and a lot of new words from our modern lexicon, Godspell is one of those great musicals that stays as fresh and original as the cast and crew make it. Whidbey Children's Theater, located on the southern edge of the scenic Whidbey Island near Seattle, shows they've got the cast and crew to make it great. And just in time for Easter.

So much of the success of Godspell lies in a strong ensemble that has a good and clever sense of humor and who work together in a natural way, and this is the Whidbey cast's strength. It all stems from Sean Hough as Jesus. His easygoing presence immediately makes you feel both at peace and ready to laugh.

As John the Baptist, Cameron Gray prepares the way for Jesus' entrance by baptizing the ensemble with water/glittery confetti. Director Allyson Brown has that ensemble dressed initially in drab, gray outfits. With each baptism, a flash of color is revealed above the heart of the baptized person who then disappears backstage, reappearing in the next scene dressed in the colorful and lively costumes they wear from then on. Cameron also plays the part of Judas – in this case a Judas who truly regrets the betrayal he must visit upon his dearest friend.

Then there are the talented ensemble members who act out the many parables in such amusing ways. A few of the highlights include:
* A hilarious retelling of The Good Samaritan featuring triple-threat Elizabeth Grant as a blind Samaritan who ends up doing as much damage as good as she nurses the injured man to health, loads him onto her reluctant donkey (Natalie Groce), and attempts to get an innkeeper to house him using some sort of slang American Sign Language.
* Said donkey Natalie Groce proves to be an outstanding comedian throughout, also starring as a sassy Pharisee, a Father Abraham with a Brooklyn accent, and a lowly weed who briefly has delusions of grandeur that her seeds can bear fruit (until Elizabeth Grant coolly knocks her back into sad, wilting reality by reminding her of her bareness with the reprimand, "No fruit, Natalie."). The humiliations will only continue as later, in an amusing reenactment of Noah's Ark, a hungry animal played by Elizabeth will gnaw on the ship's edge, which also happens to be Natalie's arm.
* Alexandria Brown heats up the joint with Turn Back, O Man. She'll also be remembered for her role in The Prodigal Son when, upon the son's (Jeff Potter) meek return and the other son's (Ethan Berkley) sulky dismay, Alexandria starts preparing a celebration feast with the massacre of a hapless fatted calf, continuing to rip it to shreds until Jesus finally,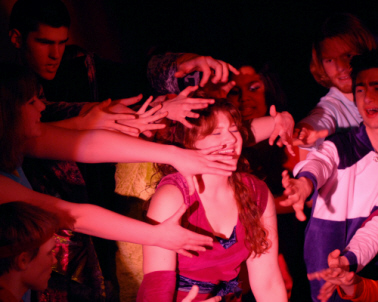 gently lets her know that, well, the calf is quite dead.

* Sean Hough, Cameron Gray, and Elizabeth Grant tap out All for the Best vaudeville style.

* On a more somber note are a couple ballads including All Good Gifts led by Andrew Spencer and accompanied by Evan Elwell on the flute, and the haunting By My Side sung beautifully by Elizabeth Grant and Kimberly McLean after Jesus saves Elizabeth from a public stoning.

* Allie Firth injured her leg the opening weekend, but she still came out to do her solo Day by Day, the best-known song of the show, which Allie sings gently and with genuine feeling.

* And Samantha O'Brochta, who in some scenes can be most intimidating to little brothers (just ask poor Andrew Spencer), can also lead the cast in probably the most rousing musical number of the show – the soulful O, Bless the Lord My Soul.

The show ends with the bittersweet On the Willows, the dramatic crucifixion, and a hopeful conclusion. The whole production is backed up by a dynamite band. Together the cast and band had the audience captivated throughout, and earned a rousing and deserved standing ovation.

Performed March 23 - April 8, 2007.

Rob Hopper
National Youth Theatre

~ Cast ~



Jesus: Sean Hough
John the Baptist/Judas: Cameron Gray
Company:
Andrew Spencer
Ethan Berkley
Jeff Potter
Evan Elwell
Natalie Groce
Alexandria Brown
Elizabeth Grant
Samantha O'Brochta
Allie Firth
Kimberly McLean

Director: Allyson Brown
Musical Direction: Linda McLean
Choreography: Suzanne Kelman and Marta Mulholland
Costume Design & Construction: Valerie Johnson
Set Design: Allyson Brown, Martha Murphy, and Glenn Jones
Stage Manager: Zora Lungren
Light Design: Kira Keeney