Listen up you cats and dolls! Westview Theatre Company's production of Grease is a thumpin' and jumpin' revival of the 1972 musical. A long-time fixture in Westview's theatre department, director Douglas Smith revs up the scene with great comedy and creativity, assuring the audience will have a ramma lamma lamma, ka dinga da dinga dong good time.

Just like at any high school, there are lots of love stories at Rydell High, but the central one involves cool cat Danny Zuko, played by Tim Wazny who had a summer vacation fling with sweet thing Sandy Dumbrowski played with an authentic naiveté and great vocals by Rachel Pence. The story really begins when he discovers she has transferred to his school. Now each must decide how much they are willing to change their image to recapture the thrill of those "Summer Nights."

The Burger Palace Boys are represented well, including Josh Walden as Doody who shows off his nice falsetto during "Those Magic Changes." Bill Wuehrmann as Doody brings strong vocals as he shares some great fun with Lauren Zinn as Jan during "Mooning." But the hit of the evening was the big number, "Greased Lightning," which featured Eugene Shtilkind as the ever-cool Kenickie. Great choreography by Betty King and a real greased lighting convertible made this a great centerpiece production number.

The Pink Ladies strutted their stuff with Megan Neubauer as Betty Rizzo who did an outstanding job with "Look at Me,
I'm Sandra Dee" and in the ballad "There are Worse Things I Could Do." Rounding out the gals in pink were Annie Buell as Marty and a hilarious Jazzmine Farol as Frenchy.
Other fine performances came from Jason Nagata as a very suave Johnny Casino during "Born to Hand Jive" and Shawn McCombs as the smarmy Vince Fontaine.
Overall it was a great send off to Doug Smith who has given over three decades to Theatre Education. Aided by music director Doreen McCarty who coaxed great harmonies from the cast, great set design by John Wuehrmann, and nice costuming by Janet Pitcher, Grease proves "it doesn't matter if you win or lose, it's what you do with your dancin' shoes."

Performed April 22 – May 1, 2010
Martha Pettit
National Youth Theatre
~ Cast ~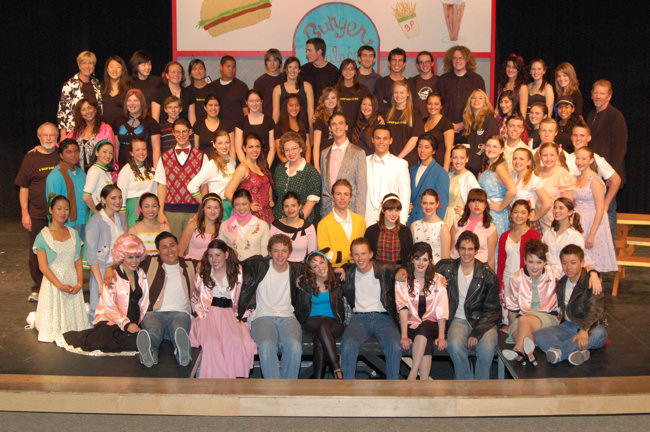 Miss Lynch: Kelly Myers
Patty Simcox: Charlotte Orren
Eugene Florcyk: Isaiah Goff
Jan: Lauren Zinn
Marty: Annie Buell
Betty Rizzo: Megan Neubauer
Doody: Josh Walden
Roger: Bill Wuehrmann
Kenickie: Eugene Shtilkind
Sonny La Tierre: Youngkun Wiess
Frenchy: Jazzmine Farol
Sandy Dumbrowski: Rachel Pence
Danny Zuko: Tim Wazny
Radio Singer: Kirsten Miller
Johnny Casino: Jason Nagata
Vince Fontaine: Shawn McCombs
Cha-Cha DiGregorio: Sami Kerstner
Teen Angel: Brandon Axtell
Rydell Teens:
Austin Anderson
Meagan Arthurs
Heather Banks
Caitlin Cobb
Connor Bush
Natalia Fimbres
Deb Flores
Jennifer Guerin
Emily Hundley
Veronica Karpecki
Kayla Mallory
Wendy Matsutani
Tram Nguyen
Sanket Padmanabhan
Sarah Pence
Meagan Pitcher
Linda Poon
Jessie Proulx
Alyssa Wheelock
Charles Whitaker
Victoria Winter
Director: Douglas C Smith
Music Director: Doreen McCarty
Orchestra Director: Jeri Webb
Choreographer: Betty King
Scene Designer: John Wuehrmann
Costume Designer: Janet Pitcher
Light Designer: Elizabeth Qi
Sound: Corey Flewellen
Dance Captains: Sally King, Rachel Pence
Orchestra
Guitar: Chuck Farrow
Bass Guitar: Nick Farrow
Saxophone: Christian Nguyen
Saxophone: Felicia Alvarez
Saxophone: Omar Burkhart
Drums: Brice Burton
Drums: Jacob North
Piano: Wayla Pistone