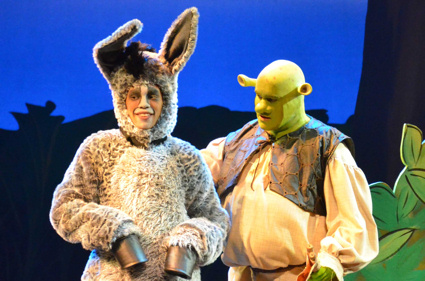 The Show:
It's not easy being a big green ogre. Based on the mega-hit movie and featuring David Lindsay-Abaire and Jeanine Tesori's book and score, Young Shrek is promptly kicked out alone into the world. A place where, according to his parents, every dream comes true (but not for you), and everyone has a friend or two (but not for you). So Shrek grows up and finds a nice swamp from which to enjoy the Big Bright Beautiful World. Until his swamp gets commandeered by the little Lord Farquaad as a refugee camp for fairy tale characters. To reclaim his home and his solitude, Shrek will have to help Farquaad marry a princess by rescuing a seriously stir crazy Princess Fiona from the dragon's lair. And so begins Shrek's big adventure during which way more than one freak flag will fly.
The Production:
Director Bobb Cooper and company at Valley Youth Theatre, performing at the Herberger in downtown Phoenix, completely immerse us into the Big, Bright Beautiful World of Shrek's hodgepodge fairy tale kingdom. That includes some magic by lighting wizard Mike Eddy and costume enchantress Karol Cooper who helps their remarkably talented cast members transform into all manner of fairy tale characters from nineteenth-century fantasies like Alice in Wonderland, Pinocchio, Peter Pan and The Nutcracker to far more ancient folklore.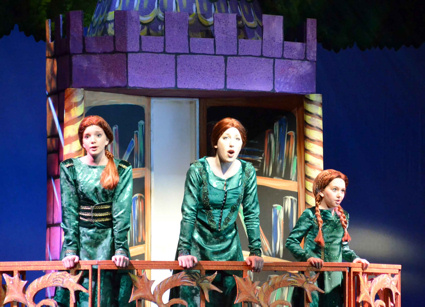 Brad Cashman is our title character and turns in another stellar performance for VYT, this time as an ornery ogre with a bigger-than-life stage presence and terrific use of voice. Lacey Bookspan is fun and frantic as Fiona with beautiful vocals and impressive range. The two of them work great together as they begin to fall for each other in their Shrekishly romantic I Think I Got You Beat. John Batchan is a huge hit as the lovable, friendly, talk-you-to-death Donkey who leads a lively Make Your Move accompanied by the Three Blind Mice (Carly Copp, Ally Lansdowne, and Alyssa Shea). While Philip Amerine is a riot as the severely Napoleonic-syndromed Lord Farquaad who has a great sense of haughty humor and physical humor as he walks/dances on his knees.
Elsewhere, Riley Glick and Eliza Parker are Young and Teen Fiona attempting to deal with her long imprisonment – prisoners of a fantastic dragon puppet requiring several puppeteers to fly her around and featuring the soaring vocals of Carly Makani Copp. While the entire cast shines as impossibly happy, master race residents of Farquaad's Duloc and, of course, as the plethora of fairy tale characters who delight throughout, culminating as they all proudly wave and hoist their freak flags through the roof.
Performed June 14 - 30, 2013

Photos by Barry Smith
Rob Hopper
Facebook
Instagram

Executive Director
National Youth Arts
~ Cast ~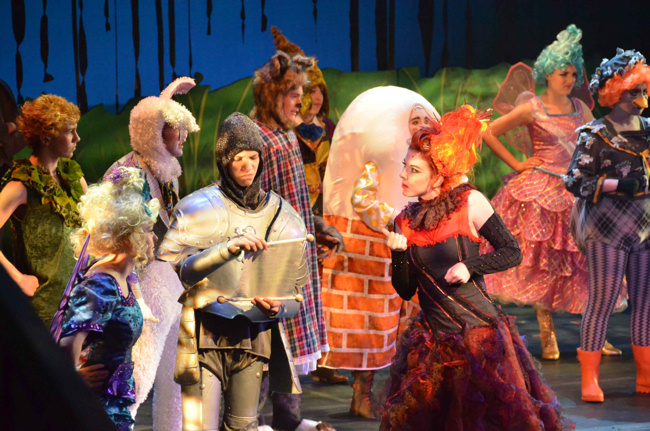 Add Artist Page

Shrek: Brad Cashman
Princess Fiona: Lacey Bookspan
Donkey: John Batchan
Lord Farquaad: Philip Amerine
Dragon: Carly Makani Copp
Dragon Puppeteers:
Maxx Carlisle-King
Conner Morley
Mason Reeves

Dragon Singers:
Ally Lansdowne
Tara Mulligan
Alyssa Shea
Ali Whitwell
Gingy/Sugar Plum Fairy: Ali Whitwell
Pinocchio: Austin McMains
Big Bad Wolf: Connor Baker
Little Pigs:
Connor Morley
Mason Reevew
Maxx Carlisle-King
White Rabbit: Tim Oakes
Fairy Godmother: Ally Lansdowne
Peter Pan: Donovan Fiore
Wicked Witch: Camille Gribbons
Ugly Duckling: Jennie Rhiner
Papa Bear/Papa Ogre: Aaron Ford
Mama Bear: Martina Hercel
Baby Bear: Jacob Patch
Mad Hatter: Adam Hays
Humpty Dumpty: Rebecca Caswell
Elf: Alyssa Shea
Dwarf: Jake Bonar
Little Shrek: Ryan Breuer
Mama Ogre: Macy Wood
King Harold: Marshall Scott
Queen Lillian: Tara Mulligan
Young Fiona: Riley Glick
Teen Fiona: Eliza Parker
Captain: Raphael Brown
Guards:
Wil Arends
TJ L'Heureux
Marshall Scott
Benji Wagner
Erik Wilson
Knights:
Donovan Fiore
Marshall Scott
Ralphael Brown
TJ L'Heureux
Pied Piper: Benji Wagner
Dancing Rats:
Elyssa Blonder
Carly Makani Copp
Ali Whitwell
Ally Lansdowne
Conner Morley
TJ L'Heureux
Brielle Amrein
Jessica Sinodis

Three Blind Mice:
Carly Makani Copp
Ally Lansdowne
Alyssa Shea
Bluebird: Jennie Rhiner
Bishop: Wil Arends
Theolonius: Billy Deihl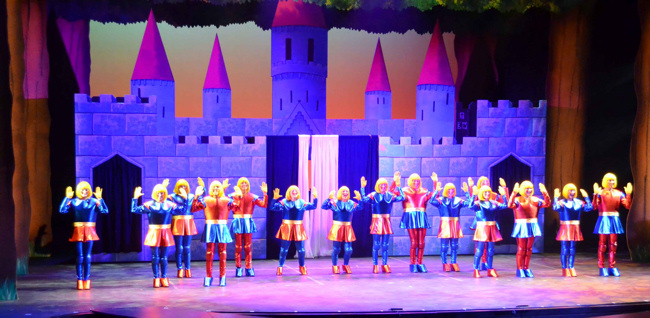 Duloc Performers:
Brielle Amrein
Elyssa Blonder
Maxx Carlisle-King
Haley Cohn
Carly Makani Copp
Sophia Deyden
Donovan Fiore
TJ L'Heureux
Conner Morley
Tara Mulligan
Alex Partida
Jessie Jo Pauley
Mason Reeves
Jessica Sinodis

Caroline Wells
Erik Wilson
Happy People:
Brielle Amrein
Wil Arends
Elyssa Blonder
Jake Bonar
Haley Cohn
Sophia Deyden
TJ L'Heureux
Eliza Parker
Alex Partida
Jessie Jo Pauley
Jessica Sinodis

Benji Wagner
Caroline Wells
Erik Wilson

Director: Bobb Cooper
Music Director: Mark Fearey
Choreographer: Molly Lajoie
Costume Designer: Karol Cooper
Lighting Designer: Mike Eddy
Sound: Clearwing Productions
Production Stage Manager: Sarah Overturf