THE SHOW:
Michael L. Vacca wrote this comedic adaptation of Hans Christian Andersen's classic fairy tale of a queen testing whether the prince's potential bride-to-be is a true princess. The test is a tiny pea hidden beneath twenty mattresses, for any true princess would be so sensitive that the tiny pea would make her too uncomfortable to sleep. In this version, a gypsy inspires the 19 ˝-year-old Prince Valiant to go off on a quest to find himself a princess to marry. With his trusty squire Donald Dunce, they go through the neighboring kingdoms on a speed-dating tour filled with quirky, single princesses before meeting the one who will be subjected to the pea test.
THE PRODUCTION:
Valley Youth Theatre's production is one that appeals to audiences of all ages with entertaining comedy and characters throughout. Director Lauren Antioco has assembled a talented cast who excel as character actors, and Karol Cooper has them all adorned in their medieval finest.
Austin McMains stars as 19 ˝-year-old Prince Valiant with natural, understated humor used expertly as he encounters all manner of odd princesses with a mixture of bemusement, confusion, and wonder. Sam Primack is phenomenal as his sidekick Donald Dunce. Not that bright, a little touchy-feely (his attempts at sympathetic hugs and massages are shaken off by the queen), a quick learner when it comes to vanity (hilariously checking himself out in the mirror with different poses while the prince speed-dates a vain princess), Sam delivers the laughs throughout.
Each of the single princesses shine in their meetings with the two travelers. Nerdy brainiac Princess Minerva (Maddie Milmink) is matter-of-fact – until she gets excited talking about trigonometry (Prince Valiant leaves, complaining that she's too smart for him, while Donald comforts him by suggesting, "Maybe we'll find you a dumber princess.") Which doesn't take long with the amusingly dorky Princess Diana (Sophia Drapeau) given to odd dancing and laughing. It's difficult for Valiant to get the attention of Susan Saad who is more than content just to lie on the royal couch and gaze into her mirror all day as the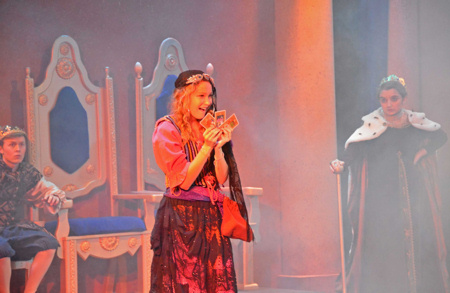 beautiful Princess Beaulah. And Claire Goux physically intimidates her suitor as the tough, leather-wearing, muscle head Princess Stella.
While back at home there is no shortage of terrific personalities as well. Rebecca Caswell as Old Queen Maude given to complaining and offering free grandmotherly advice, Connor Baker as King Maximillian eager to see his son happily married, and Jaycee Levin as the gypsy who loves a big entrance and playing up to the exotic and mysterious persona that the royal family finds intriguing. On a dark and stormy night, they all welcome into their castle a bold and feisty Lady Hildegarde (Katy Sprowls) accompanied by a kind and charming Baily Shultz who claims to be Princess Olivia, beguiling the prince, and leading to a test.
Performed October 18 - November 3, 2013
Rob Hopper
Facebook
Instagram

Executive Director
National Youth Arts
~ Cast ~
Add Artist Page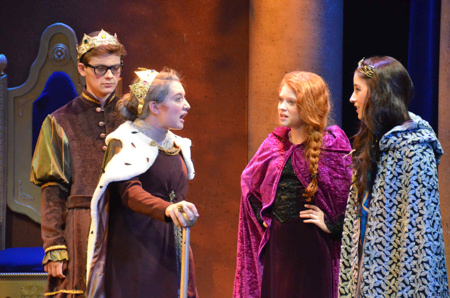 Prince Valiant: Austin McMains
Princess Olivia: Baily Shultz
Old Queen Maude: Rebecca Caswell
King Maximillian: Connor Baker
Donald Dunce: Sam Primack
Lady Hildegarde: Katy Sprowls
Esmeralda Smythe: Jaycee Levin
Princess Minerva: Maddie Milmink
Princess Diana: Sophia Drapeau
Princess Beaulah: Susan Saad
Princess Stella: Claire Goux

Director: Lauren Antioco
Costume Designer: Karol Cooper
Lighting Designer: Daniel Davisson
Sound Designer: Clearwing Productions
Technical Director: Tom Holmberg
Production Stage Manager: Sarah Overturf
Scenic Designer: Dori Brown