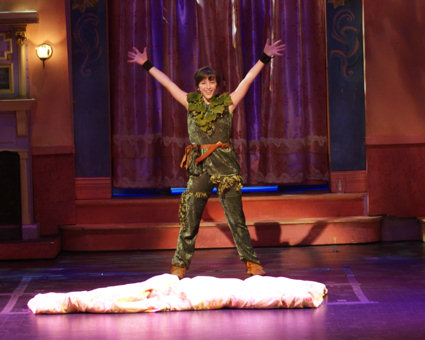 It's been 105 years since Neverland was first appeared on stage for J.M. Barrie's tale that has become as immortal as the boy who refused to grow old, a tale still leaving audiences clapping their hands to show they do indeed believe in fairies. And with Valley Youth Theatre in Phoenix putting it on stage this time around, it's a sure bet to be magical.

Sarah Hollands stars in the title role, delighting with a vibrant personality, singing, and youthful charisma as she crows and summersaults and, after finally getting her shadow properly sewed on, performs some masterful shadow puppetry. Sascha Peralta-Ramos turns in a nice performance with some surprising touches of humor as Wendy with a crush on the boy who won't grow up, with younger brothers Michael and John played by real brothers Braxton and Bryan Tanquary joining up for a flying foursome as the quartet think happy thoughts and do some flamboyant flying with an assist from ZFX. That means leaving their nanny Nana behind, but not before Ashley Mount plays it up well as the Darling's dog.

The flight to Neverland brings them into the company of friends and foes. Friends include a bunch of Lost Boys, Peter's young friends who fell out of their baby carriages and ended up in Neverland (girls are too smart to fall out of their baby carriages). They are a fun and playful lot enjoying their adventures with pirates and Indians, going by names such as Tootles and Nibs. "Slightly" boasts himself to be the only Lost Boy who knows his last name, as it was pinned to his underwear. Christopher Moffitt announces his name with grave reverence, Slightly Soiled.

While not initially friends, the Indians ally with the Lost Boys after Peter and the Indian leader Tiger Lily save each other. Karsten Tate is a dynamic and athletic Tiger Lily who leads the big Ugh-a-Wug scene with flair, a huge dance number choreographed by Katie Casey who fills this show with lively and impressive choreography throughout.
Those dances include some hilarious ones by the bad guys – the dastardly pirates led by the infamous Captain Hook. As Hook, Bradley King moves naturally between an outer evil captain and inner child who is given to crying and/or fainting at the sound of a clock. Hook and his pirates are a hoot as they bumble and waltz around the stage.
Director Bobb Cooper has put together a show big on humor and enchantment, and put together a team to make sure the visuals were enchanting as well. Those visuals include professional rented sets, costumes by Karol Cooper, and gorgeous lighting effects by Mike Eddy that complete our memorable trip back to Neverland.
Performs September 11 - 27, 2009

Rob Hopper
National Youth Theatre
~ Cast ~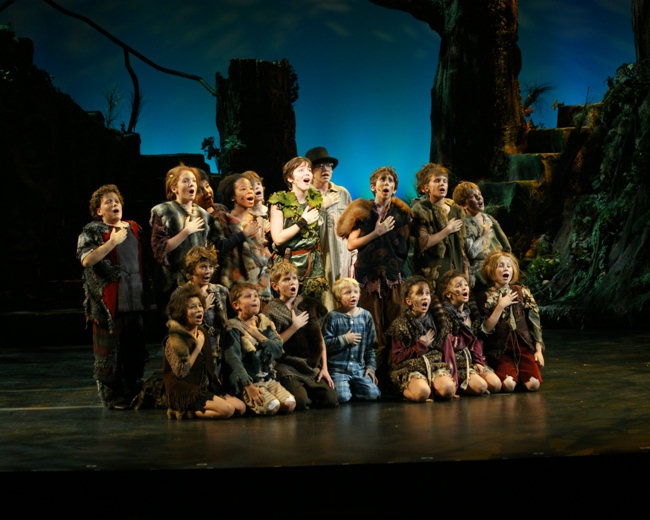 Indian: Asijah Adolph
Indian: Julianna Alabado
Mrs. Darling: Sarah Ambrose
Lost Boy: Adia Bell
Twin 1: Payton Tioletto
Lost Boy: Sam Brown
Linville: Logan Cummings
Holland: Jamie DiCarlo
Lost Boy: Macie Egherman
Lost Boy: Donovan Fiore
Lost Boy: Ben Formisano
Kargo: Anthony Guillen
Starkey: Cooper Hallstrom
Peter Pan: Sarah Hollands
Twin 2: Morgan Karns
Jukes: Alexander Khan
Mr. Darling/Captain Hook: Bradley King
Lost Boy: Carly McClain
Jane/Indian: Megan Mahoney
Curley: Brennan Metcalfe
Slightly: Christopher Moffitt
Nana/Indian: Ashley Mount
Mullins: Tim O'Halloran
Cecco: John Luke Osorio
Marasco: Lamar Overton
Nibs: Alexandra Partida
Wendy: Sascha Peralta-Ramos
Indian: James Phillips
Indian: Vincent Pontarelli
Tootles: Sam Primack
Lost Boy: Harrison Redmond
Liza: Nicole Rubin
Noodler/Indian: Tom Sehak
Indian/Older Wendy: Lindsey Stegemoller
Michael: Braxton Tranquary
Lost Boy: Myranda Tanquary
Tiger Lily: Karsten Tate
Indian: Megan Thompson
Indian: Payton Travis
Lost Boy: Taylor Updegraff
Smee: Sean Vital
Neverbird: Sydney Young
Lost Boy: Zoe Zamora

Director: Bobb Cooper
Choreography: Katie Casey
Music Direction: Mark Fearey
Lighting Design: Mike Eddy
Costume Design: Karol Cooper
Sound Design: Dave Temby
Flying Effects: ZFX, Inc.
Stage Manager: Todd Tillett
Set Scenery: FCLO Music Theatre