The Show:
Big hair, big dreams, and big belly laughs collide in Hairspray – an outrageously funny and at times powerful musical that won a whopping eight Tony Awards last year including Best Musical. One of the few musicals that truly succeeds at all levels from great music, dancing, both a fun and inspiring story. A story set in Baltimore during the early 1960s and centered on Tracy Turnblad, a teenage girl who dreams of dancing on The Corny Collins Show, Baltimore's own television dance show. But she's meeting some resistance from a mom-and-daughter prima donna pair who poke fun at Tracy's weight. And she's getting even stiffer resistance when she wants to integrate the television show, eliminating the one-day-a-month "Negro Day" and making every day "Negro Day."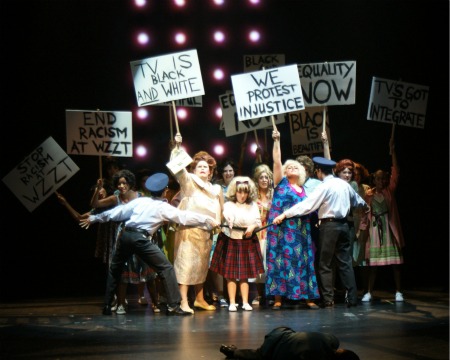 The Production:
Big production values frame Valley Youth Theatre's summer production held at the beautiful Herberger Theater Center in downtown Phoenix. Director Bobb Cooper and his team of designers make it all look good including Karol Cooper dreaming up the various Sixties outfits and the trio of Dorothy Berkoski, Cathy Glazie, and Cindy Guthrie on hair and makeup. Sarah Trieckel's cool sets are splashed with a variety of dazzling lighting effects by Mike Eddy whose tools include a background that can light up like a disco floor.
The cast they illuminate includes a bunch of the valley's top youth talents ranging mostly from high school to college age. Jamie Grossman leads the way with loads of humor, energy, and personality, and an impressive voice that seems effortless and natural for her as she takes us through Good Morning, Baltimore and introduces us to the decade with Welcome to the 60's. Teaming up with her in that one is S. Lewis Jean as Edna, Tracy's mom in drag, who turns in a good comic performance as Tracy's mom and as Wilbur's wife in their charming duet Timeless to Me featuring Brad Cashman as a fun and affable good guy joke store owner.
Viciously campaigning against integration of the races and the waistlines is Grace Kirkpatrick as Velma Von Tussle who sings her ugly bigotry with beautiful flair, with Kimberly Carson as vain and spoiled daughter Amber who hasn't fallen far from the tree. But Tracy's got a lot of friends in her corner including Taylor Wetnight as dorky but loyal Penny Pingleton who is a hoot throughout including I Can Hear the Bells and as the new "checkerboard chick" to Seaweed J. Stubbs – a star dancer on Negro Day played by talented 23-year-old Michael Thompson with dynamic dancing and vocals. Starring as his little sister is 11-year-old Jahnay Pearson groovin' and belting out the role of Little Inez, and their mother is Rhetta Mykeal as Motormouth Maybelle who gets to the heart of the show and the Civil Rights Movement with I Know Where I've Been.
The Baltimore bunch are rounded off by a crazy prison matron (Lindsey Stegemoller), a quirky gym teacher (Charlie Kate Harper), the three superb Dynamites (Asijah Adolph, Alexis Green, and Gabrielle Ramirez), and Cooper Hallstrom as a smooth and charismatic Corny Collins, emcee of The Corny Collins Show (his name lights up on the sign when he tells Velma who really runs the show) whose Nicest Kids in Town make this show's big, vibrant dance numbers (choreographed by Tony Spinosa) dazzle from our opening intro to Baltimore to their assurance that You Can't Stop the Beat.
Performed August 12 - 28, 2011
Rob Hopper
Facebook
Instagram

Executive Director
National Youth Arts
~ Cast ~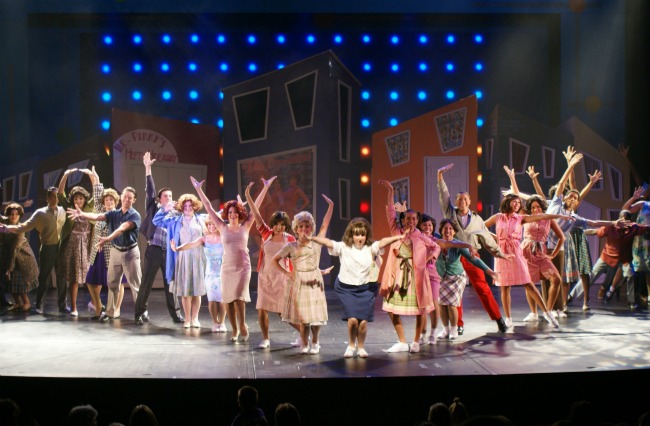 Add Artist Page
Dynamite, Ensemble: Asijah Adolph
Duane, Ensemble: Emmanuel Aire
Gilbert, Ensemble: John Batchan
Lou Ann: Bebe Blanco
Link Larkin: Garrett Boyd
Mr. Pinky: Elliot Brietta
Sketch: Maxx Carlisle-King
Amber Von Tussle: Kimberly Carson
Wilbur Turnblad: Brad Cashman
Female Ensemble: Sophia Deyden
Lorraine: Ramona Ekpe
Brenda: Katie Engstrom
Ensemble: Deanna Forte
Ensemble: Omar A. Foss
IQ: Bransen Gates
Police, Male Ensemble: Stephen Glass
Dynamite, Ensemble: Alexis Green
Tracy Turnblad: Jamie Grossman
Corny Collins: Cooper Hallstrom
Gym teacher, Female Ensemble, Beatnick Chick: Charlie Kate Harper
Female Ensemble: Jordan Hedeby
Brad: Josh Hedeby
Stooie: Justin Jackson
Edna Turnblad: S. Lewis Jean
Prudy Pingleton, Female Ensemble: Heidi Johnson
Principal, Male Ensemble: Brad King
Velma Von Tussle: Grace Kirkpatrick
Male Ensemble: Joshua McWhortor
Fender: Daniel Mejia
Female Ensemble: Paige Michelet
Female Ensemble: Megan Molloy
Motormouth Maybelle: Rhetta Mykeal
Little Inez: Jahnay Pearson
Thad, Ensemble: Vincent Pontarelli
Ensemble: Brittany Ramirez
Dynamite, Ensemble: Gabrielle Ramirez
Female Ensemble: Nicole Rowe
Cindy Watkins, Ensemble: Samantha Roybal
Female Ensemble: Jade Logan Schalk
Harriman F. Spritzer: Will Snider
Tammy: Tasha Spear
Male Ensemble: Brady Stanley
Matron, Female Ensemble: Lindsey Stegemoller Lindsey Stegemoller
Seaweed J. Stubbs: Michael Thompson
Penny Pingleton: Taylor Wetnight
Police, Guard, Male Ensemble: Ian White
Shelley: Libby Willis

Director: Bobb Cooper
Musical Director: Mark Fearey
Choreographer: Tony Spinosa
Production Stage Manager: Todd Tillett
Assistant Stage Manager: Kristian Rarig
Costume Designer: Karol Cooper
Lighting Designer: Mike Eddy
Scenic Designer: Sarah Trieckel
Sound Designer: Clearwing Productions
Technical Director: Tom Holmberg
Volunteer Coordinator: Nicole Tillett
Hair/Makeup: Dorothy Berkoski