Disney's version of Pinocchio gets an update in David I. Stern's and Stephen Schwartz's Geppetto & Son, a musical retelling of the puppet whose lies are as plain as the nose on his face, and his "father" Geppetto --

 

a toymaker who has his hands full with his wooden son. In fact, in this retelling, Geppetto starts the play so disenchanted with his lying, mischievous son that he demands the Blue Fairy take the puppet back, as his wish for a fulfilled heart was not fulfilled. And thus the peeved Blue Fairy takes us back in time to show how it all began using her clever time machine (made up of clockwork automatons who themselves have a few sparks of life burning inside).

It's a fun, little show with familiar tunes (I've Got No Strings, When You Wish Upon a Star) and some new ones by Stephen Schwartz. Ashley Waggoner kicks it all off as the Blue Fairy. Not your typical Blue Fairy – one with with a bit of attitude, playing well to the audience with humor, vanity, personality, and a great voice to boot. Colin Ross makes for an excellent Geppetto, a nice fatherly type who gets a little irritated and hurt as a new, inexperienced father tries to deal with a new, inexperienced son. Donovan Fiore is said son, Pinocchio himself, doing well as he finds himself getting into more and more trouble, often through no fault of his own, and just as often through his own fault. But his misadventures leads us into several highlights.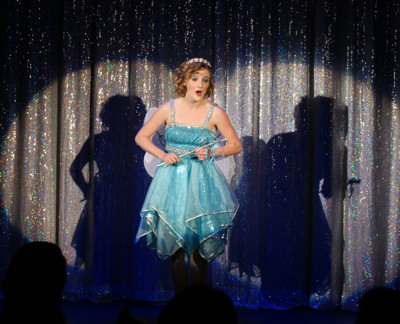 One of which is Will Snider as extravagant puppetmaster Stromboli. His puppets, done up in some of Karol Cooper's terrific creations, are marvelous as marionettes, using body language and expressions to great effect in the I've Got No Strings number. The ensemble of kids also shines as automatons (one of which doesn't like having his cymbals taken away by Geppetto) and as adorably obnoxious brats shouting, "I want it!" in the toy store.

The second act gets a little hurried as we begin skipping through various Pinocchio stories in rapid succession (creepily well-behaved children cranked out by a machine, a jaunt through Pleasure Island, and suddenly stuck in the belly of a whale), but overall it's still an entertaining family show sure to be enjoyed likewise by marionettes, automatons, creepily well-behaved children, and real boys and girls.

Performs May 1 - 17, 2009

Rob Hopper
National Youth Theatre

~ Cast ~

Fox Mother, Mother 1: Sarah Ambrose
Automaton, Roustabout: Zoe Armstrong
Twin, Girl 3, Child 2: Payton Bioletto
Mother 5: BeBe Blanco
Automaton, Roustabout: Madeline Brashear
Lamb, Child 6: Sam Brown
Talia: Sabrina Denham
Fox, Child 8: Sophia Drapeau
Pinocchio: Donovan Fiore
Boy 2, Marionette 3, Child 1: Benjamin Formisano
Bernardo, Father 1: Dylan Holycross
Twin, Marionette 2, Child 3: Morgan Karns
Girl 1, Child 4: Talia Khan
Mother 4: Lexie Larcher
Girl 2, Child 9: Carly McClain
Mother 2: Ashley Mount
Delinquent 2, Automaton, Roustabout: Nathan Naimark
Father 3: Tim O'Halloran
Delinquent 3, Automaton, Roustabout: Tanner Perry
Pig, Delinquent 1, Automaton, Roustabout: Richard Pomraning
Ringleader: Joshua Redfield
Buonragazzo: Simon Ridley
Mrs. Giovanni: Isabel Roos
Geppetto: Colin Ross
Maria: Devin Sanders
Stromboli: Will Snider
Junior, Automaton: Bryan Tanquary
Marionette 1, Child 5: Myranda Tanquary
Mother 3: Megan Thompson
Boy 1, Child 7: Jackson Tramel
Automaton, Roustabout: Gabrielle Videla
Blue Fairy: Ashley Waggoner

Director and Choreographer: Bobb Cooper
Music Director: Mark Fearey
Additional Choreography: Katie Casey
Costume Design: Karol Cooper
Lighting Design: DJ Selmeyer
Sound Design: Nick Dressler
Set Design: Sarah Harris