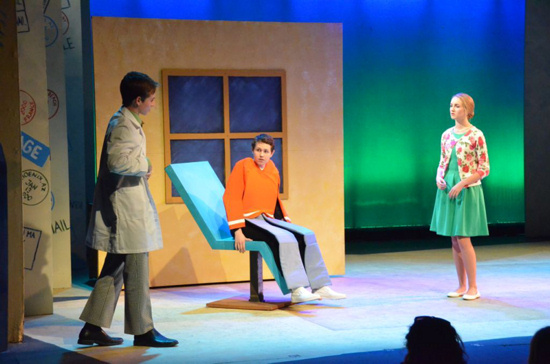 THE SHOW:
Book by Timothy Allen McDonald, Lyrics by Timothy Allen McDonald and Jonathan K. Waller, Music by David Weinstein, Jonathan K Waller, Timothy Allen McDonald and Stephen Gabriel. Based on the book "Flat Stanley" by Jeff Brown.
Stanley Lambchop dreams of being in exciting adventures like Luke Skywalker and Harry Potter, doing things that no one has ever done before. And when he wishes on a falling star, a falling billboard helps out by flattening Stanley like a "flatcake." When postal worker Mrs. Cartero suggests he see the world via postage stamp, Stanley's wishes of one-of-a-kind adventures begin to come true leading to trips to Hollywood, Paris, and Hawaii in this entertaining musical designed for audiences of all ages, shapes, and sizes.
THE PRODUCTION:
Director Bobb Cooper of Valley Youth Theatre pulled together a talented group of seventh to tenth graders to bring the Flat Stanley book to life. Eighth grader Sam Primack is our title character, turned flat through a combination of Karol Cooper's two-dimensional costuming and Sam's body language. He does a terrific job as the excited and imaginative daydreamer in I Wish I Were, rolling with the punches in The Funny Sunny Side, having a blast surfin' Hawaii, and apprehending sneak art thieves while undercover as a painting of a reluctant Bo Peep.
Back home, Ben Formisano and Tatum Dial are fun and loving parents who go from concerned, to accidentally dropping an avalanche of flat-related puns, to helping him find that funny, sunny side of flatness, to their mixed feelings of wanting him to have adventures and wanting him there at home. Chris Cason is a hit as his little brother Arthur who excitedly participates in I Wish I Were with his brother and gives a hilarious monologue about the cool kids, a tree, and Stanley's misadventure as a kite.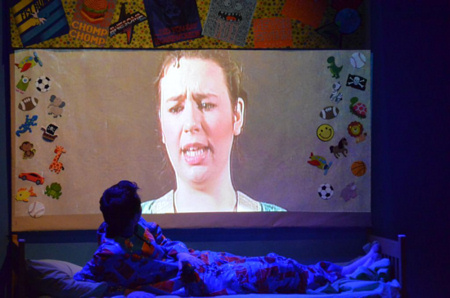 Then there are some of the colorful characters Stanley meets along the way. Sophia Drapeau is a looming, magical, wish-granting billboard beamed in from above via video projection. Carly McClain is a genial, ever-helpful postal worker who helps groove us along as we're Travelin' Through the Mail. Noa Gauthier is Stanley's likeable and supportive long-distance friend Samantha. We go to France with help from French accents and the quirky personalities of museum curator Darby Johnson, Sneak Thief Benny Cowans, Lily Gonzales as Mona Lisa, and Johnny Robaina as Napoleon. Charismatic Hollywood Agent Vincent Pugliese and his equally charismatic assistants (Jasmine Bassham, Alex Kirby, Phoebe Koyabe, and Hallie Reggio) sell Stanley on Hollywood with a snappy rendition of Talent. And the exotic adventures come to rest on the waves of Hawaii with Kylie Cochrane as lively entertainment reporter Sandy Wavecrest, Phoebe Koyabe as a happy surfer, a quartet of dynamic go-go dancers (Jasmine Bassham, Noa Gauthier, Alex Kirby, and Hallie Reggio) choreographed by Cori Brown and, of course, Sam Primack as a surfboard.
Performed April 10 - 26, 2015
Photos by Barry Smith

Rob Hopper
Facebook
Instagram

Executive Director
National Youth Arts
~ Cast ~
Add Artist Page
Mrs. Cartero: Carly McClain
Mr. Lambchop: Ben Formisano
Mrs. Lambchop: Tatum Dial
Arthur: Chris Cason
Stanley: Sam Primack
Bulletin Board/Asst. Director:
Sophia Drapeau
Dr. Dan: Hep Witzel
Hollywood Agent: Vincent Pugliese
Hollywood Assts./Go-Go Dancers:
Jasmine Bassham
Alex Kirby
Hallie Reggio
Hollywood Asst./Bikini Wahini:
Phoebe Koyabe
Samantha/Go-Go Dancer: Noa Gauthier
O. Jay D'Art: Darby Johnson
Mona Lisa: Lily Gonzales
Napoleon: Johnny Robaina
Sneak Thief: Benny Cowans
Sandy Wavecrest: Kylie Cochrane

Director: Bobb Cooper
Musical Director: Patrick Fanning
Choreographer: Cori Brown
Costume Designer: Karol Cooper
Scenic Designer: Dori Brown
Lighting Designer: Daniel Davisson
Sound Designer/Technical Director: Tom Holmberg
Stage Manager/Light Board Operator/Props Mistress: Tiffany Owen