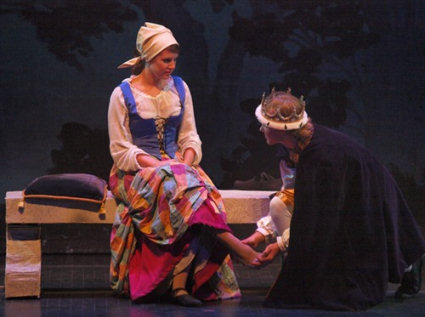 Valley Youth Theatre in Phoenix, Arizona ended their 2007-2008 Season with Rodgers and Hammersteinís Cinderella, a musical update to the centuries-old fairy tale about an ill-treated young cleaning woman, a charming prince, and a fairy godmother. And by all the young girls dressed up as princesses in attendance, the story of Cinderella is, after all these centuries, clearly still a magical draw.

Director Bobb Cooper has put together a lavish, visually stunning production featuring the sets used by Theatre Under the Stars in Houston including the marvelous castle and a sparkling pumpkin carriage, painted by the beautiful lighting of Michael Eddy, and draped in the gorgeous costumes by Karol Cooper.

Dressed in those costumes are the cast members of Cinderella, led by Channing Cooper as Cinderella herself, who imbues the role with her lovely voice as she sings In My Own Little Corner, before her life takes a magical turn thanks to the appearance of her Fairy Godmother. In this case, the Fairy Godmotherís real name is Kelli James, a Broadway veteran of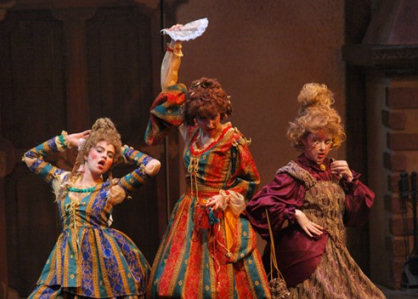 25 years (Eponine in Les Mis, Narrator in Joseph with Donny Osmond). By the time sheís making all kinds of impossible things possible, Cinderella is in a ball gown and headed toward the castle in a pumpkin carriage bedecked with lights. There she is sure to meet the Prince, Dallas Mogensen, who combines with Channing in their very fairy tale-ish romance culminating in their nicely sung romantic duet Do I Love You Because Youíre Beautiful?.
Injecting comedy into the show are the colorful characters surrounding Cinderella and her prince. Surrounding the prince are the King and Queen, with the talented Eddie Maldonado and Stefani Wood making a great team as a delightful and witty husband-and-wife pair trying to get their son hitched. Surrounding Cinderella, of course, are her ugly stepsisters and stepmother. Carrie Braver is a hilarious physical comedian with a great laugh as the ditzy Portia, Christine Margo is the bored and uncouth Joy, and together they are true experts at taunting their poor stepsister Cinderella. And they can fight quite well against each other, as well. They turn the Stepsistersí Lament into a reason to celebrate, and combine with their mother (Kelsey Johnson) and Channing Cooper for a hilarious retelling of how the ball went, with the stepsisters fantasizing about how the ball should have went if the prince had any taste.
The ensemble members shine in a couple comedic scenes as well, most notably as the prince goes hunting for the one who fits the shoe. He ends up dealing with smelly feet, a guy reading a newspaper, a girl who pushes her boyfriend out of the way to get a chance at the shoe, and a girl who is okay with the shoe not fitting because she wants the guy whose lap she just sat in during the shoe fitting.

In the end, this probably isnít one of Rodgers and Hammersteinís masterpieces, but with some excellent humor, pleasant romance and waltzing, and with so many beautiful spectacles, itís a nice bit of magic. Especially for the many young princesses watching it all from the audience with eyes aglow.

Performs June 6 - 22, 2008.

Rob Hopper
National Youth Theatre

~ Cast ~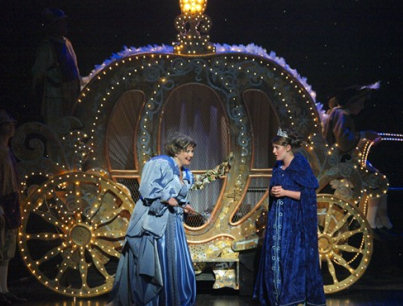 Ensemble: Graci Armendariz
Guard: Hunter Beetham
Portia: Carrie Braver
Ensemble: Cori Brown
Ensemble: Gavin Brown
Ensemble: Robert Carroll
Ensemble: Brittany Collier
Cinderella: Channing Cooper
Ensemble: Matthew Cordon
Footman: Ashton Corey
Ensemble: Jordan Daniels
Ensemble: Lauren Devine
Children's Ensemble: Sophia Clare Drapeau
Children's Ensemble: Abby Espiritu
Footman: Fredrick Fairley, Jr.
Ensemble: Michael Frongillo
Fairy Godmother Understudy: Lindsey Geroux
Ensemble: Cody A. Grosse
Ensemble: Cooper Hallstrom
Herald: Shawn Hathcock
Ensemble: Bradley Hilton
Daughter: Cecilia Iole
Fairy Godmother: Kelli James
Stepmother: Kelsey Johnson
Kid Sister: Morgan Karns
Ensemble: Briana Lefevers
Younger Sister: Celena Leland
Ensemble: Megan Mahoney
King: Eddie Maldonado
Joy: Christine Margo
Ensemble: Brett Moellenberg
Ensemble: Jessica Moffitt
Prince Charming: Dallas Morgensen
Little Boy: Alec Nienhauser
Ensemble: John Luke Osorio
Ensemble: Mia Piciucco
Ensemble: Paul Powell
Ensemble: Becky Saunders
Coachman: Joey Sawyer
Ensemble: Megan Stoner
Ensemble: Hannah Taylor
Children's Ensemble: Scott Viteri
Ensemble: Ashley Waggoner
Ensemble: Nick Webb
Ensemble: Jaclyn Weeman
Ensemble: Reese Westhoff
Ensemble: Brian Wible
Queen: Stefani Wood

Director: Bobb Cooper
Costume Design: Karol Cooper
Music Direction: Mark Fearey
Choreography: Sloan Bayer
Sound Design: Dave Temby
Lighting Design: Michael Eddy
Set: Theatre Under the Stars, Houston, Texas