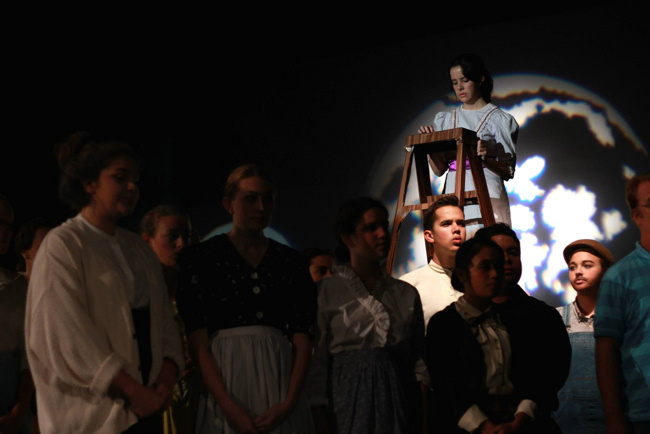 THE SHOW:
"Oh, earth, you're too wonderful for anybody to realize you."
Grover's Corners is just an ordinary, turn-of-the-century small town in the exceptionally ordinary state of New Hampshire. Nothing too newsworthy happened there. Nobody too famous lived there. There's nothing remarkably special about it at all. At least, nothing that's ever likely to make history books full of kings and wars and whatnot. But it was in little towns like these that the vast majority of ordinary people lived out their ordinary lives. And it's the fictional setting of Thornton Wilder's Pulitzer-winning play from 1938. A play with little in the way of props or sets. A play about the nature of the everyday, drawing us into both a community and the individual lives of people we can all recognize, traveling through their experiences with humor, sadness and familiarity, while not fully realizing until it's too late just how truly special every experience and every moment was.
Our Town is Wilder's ode to human existence. Or as our omniscient narrator, the stage manager, describes it, "This is the way we were: in our growing up and in our marrying and in our living and in our dying."
THE PRODUCTION:
Three directors – John Edward Clark, Cory Finch, and Carol Hernandez – team up to direct this production at Vista Murrieta High School. The set is appropriately minimal but with impressive lighting work including projections for the moon under which young George Gibbs and Emily Webb do their homework and the interior of the church where adult George and Emily marry. An excellent trio of ASL interpreters helps tell the story to the left, while to the right Devin Maziarz has a table of implements with which he nicely creates the show's sound effects. In between, the cast weaves together a charming and ultimately powerful retelling of this classic.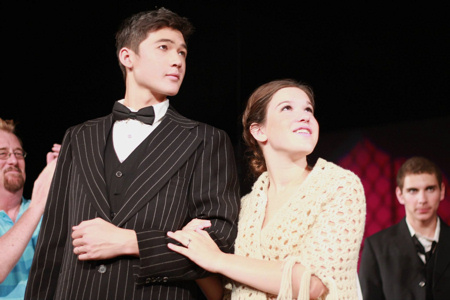 Kailee Shedeed narrates the tale of the town with an easy, familiar style. Helping her tell the tale are the town's residents (not to mention an expert assist from Professor Willard, Kathy Casantusan, who gives an amusing tour guide-ish breakdown on some town details). As various residents, the ensemble does a great job giving life, and death, to the town. They include Brandon Martin who is both funny and tragic as the ill-tempered church choir conductor Simon Stimson and Sirena Torres as a lovable Mrs. Soames who gets very excited by weddings.
At the center of the story are the neighboring families of George Gibbs and Emily Webb. Doc Gibbs and Mrs. Gibbs, played by Kasey Albayati and Ashyln O'Brien, work naturally together as a couple. You can feel Mrs. Gibbs' stress the morning of her son's wedding and the loss haunting Mr. Gibbs as he lays down flowers in the final act. Jeffrey Lawless and Samantha Shroll are terrific as Mr. and Mrs. Webb, including Mrs. Webb giving a touching monologue about sending daughters into marriage without telling them anything, while Mr. Webb tries to calm a frantic daughter on her wedding day and shares a hilariously awkward pre-wedding conversation between future father-in-law and son-in-law.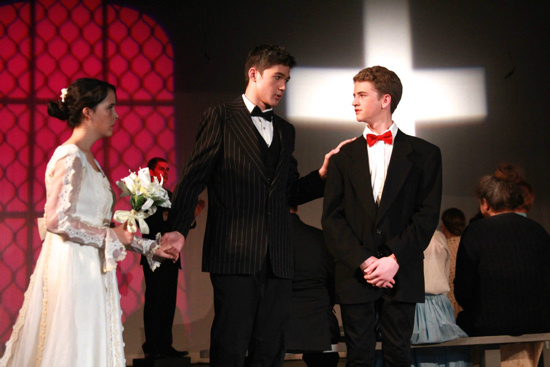 Dylan Wager is George, shining as a teenager reacting to his father's gentle but effective scolding of him for not helping his mother with the chores, amusing as he playfully tricks his stressed-out mom on his wedding day, and growing into adulthood on his malt shop date with Emily. Natalie Calderon is amazing as Emily. Her hesitant explanation to George as to why she's started avoiding him, her glow as the malt shop date goes well, her humorous "I hate him" as the nervous bride glares across the church at her easygoing, oblivious fiancé. She rips your heart out when she goes back to experience her long-ago birthday, unable to make her family realize the preciousness of seconds. Together Dylan and Natalie create a compelling heart to the story from their young friendship to their heartwarming date to their heartbreaking last scene.
Performed October 15-18, 2014
To submit candids for possible inclusion in Yearbook, attach in email to rob@nationalyoutharts.com
Rob Hopper
Facebook
Instagram

Executive Director
National Youth Arts
~ Cast ~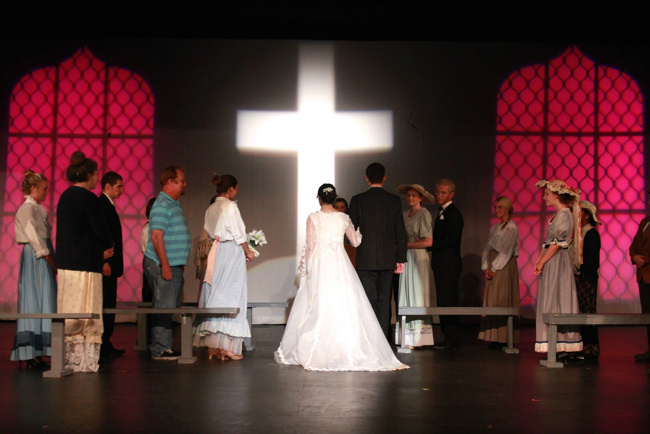 Add Artist Page
Stage Manager: Kailee Shedeed
Emily Webb: Natalie Calderon
George Gibbs: Dylan Wager
Doc Gibbs: Kasey Albayati
Mrs. Gibbs: Ashlyn O'Brien
Mrs. Webb: Samantha Shroll
Mr. Webb: Jeffrey Lawless
Simon Stimson: Brandon Martin
Mrs. Soames: Sirena Torres
Rebecca Gibbs: Cassidy Finch
Wally Webb: Gavin Martin
Professor Willard: Kathy Casantusan
Howie Newsome: Abigail Roze
Constable Bill: Warren: Justin Snyder
Joe Crowell: Kaylin Gardner
Si Crowell: Torrey Burch
Sam Craig & Baseball Player: Mitch Palmer
Joan Stoddard: Annabella Cusimano
Lady in the Box: Andi Moring
A Man Among the Dead: Renee McAdow
Baseball Player, The Dead, Mr. Carter: Asher Rowland
Sound FX: Devin Maziarz
Choir:
Kaylin Gardner
Mitch Palmer
Justin Snyder
Torrey Burch
Andi Moring

Directors: John Edward Clark, Cory Finch, Carl Hernandez
Stage Managers: Maggie Simental and Aubrina Zopfi
Costume Heads: Tiarra Franklin and Cianna Sanford
Props Head: Gabrielle Green
Lighting Head: Lorenzo Loche