Rent: School Edition
by Harry S Truman Drama Club
It's the 1996 musical about sex, drugs, and rock 'n' roll. It's about money – or the lack of it. It's about homosexuality, bisexuality, transgender, and AIDS. It's about people coming together in spite of their differences and helping each other and seasons of love and making every 525,600 minutes of the year count. It's the Tony- and Pulitzer Prize-winning Rent. And, yes, it's being reviewed on a youth theatre website. Because as of November 9, 2007, it's now in our high schools!

Director Lou Volpe and the vaunted drama program at Truman High School in Levittown, Pennsylvania was awarded the rights to be the first school in the world to perform Rent: School Edition – the same school chosen six years ago to perform the world premiere of the school edition of Les Miserables. And it was an excellent choice. They have a great group of singers and actors, excellent designers, and Director Volpe pushing them virtually every day for the past three months straight. The result was a fantastic performance on an exciting opening night with audience members that included representatives from Music Theatre International and the father of Jonathan Larson, the 35-year-old creator of Rent who died suddenly on the night that was to be the show's first Off-Broadway preview.

The "school edition" appeared little changed from the original, no doubt to the relief of purists who were afraid the show
would be gutted, and to the dismay of those who don't think high school students should be portraying such things. Only the song Contact was completely written out, plus a few minor dialogue changes. But the story and characters and many of their risqué quirks (including something about candle wax) are still very much there, as is the boy-boy and girl-girl kissing. The actors didn't seem at all self-conscious or inhibited, tackling the more provocative scenes with fun, passion, and remarkably strong performances.
Inspired by La Boheme, Rent tells the story of a group of starving, bohemian artists struggling with AIDS, drugs, bills, and a wide assortment of romantic relationships. Most of the lead roles are double-cast, but on opening night Mark Pfender played his namesake Mark Cohen, the filmmaker who can't pay the rent on his heater-less New York City apartment. Nor can he turn to his girlfriend Maureen for warmth, as she has recently left him for a relationship with Joanne. He's sort of the straight man in the show, the most normal of the bohemians, but Mark does a great job capturing Mark's humor that comes out when he's inspired, such as cutting loose as he commiserates with Joanne on the trials of being Maureen's lover in the Tango: Maureen and kicking off the rousing La Vie Boheme when the whole cast celebrates groundbreaking personalities.
The other lead is his roommate Roger who contracted AIDS from his girlfriend (a fact that he read about in her suicide note), and who is now trying to write one great song before AIDS destroys him. Surprisingly, this is George Doran's first foray onto the stage. Hopefully not his last, as he nails the rock vocals needed for the role and already seems to have excellent dramatic skills, portraying a Roger who is desperate to do something with his life before he dies, and whose soul is being further drained by a desire for Mimi and a reluctance to get involved and admit to her that he has AIDS.
Which brings us to Mimi and the highly talented Ashley Vitale who splits her time between the great roles of Mimi and Maureen. She was exotic dancer Mimi on opening night, playing opposite her real-life friend she grew up with, George Doran as Roger. The two of them make for several of the show's great scenes including their first meeting Light My Candle during which Mimi keeps secretly blowing out her candle after she finds out Roger's last girlfriend has died, Mimi's dynamic and seductive attempt to get Roger to take her Ou-oooooot Tonight, and their mutual reluctance to communicate their concerns and their desires that is wasting precious time for both of them, as we feel so acutely in I Should Tell You and their duet Another Day that captures the theme of the show – no day but today.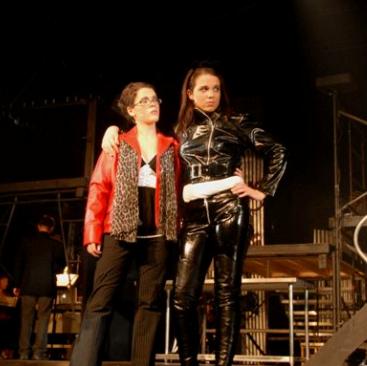 Melanie Greenberg was the lusty diva Maureen on opening night with a stage presence that completely captivates whether she's ordering her new lover Joanne to Take Me Or Leave Me or singing her Over The Moon poetry about the battle between virtual life and real life (with props held up by her dutiful ex-boyfriend Mark). Amanda Ramus was her Joanne on opening with a great feel for her character that can be a competitive Harvard-educated lawyer and a hot-blooded jealous girlfriend. And then, of course, there's the other starring woman of the evening—Angel. LJ Carulli is the lovable transvestite whose excitement for life, love, and friendship affects them all, LJ performing his role with natural female mannerisms and an infectious joy.

Elsewhere, Steve Adams makes a nice stage debut as Tom Collins who falls in love with Angel, Bill Sommerer is the smug landlord who thinks he can maneuver his old friends as he works the table in La Vie Boheme, and the ensemble rocks whether it's said La Vie Boheme or a bunch of iconic New York City citizens (Statue of Liberty tourists, a squeegee boy, Playbill readers, a naked cowboy with guitar) or coming together for a beautiful rendition of Seasons of Love. It all takes place within a scrap metal alley set topped off by a scrap metal Christmas tree that includes a large red AIDS ribbon bow made to resemble the 'e' in "Rent" designed by Ken Osborn, Tony Bucci, and Christopher Hetherington, the latter of which also designed the great lighting.

Sometimes productions of Rent seem to be more focused on wowing the audience with amazing vocalizations, while characterization and interaction takes a backseat. It was refreshing to see Lou Volpe's cast putting the emphasis on the characters and character relationships, acting out their songs and feeling the meaning of the lyrics and connecting with each other rather than simply putting on a great concert. Their well-deserved final bows and standing ovation were followed by another standing ovation for a tribute to Jonathan Larson and his father. The genuinely choked-up Al Larson was welcomed up to the stage where he heaped praise on the talented kids who had just brought his son's show to life for another emerging generation of bohemians.

Performs November 9 - 17, 2007.

Rob Hopper
National Youth Theatre

~ Cast ~
Mark Cohen: Mark Pfender
Roger Davis: George Doran
Tom Collins: Steve Adams
Angel Dumott Schunard: LJ Carulli
Mimi Marquez: Ashley Vitale
Joanne Jefferson: Amanda Ramus
Maureen Johnson: Melanie Greenberg
Benjamin Coffin III: Bill Sommerer
Ensemble:
Derilyn Devlin
Ashley Edmondson
Ashley Ford
Justyn Ghost
Britney Harron
Stephanie Hay
Kevin Huber
Michael Hunton
Emily MacHenry
James McBride
Ron Palmieri
David Vile

Director: Lou Volpe
Assistant Director: Tracey Krause
Musical Director and Conductor: Joe Marlow
Vocal Director and Rehearsal Pianist: Ryan Fleming
Technical Director: Tony Bucci
Lighting Design: Christopher Hetherington
Sound Design:
Ted Taylor
Sam Sedam
Tony Bucci
Choreography: Derilyn Devlin
Set Design/Art:
Christopher Hetherington
Ken Osborn
Tony Bucci
Costumes: Jessica Saegert
Brooke Edwards
Amanda Friedman
Student Directors:
Amanda Brachelli
Marissa DiPietro
Courtney Kroeger
Britni Nelson
Jessica Ramus
Diane Tamulavage