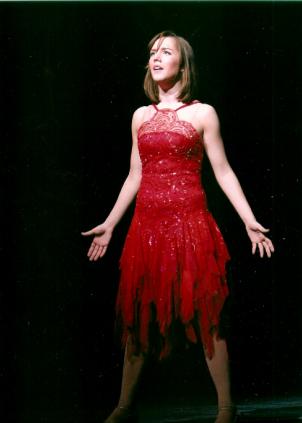 Back in the fall of 2000, I had the pleasure of reviewing a world premiere at the La Jolla Playhouse called Thoroughly Modern Millie featuring an understudy-turned-lead in the title role – an actress named Sutton Foster. She played a girl from Salina, Kansas who moves to New York City. Of course, that wasn't Sutton's first lead role, and she wasn't from Salina. She was from the city of Troy, Michigan, and about seven years earlier she had played the supporting roles of Frenchy and Ado Annie before landing the lead of Guinevere in Camelot with her high school group – the Troy Theatre Ensemble. She would later debut Millie on Broadway with her high school director attending as her guest, and eventually earn a richly deserved Tony Award for her performance.

Now, eight years later, the Troy Theatre Ensemble is putting on the show she helped make famous, and Sutton's former high school director Rick Bodick and his group are doing her proud. And she could tell them that in person, as she came out for the show's big opening night to see the show and talk with the cast members.

Their big opening night featured the next Millie of Troy, Kelly Studnicki. Determined to become thoroughly modern, Millie is determined to marry her boss (when she gets a job). Marrying strictly for the money, believing love has nothing to do with it. And when she gets blindsided by love by a fun but mostly money-less guy? Well, it can hurt, as Kelly explains while leading a cast of romantically stung stenogs in the big Forget About the Boy number that opens the second act with raging gusto. Kelly Studnicki has a good voice and a very real personality. Her pain feels real, her desire for love seems real in her huge Gimme Gimme solo, and her desire to seduce her boss and getting seriously turned on by her boss's talk of Tom Sawyer seems…well, let's hope that's just good acting. It's certainly very funny.

Nicholas Flaherty plays Tom Sawyer's chief rival, the poor but fun and streetwise Jimmy Smith, with Nicholas lending some nice vocals to the role. Tyler Parent is Trevor Graydon, Millie's new boss whom she is so eager to marry for money, and Tyler shines in the drunken melodrama of the closing scenes and when he falls madly in love in a hilarious I'm Falling in Love with Someone scene – a scene also featuring the ultra-sweet-and-innocent-looking Miss Dorothy Brown (Bridget Dennis). Bridget knows how to play up her sweet-and-innocent look just right, making her humor and her steamy "grrr" temptress side all the more hilarious.
And then there are the villains. Namely Mrs. Meers, Millie's comically creepy apartment manager who is always on the lookout for orphan actresses who are sadly all alone in the world. Katie Parent has a dry sense of humor and great feel for the melodrama, as well as a quick temper that always has a powerful affect on her accent (ranging from charmingly Asian to angrily Brooklyn-ish). Daniel Cho as the lovesick Ching Ho and Alex Pan as the pragmatic Bun Foo are Meersie's two Chinese assistants who get translated via subtitles as they aid Meers in her "white slavery" export trade, all in the hopes of getting their beloved "Mammy" from China to America. But what will happen when Ching Ho meets the sweet-and-innocent-looking Miss Dorothy Brown?

The cast also includes Christina Fritz who belts out her jazzy numbers as singer Muzzy Van Hosssmere, Alex Pan as an ornery executive assistant to Trevor Graydon with gorgeous elbows, and an ensemble that shines in such big song-and-dance numbers as The Speed Test, Forget About the Boy, and the title tune (with good choreography by Valerie Mould and Alan MacNair directing the fine orchestra). Director Rick Bodick's production is always high energy with an excellent feel for the story, characters, and music. And it all looks great with impressive set backgrounds and the original Broadway costumes used back when alum Sutton Foster first brought Millie to life in New York City.

Performed March 7 - 15, 2008.

Rob Hopper
Executive Director
National Youth Theatre

~ Cast ~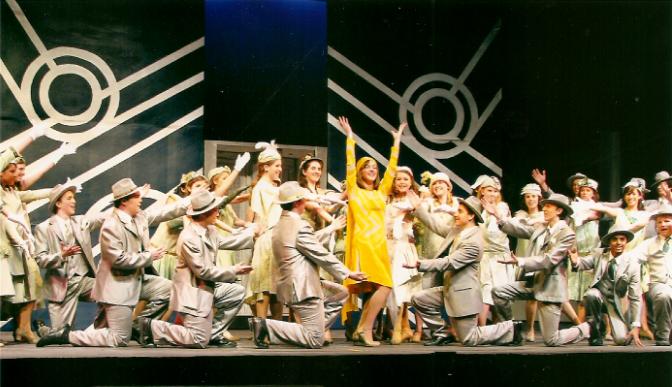 Millie Dillmount: Kelly Studnicki
Jimmy Smith: Nicholas Flaherty
Muzzy Van Hossmere: Christina Fritz
Mrs. Meers: Katie Parent
Trevor Graydon: Tyler Parent
Miss Dorothy Brown: Bridget Dennis
Ching Ho: Daniel Cho
Bun Foo: Alex Pan
Miss Flannery/Dorothy Parker: Andrea Miller
Ruth: Mary Rose Naoum
Alice: Amanda Breitner
Cora: Marlaina Baxter
Lucille: Kellie Snyder
Gloria: Jenn Studnicki
Ethel Peas: Stephanie Chang
The Pearl Lady: Jenny Hill
The Letch: Chiraq Pathre
Police: Eric Miller, Chuck Ternes
Rodney: Josh Ross
Mathilde: Chelsea Schmidt
Daphne: Rachel Kowalski
Dexter: Joe Niemiec
Ensemble:
Peter Bentley
David Caldwell
James Fahy
David Gawel
Christopher Hoef
Patrick LaFontaine
Garrett Jafano
Eric Miller
Kevin Muehlman
Joe Niemiec
Tony Papandrea
Chirag Pathre
Joel Rohweder
Josh Ross
James Schmidt
Zach Scott
Chuck Ternes
Ellen Bernacki
Susan Blake
Amelia Cox
Elle Deagle
Jenn Flaggman
Rachel Forche
Marly Garman
Becky Head
Jenny Hill
Lynn Hodorek
Beth Kaatz
Vidya Kakulavarapu
Kendra Knowlton
Rachel Kowalski
Allison Maloney
Jessica Maloney
Kaitlin Mittelbrun
Monique Nguyen
Luciana Piazza
Ambika Raina
Kayla Roberts
Maggie Rohweder
Monique Saleh
Chelsea Schmidt
Jackie Viselli

Director: Rick Bodick
Choreographer: Valerie Mould
Vocal Director: Adrienne Covian
Orchestra Director: Alan MacNair
Scenic Design/Sound Design: Chris Troy
Lighting Design: Matt Weber
Make-Up Design: Demas Jackson
Stage Manager: Veronica Vail