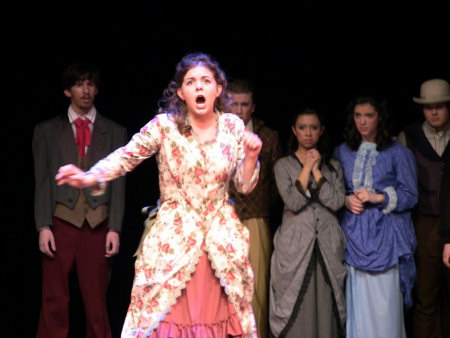 Last year it was New York City in the Roaring Twenties for the Troy Theatre Ensemble as they staged Thoroughly Modern Millie. This year they've jumped across the pond and a couple decades further back for a show in the Music Hall Royale. It's Rupert Holmes' (Curtains, The Pina Colada Song) musical The Mystery of Edwin Drood based on Charles Dickens' last manuscript – a musical murder mystery that truly is a mystery to all living beings, as Dickens died before the manuscript was completed, and no one knows for sure who killed Edwin Drood, or if he's even dead.

Rupert Holmes handles this mystery in a clever way. Halfway through the show, the audience gets to vote on who they think is the murderer. Then the cast, playing music hall actors who are portraying characters in the Dickens story, perform the remainder of the show based on who was voted the murderer -- forcing the cast members to prepare for dozens of different possible endings.

Those cast members include Tyler Parent who leads us through the mystery as Mayor Sapsea/William Cartwright, the chairman of the proceedings who directs his fellow music hall actors, occasionally trying to keep them in line, but usually with a wink and a nod. This is a bawdy nineteenth-century music hall, after all, and not everything is intended for general audiences.

His players are led by the trio at the center of the tale. Kellie Snyder plays actress Alice Nutting who in turn plays the doomed Drood in drag. He/She is engaged to Rosa Bud, with the uber-talented Mary Naoum playing his charming, beautiful, and amusing fiancé who sings gorgeous operatic vocals as the damsel in distress, and complements those vocals with great melodramatic humor. Causing the damsel's distress is the dastardly boo-hiss villain John Jasper played by Eric Miller, a great vocalist himself but a very bad man who wants Rosa Bud for himself.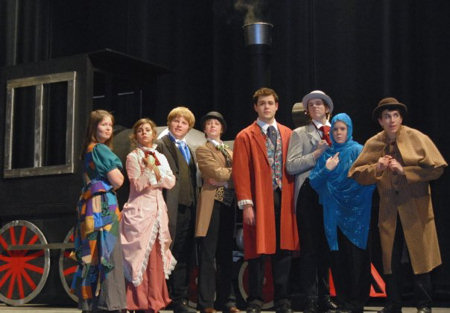 Just how badly does he want her? Did he make her fiancé became a "mystery"? But before you vote for the obvious suspect, there are several others in the lineup. The lovely and subtle Helena Loveless (Marlaina Baxter) and her snooty, hot-tempered brother Neville (Joel Rohweder) who has a thing for Rosa. Or Durdles the gravedigger (David Gawel)? From the darker side of town, there's the suspicious opium den mistress Princess Puffer (the marvelous Katie Parent) played with hilarious melodramatic tragedy and a touch of genuine tragedy as we learn her real connection to Rosa Bud. Or could it be Puffer's opposite, the good Reverend Crisparkle, with Cedric Moncrieffe using great vocal and physical humor, his talents bringing him even closer to God when the audience votes him as the murderer this particular night, leading to a most convincing confession. But did the audience blow it? Was it really David Cladwell as Crisparkle's assistant Bazzle who would kill for a bigger part in the musical?

Director Rick Bodick has his game ensemble tackling this vaudevillian romp, not shying away from good, old-fashioned bawdiness as the Music Hall Royale comes back to life, momentarily bringing Dickens and Drood back to life as well.

Performed March 20 - 28, 2009

Rob Hopper
Executive Director
National Youth Theatre

~ Cast ~

William Cartwright / Mayor Sapsea: Tyler Parent
John Jasper / Clive Paget: Eric Miller
Edwin Drood / Alice Nutting: Kellie Snyder
Rosa Bud / Deirdre Peregrine: Mary Naoum
Princess Puffer / Angela Prysock: Katie Parent
Helena Landless / Janet Conover: Marlaina Baxter
Neville Landless / Victor Grinstead: Joel Rohweder
Reverend Crisparkle / Cedric Moncrieffe: Tony Papandrea
Durdles / Nick Cricker Sr.: David Gawel
Deputy / Nick Cricker Jr.: Chirag Pathre
Bazzard / Walter / Phillip Bax: David Caldwell
Beatrice / Flo / Florence Gill: Jennifer Studnicki
Wendy / Isabel Yearsley: Beth Kaatz
James Throttle: Josh Ross
Shade of Drood: Maggie Rohweder
Shade of Jasper: Amanda Breitner
Shade of Rosa: Maria Arellano
Shade Dancers:
Jenn Studnicki
Jen Flaggman
Beth Kaatz
Ellen Bernacki
Maids:
Grace Kim
Skye Curtis
Shayla McDermott
Tarah Deagle
Horace: Chuck Ternes
Citizens of Cloisterham:
James Fahy
Alec LaFontaine
Alex Pan
Evan Threlkeld
Maria Arellano
Skye Macrae Curtis
Jen Flaggman
Rachana Gudipudi
Grace Kim
Rebekah Mallette
Luciana Piazza
Danielle Rayhhinshteyn
Maggie Rohweder
Irene Suh
Andy Flack
Patrick LaFontaine
James Schmidt
Ellen Bernacki
Melanie Fodera
Proma Khosla
Shayla McDermott
Lindsay Podisadlik
Samantha Tauscher
Chris Hoef
Cody Silver
Amanda Breitner
Tarah Deagle
Rachel Forche
Lynn Hoderek
Beth Knowlton
Kayla Roberts
Chantel Ruffin
Joe Niemiec
GarrettJafano
Chuck Ternes
Amanda Cowherd
Brooke Flaggman
Marly Garman
Anna Haymond
Kendra Knowlton
Kaitlyn Mittelbrun
Ambika Raina
Lisa Shammas

Director: Rick Bodick
Choreographer: Valerie Mould
Vocal Director: Adrienne Covian
Orchestra Director: Alan MacNair
Scenic Design/Sound Design: Chris Troy
Lighting Design: Gino Minchella
Costume Designer: Dolly Scheibelhut
Make-Up Design: Demas Jackson
Stage Manager: Katie Oyama