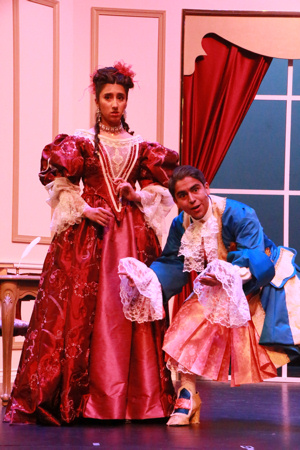 Tri-School Theatre's The Would-Be Gentleman, showing February 3rd through February 6th at 7pm in the Anaheim Center for the Performing Arts at Servite High School, is a treat for the senses at any age. Gently satirizing the pretensions of the social climber whose affectations are absurd to everyone but himself, The Would-Be Gentleman was first performed as Le Bourgeois Gentilhomme in 1670. It has also been translated into English as The Prodigious Snob.

The play takes place at Monsieur Jourdain's house in Paris. Jourdain is a middle-aged "bourgeois" whose father grew rich as a cloth merchant. The foolish Jourdain now has one aim in life, which is to rise above this middle-class background and be accepted as an aristocrat. To this end, he orders splendid new clothes and is very happy when the tailor's boy mockingly addresses him as "my Lord". He applies himself to learning the gentlemanly arts of fencing, dancing, music and philosophy through tutors, despite his age. In doing so he continually manages to make a fool of himself, to the disgust and amusement of his hired teachers. His philosophy lesson becomes a basic lesson on language in which he is delighted to learn that he has been speaking prose all his life without knowing it. Brandon Martinez is in the part of Monsieur Jourdain, and one doesn't need to guess why. He seems to be a master at this role and evokes not only laughter, but sympathy from the audience at many of his antics on stage.
Like so many of the French nobility in that time, Jourdain defines what a person is in terms of externals and wishes to rise up the social ladder at all costs. In contrast, his practical wife, Madame Jourdain (Caitlin Crawley), sees clearly what he is, what she is, and where they belong in society. Perhaps because this play takes place among the middle class, not among the upper ruling class, there is no well-educated, non-pedantic nobleman in it to serve as the voice of reason. Instead, the function of that character in the play is filled by Madame Jourdain herself, who, along with her servant Nicole (Haley Coad), steadily points out the the more honorable quality of moderation.

Unfortunately, Monsieur Jordain's folly is embedded in a gullible and unrestrained disposition which allows anyone to take advantage of him. A cash-strapped nobleman called Dorante (Jasper Hammer) has attached himself to Jourdain. He secretly despises Jourdain but flatters his aristocratic dreams. For example, by telling Jourdain that he mentioned his name to the King at Versailles, he can get Jourdain to pay his debts.

Jourdain's dreams of being upper-class keep going higher and higher. He dreams of marrying a noblewoman with the rank of marquess, Dorimene (Victoria Villalobos), and having his daughter Lucille marry a nobleman. But Lucille, who is played by Molly Renze, is in love with the middle-class Cléonte (Dane Madrigal). Of course, Jourdain refuses his permission for Lucille to marry Cléonte.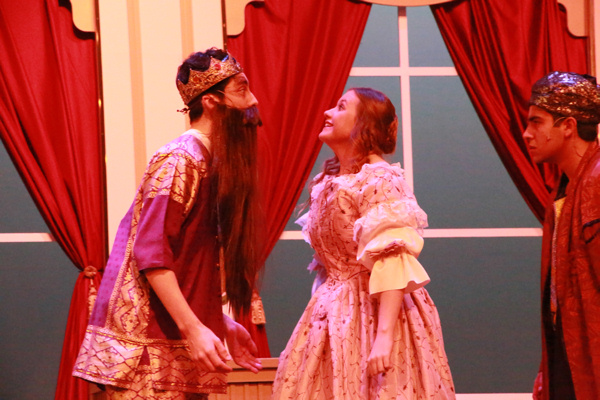 Then Cléonte, with the assistance of his valet Covielle, artfully played by Erik Mercado, and Mme. Jourdain, disguises himself and presents himself to Jourdain as the son of the Sultan of Turkey. Jourdain is taken in and is very pleased to have his daughter marry foreign royalty. He is even more delighted when the "Turkish prince" informs him that, as father of the bride, he too will be officially ennobled at a special ceremony. The play ends with this ridiculous ceremony, including using the pidgin language Sabir instead of Turkish.

An entourage of players rounded out the cast. All in all, the synergy felt between the players and the sheer joy they displayed on stage in their roles says much for the professionalism and versatility of Tri-School Theatre. The intent of the directors to present Monsieur Jordain as a naive, personable and yet vulnerable man new to the world of money and privilege in this well-preserved play was a resounding success! Plus, costumes, hair and makeup were exceptionally distinct and authentic representations of French and Turkish dress. My compliments to the cast and crew for an excellent and entertaining production!

Performed February 4 - 6, 2016

Chris Daniels
National Youth Arts

~ Cast ~
Add Artist Page

Monsieur Jordain: Brandon Martinez
Nicole: Haley Coad
Madame Jordain: Caitlin Crawley
Dorante: Jasper Hammer
Cleonte: Dane Madrigal
Covielle: Eric Mercado
Lucille: Molly Renze
Dorimene: Victoria Villalobos
Music Master/Mufti: Emily Lovchik
Dancing Master/Mufti: Joanna Juarez
Fencing Master/Mufti: Aaron Floreani
Philosophy Master/Mufti: Patrick Aimone
Pupil/First Male Singer/Mufti: Andy Van Driesen
Woman Singer/Mufti: Christine Ma
Second Woman Singer/Mufti: Victoria Edwards van Muijen
Pianist/Mufti: Isabelle Fabrizio
Dancers/Cooks/Mufti: Kristyn Byrd, Channing Lee, Julianne Holmquist, Sara Gee
Lackey 1: Peter McManus
Lackey 2: Armaan Monshizadeh
Merchant Tailor/Mufti: Antonio Murillo
Apprentice/Mufti: Olivia Hennessey

Director: Frankie Marrone
Exec Artistic Director: Hillary Pearson
Costumes: MaryAnn Villalobos, Costume Crew: Laurel Kessler, Caroline Dame, Alyssa Gomez, Olivia Hennessey, Kayleigh McGarahan, Betsy Hammer, JuliAnn Lovchik, Hillary Pearson, Karen Tellers, Debbie Van Driesen
Hair/Makeup: Vitoria Villalobos
Sets: Brandon Arriaga, Joseph Caico, Domenica Diaz, Tina Foley, Candice Garcia, Jasper Hammer, Joy Joukhadar, Allyson San Roman, Joshua Tijerina, Marisa Tijerina
Lighting: Lucky Nelson
Sound: Joy Joukhadar, Tina Foley, Allyson San Roman, Ethan Shanklin