Servite High, Rosary High, and Cornelia Connelly School join together to form Anaheim's Tri-School Theatre program.

 

Now in their 20th year, they have brought together a cast and crew of over 100 plus students to produce this fun, funny and inventively staged musical.

The romantic and zany plot of Thoroughly Modern Millie has a fresh faced Millie Dillmount arrive in The Big Apple with a suitcase, little money and a lot of gumption to become "thoroughly modern." In the course of a few days, she rents a room in a hotel for women, gets a job, falls for her boss, encounters her true love, befriends a rich star, and uncovers a white slavery ring.  Not bad for a gal from Salinas, Kansas in 1922; a time when women were entering the workforce and the rules of love and social behavior were changing forever. 

Krista Engle does a fine job of bringing the naive and yet determined personality of Millie Dillmount to the stage.  With solid vocals and tappy shoes, she embodies the verve of this charming character trying to find her way to a bigger and better life.  She is supported by the beautiful vocals of Francesca Carpello in the role of Dorothy Brown, a sweetly innocent debutante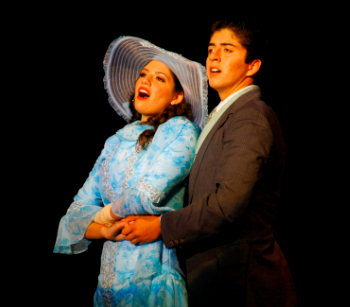 trying to see How the Other Half Lives.  They become fast friends at the Pricilla Hotel, along with a great ensemble of wanna-be actresses also seeking their fame and fortune in the big city. 
The guys of the cast are represented well starting with Tyler Mercer as the very likable Jimmy Smith who had the uphill battle of getting love to win out over money.  His song What Do I Need With Love was heartfelt and beautifully sung.  Brandon Berg was hilarious as Trevor Graydon, the confident manly-man who, while impervious to Millie's flirtatious assault, becomes a love-struck puppy after falling instantly in love with Dorothy.  Leean Gill was spot-on as Miss Flannery, the stickler of the steno pool.  Her fabulous make-up brought just the right touch to a great character who can also double as a linebacker, throwing Jimmy over her shoulder and carrying him out of the office in a jaw-dropping move that stunned everyone in attendance.
The audience had many chances to chuckle, especially with the nefarious Mrs. Meers played by Jenna Brady, a dragon lady
of a villainess who knows far more about the white slavery trade than she cares to admit. Her hapless helpers were Sean Faley as Bun Foo and Karl Abad as Ching Ho, who was a hoot as the vulnerable shy guy who gets the girl in the end.

Director Hillary Pearson put together a well-paced and funny production.  Choreographer Michael Lopez choreographed some show-stopping numbers beautifully executed by some very talented dancers, who made some extremely difficult dances seem effortless. Special kudos go to musical director Anne Vandenberg McCain and sound designer Jeff Thielke who struck a harmonious chord with perfect balance between a great sounding band and the vocals.

The set was terrific and was well organized by amazing stage hands who had the set changes accomplished in very short order.  The costumes were impeccable and lavish, courtesy of The Theatre Company under the auspices of Dani Everts and Karissa Masciel, the student costume coordinators. 

Overall, a very enjoyable production of a good old fashioned musical that doubles as a romantic comedy.

Performed April 30 - May 3rd, 2009



Martha Pettit
National Youth Theatre

~ Cast ~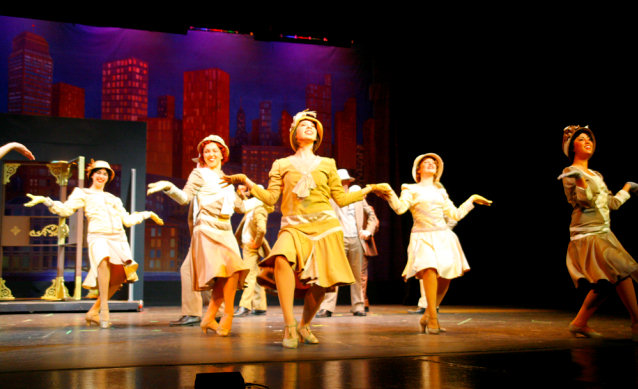 Millie Dillmount: Krista Engle
Jimmy Smith: Tyler Mercer
Miss Dorothy Brown: Francesca Carpello
Trevor Graydon: Brandon Berg
Mrs. Meers: Jenna Brady
Muzzy Van Hossmere: Christine Doidge
Ching Ho: Karl Abad
Bun Foo: Sean Faley
Miss Flannery: Leean Gill

Ruth (speakeasy): Christina Hernandez
Alice (speakeasy): Amy Northrop
Gloria (speakeasy): Erin Miller
Lucille: Jessie Gaston
Rita: Shelby Paul
Cora: Sumayah Ferris
Ethel Peas: Haley Balthrop
Mary: Amanda Steinfeld

Pearl Lady: Laura Marcin
The Letch: Tucker Hansen
Policeman: Thomas Ramos
Daphne: Jessie Shrout
Dexter: Kyle Alcaino
Dorothy Parker: Jacqueline Cisneros
Kenneth: Andrew Marino
Mathilda: Amanda Steinfeld
Rodney: Matthew Galligan
George Gershwin: Anthony De Nicola
Ira Gershwin: Mykel Jeffrey
New Modern: Alex Lopez
Dishwashers: Diana Escalante, Erin Dascanio
Party Guests: Erin Cannon, Katie Fenstermaker, Lauren Holcombe

Lead Singer/Dancers:
Amanda Brown
Blake Cross
Megan Dutra
Lindsay Forbes
Matthew Galligan
Tucker Hansen
AJ Hernandez
Victoria Hernandez
John Kleeh
Anthony Lee
Laura Marcin
Sean McGee
Paul McGill
Sarah Murray
Virginia Nolde
Lauren Quibodeaux
Molly Roberts
Kevin Rosetti
Erica Shaeffer
Natasha Tran
David Ward
Carlos Zavala

Dance Captain: Laura Marcin

Muzzy's Boys:
Matthew Galligan
Tucker Hansen
AJ Hernandez
Sean McGee
David Ward
Carlos Zavala

Speakeasy Dancers:
Katie Briggs
Megan Dutra
Lindsay Forbes
Ale Hoss
Addison Moore
Ashley Moore
Virginia Nolde
Molly Roberts
Erica Schaeffer
Natasha Tran

Ensemble:
Kyle Alcaino, Haley Balthrop, Erin Cannon, Keely Cannon, Jacqueline Cisneros, Erin Corrigan, Erin Dascanio, Anthony De Nicola, Holly Ersek, Diana Escalante, Katie Fenstermaker, Victoria Hernandez, Lauren Holcombe, Kate Hughes, Mykel Jeffrey, Molly Lehman, Alex Lopez, Max Lizarraga, Andrew Marino, Kevin McGee, Brenna Mullally, Eric Orr, Thomas Ramos, Nicole Rickard, Kevin Rosetti, Maggie Sanchez,  Monica Santos, Jessie Shrout, Christine Stevens, Danielle Velasco