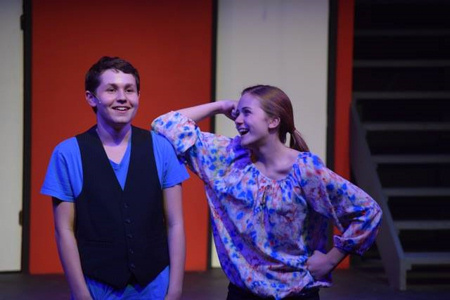 THE SHOW:
Music and Lyrics by Jason Robert Brown, Book by Dan Elish, Robert Horn as co-librettist.
Thirteen. It's a number with many negative connotations. Possibly none more negative than being thirteen years old. Puberty, acne, peer pressure, junior high. Good times only compounded for Evan when his parents get divorced and he is moved from the bright lights of New York City to the Dairy Queens of Appleton, Indiana. Perhaps things can get a little better in "The Lamest Place in the World" if he can make some new cool friends at his new school named after Indiana's favorite son (Dan Quayle Junior High) and get them to his upcoming Bar Mitzvah. But will he lose his new real friends in the process?
THE PRODUCTION:
All hail Theater Works with their cast and team directed by Johanna Carlisle who opened their run of 13 the Musical with an impressive opening night at the Peoria Center for the Performing Arts. It looks good with New York iconic signs being switched out with Appleton iconic signs (Scenic Designer M'Liss Tolman), Tamara Treat's costumes that mesh with the various characters' personalities, and good choreography by Lynzee 4Man. In those
costumes and doing those dance moves is a largely pre-high school cast featuring many of the greatest young talents from all around the valley.
Leading it is Sam Primack who was born to play Evan. He's thirteen and just had his Bar Mitzvah last May, and he's a fantastic performer whether at ease with his real friends, straining to impress the cool kids, or grooving to his own jig amongst the frozen bodies of all the other kids as his mind is racing from one fanciful plan to another in All Hail The Brain. Sixteen-year-old Olivia Watters is his new best friend and would-be girlfriend Patrice, giving a beautiful performance both in her singing and in her deeply authentic performance, trying to fight back tears as the years of bullying begin anew with the first day of school, and as she tries to hold out hope with the new boy coming to The Lamest Place in the World. Her powerful parting from Evan in Good Enough is painfully real. Completing the trio of friends is thirteen-year-old Emilio Cress who's charming as Archie, making the best of his situation and joining Sam Primack in a memorable song-and-dance to No One Says No to a Boy with a Terminal Illness.
Eighth grader Addison Bowman isn't at all charming, but she is super talented as mean girl Lucy who ruthlessly connives to get to the jock's tongue before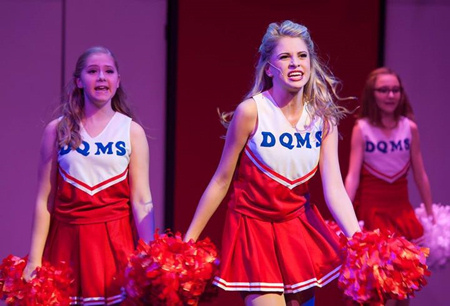 her "best friend" and fellow cheerleader Kendra gets there. Gabby Vatistas delivers a strong, amusing performance as the ditzy Kendra, also shining with a very nice singing voice. Jacob Herrera is her match as the highly entertaining dumb jock who nevertheless is quite skilled at taking notes on subjects of interest. He works well as a team with his four buddies (Christian Bader, Sam Brown, Henry Brown, and Charlie Siegal) who draw some of the biggest laughs and highest notes as they help him woo Kendra and try to help him escape Lucy.
But Lucy won't go down without a fight, leading a great gossip quartet with Alex Kirby, Jessica Dolyniuk and Jasmine Bassham – Jasmine also working it throughout as the dance captain. The impressive ensemble adds much to the show with their dancing, singing, and acting, in everything from the hip New York kids, the hip rabbis led by the humorous Ethan Shanker, a horrified movie audience, peer pressuring junior high students, and eventually reflective junior high students in their strong finale of A Little More Homework to do.
Performed January 16 - February 1, 2015

Photos by Julie Watters
To comment, use NYA blog article
To submit candids for possible inclusion in Yearbook, attach in email to rob@nationalyoutharts.com
Rob Hopper
Facebook
Instagram

Executive Director
National Youth Arts
~ Cast ~
Add Artist Page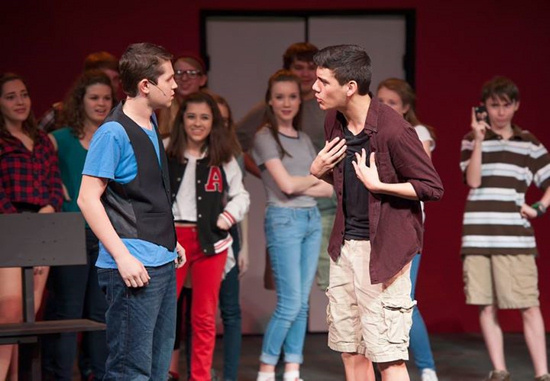 Evan: Sam Primack
Archie: Emilio Cress
Brett: Jacob Herrera
Patrice: Olivia Watters
Lucy: Addison Bowman
Kendra: Gabby Vatistas
Cassie: Alex Kirby
Charlotte/Dance Captain: Jasmine Bassham
Molly: Jessica Dolyniuk
Richie: Christian Bader
Malcolm: Sam Brown
Eddie: Henry Brown
Simon: Charlie Siegal
Head Rabbi/Ensemble: Ethan Shanker
~ Ensemble ~
Featured Dancer: Kayla Stillman
Featured Dancer: Alyssa Armstong
Featured Dancer: Sarah Pansing
Featured Dancer: Katie Calderone
Denim Glasheen
AJ Palubinskas
Sara Matin

Carly Jacobs
Abby Prusinski
Ali Giordano
Autumn Froitland
Maggie McNeil
Kayla Dobbs
Noa Gauthier

Director: Johanna Carlisle
Musical Director: Mark 4Man
Choreographer: Lynzee 4Man
Stage Manager: Kendra Schroeder
Costume Designer: Tamara Treat
Scenic Designer: M'liss Tolman
Prop Designer: Leigh Treat
Lighting Designer: JJ Hansen
Sound Designer: Alex Cozza