When Prince Charming wakes Princess Elessia and her entire kingdom after a hundred-year sleep, it makes for a happily ever after ending for the prototypical fairy tale princess who rejoices in being rescued by a handsome prince. And it's happy despite everyone in the kingdom dealing with ghastly morning breath, morning hair, and armpits that "smell like death" as they sing the song Morning Breath (which includes in its lyrics the gurgling of mouthwash). But getting refreshed and re-beautified and saved by a prince isn't quite enough for Princess Elessia. She won't be truly satisfied with a happy ending until she transforms her embarrassing little tomboy sister into a respectable princess prepared to be rescued like herself. And when their parents head off to visit with The Fairy Godmother, leaving Elessia in charge, she sees her chance and gets to work. But young Ermengarde just wants to be herself, saying phooey to the idea that she needs to change to fit the role expected of her, thereby earning her nickname.

So begins TADA Youth Theater's latest creation, with a fun book and lyrics by Lisa Diana Shapiro and music by Eric Rockwell. The role of Phooey is double-cast, with 13-year-old Mary Claire Miskell in the role the day I attended, the anti-princess sporting unkempt hair, a complete lack of vanity, a proclivity to play and climb trees and tie knots, and not the least bit eager to be rescued by a prince. And Mary captures that spirit with character and flair, with a good singing voice to boot as we see in her big solo Nobody's Fairy Tale.

It's a little hard to believe that Elessia is her sister with Jasmine Perez playing "the fairest of the fair from toenails to tonsils." Having this past year already played a beauty queen in TADA's The Gumball Gang and "perfection" itself in The Perfect Monster, Jasmine regally nails this role as she strives to be the center of attention, gets excited by receiving mail but finds reading things to be dull, can't fathom the anti-glamorous focus of her little sister, and eagerly talks about shopping and beauty and gossip with the three sugary good fairies who totally agree with her – Sacchrina (Saleema Josey), Splenda (Gabriela Gross), and of course plain, old, ditzy Sugar (KaRa Dizon).

But Phooey ends up finding some people in the castle with whom she fits in. Namely a bunch of friendly scullery and chamber maids led by 10-year-old Megan Nicholson MacRae as Dot. Dot makes her entrance shy and respectful to be in the presence of a princess as she'd been trained, but as soon as she sees the princess is cool with being friends, Dot is instantly best friends and fiercely loyal. Megan is a fantastic young actress with hilarious expressions, body language, and personality. And when joined by the other maids, they make for the show's best song-and-dance number as they start Dancing the Castle Clean, which they do with various dancing styles from The Charleston to ballet to tango and more (choreography by Joanna Greer).
Other highlights include a great performance by Alex Getlin as the dark, gloomy, moody sister of the good fairies, Morbidia who cares more about environmental issues than shopping and nail polish. Christopher Broughton is Prince Charming who, in several amusing scenes, keeps trying to do what he's been bred to do – rescue damsels in distress in traditional fairy tale style – which keeps getting him in trouble with Phooey who doesn't want to be rescued and Elessia who only wants him to rescue her. Charming, Dot, Phooey, and the Stable Boys share a fun scene in the forest as Phooey and Dot become pirates, capture the boys sent out to look for them, and convert them into fellow pirates.

Director Janine Nina Trevens has this new show working at all levels with a great cast, flow, and visuals. Cheryl McCarron's costumes capture the personalities of the characters especially well. And Sarah Martin has created a beautiful and expertly functional set wherein the main castle throne room can quickly convert to give the impression of a forest, or where the back wall can transform the throne room into a room with a gorgeous view of a garden set against far off mountains and a sunset fit for a fairy tale. Even an amusing anti-fairy tale like this one.

Performed April 24 - May 18, 2008.

Rob Hopper
National Youth Theatre

~ Cast ~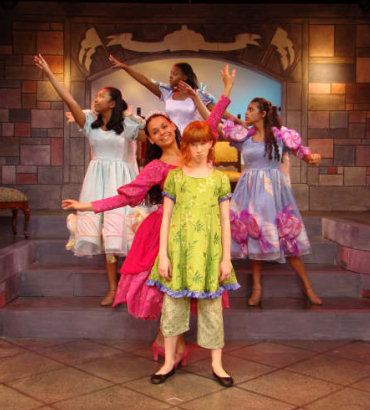 Phooey: Mary Claire Miskell
Elessia: Jasmine Perez
Charming: Christopher Broughton
Morbidia: Alex Getlin

~ The Good Fairies ~
Sacchrina: Saleema Josey
Splenda: Gabriela Gross
Sugar: KaRa Dizon

~ The Chamber Maids ~
Delphinia: Jennifer Wais
Dahlia: Lindsey Estevez
Destiny: Victoria Cotton

~ The Scullery Maids ~
Dot: Megan Nicholson MacRae
Daisy: Donna Falzon
Dee-Dee: Taylor Jones
Dori: May El-Harazy

~ The Stable Boys ~
Primus: John Moriarty
Secundus: Alec Cohen
Tertius: Tristan Hickey
Quartos: Javier Cardenas
Quintos: Rovin Sena
Sixtamus: Jonathan Bach

Director: Janine Nina Trevens
Choreographer: Joanna Greer
Musical Director: Jim Colleran
Set Designer: Sarah Martin
Costume Designer: Cheryl McCarron
Lighting Designer: Steve O'Shea
Production Stage Manager: Mary Beth Ward