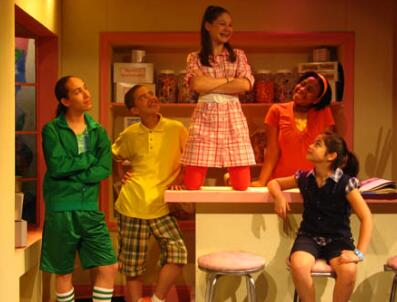 There's just not enough crime going on in Littletown. Reporters for the middle school television program Littletown Live need the next big scoop. And the Gumball Gang of child detectives, whose leader Candy Krunch moonlights in her family's Krunch Candy Store, haven't had a case to solve since The Case of the Decoy Dolly six months ago. But when a priceless painting (a blue circle against a white background) is stolen and replaced with a fraud, both detectives and reporters have a mystery to solve and a lot of potential culprits to interview. Fortunately, those culprits are all members of the TADA! Youth Theater ensemble in New York City, and they are a remarkably talented group of singers, dancers, and actors who help make this case a thoroughly enjoyable show.

Director and founder of TADA!, Janine Nina Trevens, commissioned a musical about kids who solve a crime regarding a theft of art, and the result is this world premiere written and composed by Jim Colleran. Jim demonstrates a great talent for music and humor, and his new musical succeeds in giving moments in the spotlight for pretty much all the 26 members of the cast. That cast is made up of members of TADA's resident ensemble group – an unusual but effective program wherein youth audition twice a year to get into the ensemble group. Once in the ensemble, they are trained and can audition for the three annual shows. The result is clearly paying off with some excellent talent for a youth cast, especially one with an average age of about 12.

Leading the way in this cast is Maya Park, a vibrant 12 2/3-year-old actress, who plays Candy Krunch with style and smarts. Joining her in the investigating Gumball Gang is the inventor Parker (Christina Franklin), track runner Danny (Javier Cardenas), history buff Jess (Katherine Lerner Lee), and Robert Aviles as Zak who demonstrates a truly impressive voice leading the Life Is Sweet number. All five work well together as they search for their next Big Case, Follow Every Clue, and enjoy each other's camaraderie.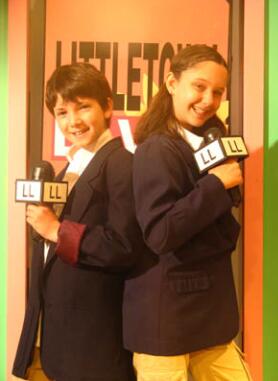 Then there are the two reporters striving for a national audience. Twelve-year-old Casey Wenger-Schulman and eleven-year-old Nicholas Stewart are a riot as they turn on their flair and humor for the camera using great body language and timing. With their flair, a national audience seems very likely for Littletown Live.

But they're not the only ones looking for fame. Fourteen-year-old Jasmine Perez is the unbelievably stuck-on-herself young beauty queen of Littletown, Victoria Popular LaSalle. And as such she is also unbelievably talented – a magnetic stage presence with hilarious expressions and timing, as well as great dancing. The main person she'll talk to (partly because he's rich, and mostly because he's an artist and she wants her beautiful portrait done) is the wealthy and snobby Winston Winston III, with twelve-year-old Merce Jessor fully capturing the role of the insufferable snob with his every movement. Together Jasmine and Merce turn in the most hilarious song-and-dance of the show – the totally appropriate All For Me.

Other standouts are many. Gabriela Gross as the klutzy Becca Krunch with her sweet and funny solo Klutz. The trio of European visitors Francois (Alec Cohen), Isabel (Ines Renique), and Gerta (Taylor Hogan) who amuse with their personalities and over-the-top accents, and also deliver one of the best numbers with It's a Masterpiece. Natalie Northup Bergner, Nicole Carrington, and Saleema Josey offer glitz and some great harmonies as the singing judges of the art museum, as well as some stylish choreography by Maya Park. Jennifer Wais is the tough TJ Doyle with a score to settle with "The Dumbbell Gang," always followed by her trusty and adorable sidekick Squeak (Taylor Jones). Alex Getlin uses her impressive voice to lead a trio of animal-rights activists (Natalia Amaya and Rovin Sena) in support of The Blue-Tailed Skink. The whole ensemble works their talent together in the groovy number Work It Out.

Director Janine Nina Trevens has her show polished and working at all levels. The production values are high, with an aesthetically pleasing, Mayberry-like set of Littletown's main street designed by Ian Wallace, a wide variety of terrific costumes by Mark Richard Caswell that range from the sparkly museum judges to the slobby Doyle (and Squeak) to the colorful and cheery outfits of Candy and the gang, spot-on music from the two-man band of Joe Brady and composer Jim Colleran, and excellent choreography by Joanna Greer that always enhances the mood, style, and humor of the songs. The show moves along at a good pace and is entertaining throughout, so much so that at the end you might wish they'd taken a little longer to solve the case.

Performed July 5-28, 2007.

Rob Hopper
National Youth Theatre

~ Cast ~


Cat Burglar: Lindsey Estevez

~ The Gumball Gang ~
Candy Krunch: Maya Park
Parker: Christina Franklin
Danny: Javier Cardenas
Jess: Katherine Lerner Lee
Zak: Robert Aviles

Lydia Lee: Casey Wenger-Schulman
Morgan McCorgan: Nicholas Stewart

Francois: Alec Cohen
Isabel: Ines Renique
Gerta: Taylor Hogan

Becca Krunch: Gabriela Gross
Olive Krunch: Lindsey Estevez

Victoria LaSalle: Jasmine Perez
Winston Winston III: Merce Jessor

TJ Doyle: Jennifer Wais
Squeak: Taylor Jones

~ The Judges ~
Yvette: Natalie Northup Bergner
Rhonda: Nicole Carrington
Keisha: Saleema Josey

~ The Skaters ~
Quentin: Monk Boyewa Washington
Hannah: Sophie Silverstein
Nora: Jarena Lee
Theo: Anthony Sanchez

~ The Armstrongs ~
Charity: Alex Getlin
Abby: Natalie Amaya
Ethan: Rovin Sena

Director: Janine Nina Trevens
Choreographer: Joanna Greer
Musical Director: Jim Colleran
Set Designer: Ian Wallace
Costume Designer: Mark Richard Caswell
Lighting Designer: Kirk Bookman
Production Stage Manager: Beth Slepian