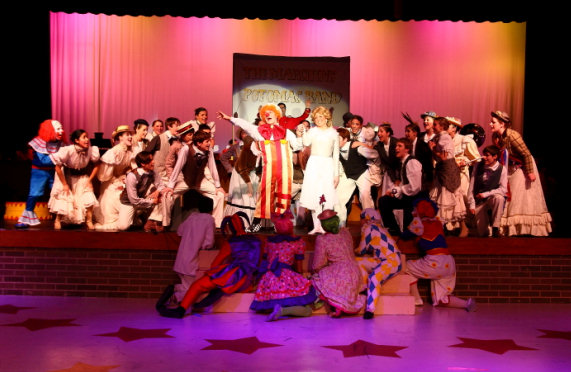 Dreams and schemes and circus crowds. P.T. Barnum thought of life that way. But how do you make sure those dreams and schemes work? By making sure the circus crowds are big and willing to plop down plenty of cash. And since there's a sucker born every minute, you don't need to have anything truly sensational to get that cash. You just have to make it sound sensational. And for the biggest humbug in the world, making things sound sensational ain't a problem.

The Stratford Playhouse in Houston welcomes you under their big top to witness this musical biography of one of the more fascinating people in America's history, from Barnum's first forays into novelty shows to his traveling museums to politics and to becoming a partner in the greatest show on earth.

The show at Stratford High School begins even before you get to the lobby, with a puppet show near the parking lot helping to guide people to the ticket booth. That's where you'll find concessions including popcorn, candy, and Barnum's animal cookies. Everything but cotton candy. Inside the theatre the pre-show entertainment includes clowns twirling plates on sticks and making balloon animals for the excited kids. The inside of the theatre is made up to resemble the inside of a circus tent
with tent curtains painted along the perimeter wall in which a full house of some 700 audience members eagerly enjoy the sideshows and await the main event.
And then, in the center ring, the show begins, and we are introduced to P.T. Barnum starring the highly talented Al Fallick. It's quite a demanding role, as the dynamic showman and Prince of Humbug is the focal point of most every scene. Not to mention having to do a few tricks – his biggest trick being a walk across a real tightrope while singing the closing song to act one. The tension on the rope might not match the tension in the audience as we hold our breaths. Almost lost in the tension is that on one side of the tightrope is his steadfast wife Chairy, and on the other is the blonde bombshell Jenny Lind.
Lizzie Wild is Jenny, the new "Swedish Nightingale" act who nails her Swedish accent, Swedish flirting, and some lovely Swedish singing. All of which is tempting Barnum to be the worst kind of humbug to the one person who has always known him best and stood by him through all his crazy antics. Stephanie Cooksey delivers a moving performance as the former teacher who has clearly fallen in love with the far less sensible and mature Barnum, patiently but not patronizingly tempering his dreams while also trying to make them come true, doing it with sincere gentleness, lovely vocals, and a nicely understated
sense of humor. Their relationship is bookended by The Colors of Our Life and its reprise – the first song coming near the beginning of their relationship as he wows with colorful magic and she sings in shades of gray, and the reprise playing as a dying Chairy sadly juggles some balls to Barnum, and Barnum tries to juggle through his tears, illusion and magic unable to dull the pain of real loss.

The cast is packed full of talent. Karina Ruiz is a rip as the elderly Joice Heth, Barnum's early success who is marketed as the 160-year-old oldest woman in the world who was once the nurse of President George Washington. Karina uses her voice and body language to terrific effect, dancing like a woman half her age. Julian Cerana does a nice job as the circus ringmaster Mr. Bailey who gets Barnum's advice on how to take the circus to a new level, and he can play a trombone to boot. Lauren Tennet knocks out Black and White with terrific attitude and jazzy period vocals. Matt Cragg sings Bigger isn't Better as Tom Thumb standing on a huge over-sized chair. And the ensemble is a multi-talented, high-energy group that excels at dance, singing, acting, and circus tricks (circus training provided by Fanny Kerwich of Lone Star Circus and clown training by Larry Kibbey of Houston Clown School). They spin on ropes, swing on trapezes, transform into bearded ladies and dancing bears, walk on stilts, and perform other clownish acrobatics. And when Barnum tries his hand with a real job at a clock factory, they even become the main elements of a cuckoo clock (amusingly choreographed by Paula Sloan).

CeCe Prudhome directs the show, and she had a lot of experience with it, including doing Barnum at Stratford when she was a student and seeing the original Broadway production. Her experience shows in its terrific staging, from the lively circus settings to the personal despair. An array of great costumes, a strong performance by the orchestra conducted by Michael Fahey, and the lavish scenic design (David Clayton and Andrew Leslie) add the finishing touches. But the razzle-dazzle humbug of the circus actually finishes off on a serious note, with a request for donations going to help build a new children's room in a local medical center, helping more of our youth enjoy the colors of life.

Performed January 29 - February 7, 2009.

Rob Hopper
Executive Director
National Youth Theatre

~ Cast ~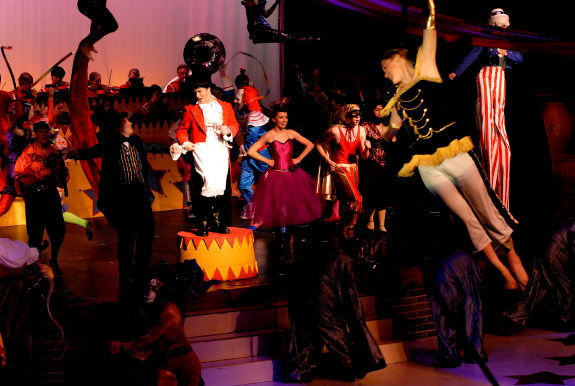 P.T. Barnum: Al Fallick
Chairy Barnum: Stephanie Cooksey
Ringmaster/Bailey: Julian Cerana
Jenny Lind: Lizzie Wild
Joice Heth: Karina Ruiz
Blues Singer: Lauren Tennet
Tom Thumb: Matt Cragg
Humbert Morrissey: Luis Delgado
Edgar Tempelton: Cameron Stackhouse
Wilton: Bradley Hayes
Chester Lyman: Ben Daniel
Amos Scudder: Patrick Reilly
Julius Goldschmit: Alejandra Tapia
Sherwood Stratton: Bubba Gwydir
Mrs. Stratton: Amy Rovner
1st Woman: Haley Williams
2nd Woman: Valerie Chu
Concertmaster: Brill Wang

Vocal Ensemble:
Ben Daniel
Luis Delgado
Bradley Hayes
John Karna
Cameron Stackhouse
Michael Swank
Marcie Baker
Docas Leung
Jordan McMinn
Megan Montalbano
Abby Newton
Amy Rovner
Katie Schaper
Nicole Tuohy
Haley Williams

Dance Ensemble:
Matthew Greene
Bubba Gwydir
Jon Lundell
Will Lynde
Patrick Reilly
Alejandra Tapia
Valerie Chu
Blair Howerton
Katherine Madeley
Liana Montemayor
Heather Nelson
Peyton Stackhouse

Clowns:
Nick Canon
Peter King
Drew Kremer
Juan C. Puerta
Laura Dunn
Caroline Flowers
Scarlett Royston
D.A. White

Pre-Show Performers:
Luke Davis
Tara Wells
Amy Beecher
Sara Cherrillo
Megan Gorashy
Shannon Linderman
Parker Tennet
Courtney Sparks
Evan White

Director: CeCe Prudhome
Stage Manager: Alison Kochman
Musical Direction: Peter Steinmetz
Conductor: Michael Fahey
Scenic Design: David Clayton and Andrew Leslie
Circus Training: Fanny Kerwich - Lone Star Circus
Clown Training: Larry Kibbey - Houston Clown School
Costumes: Victoria Goss, Jan Goss, Pam Lundell, Shirley Wiss
Lighting Design: Jeff Bourgeois and Christian Holmes
Sound Design: Jan Banker
Student Director: Silvia Ruiz
Student Technical Director: Andrew Kochman
Assistant Stage Managers: Jeanne Szumski and Lindsay Barranco
Choreographer: Paula Sloan
Assistant Choreographer: Marybelle Chaney
Dance Captain: Katherine Madeley