THE SHOW:
Dr. Seuss's zany thinks created a trove of books that inspired generations of children to learn to read, while also inspiring this fun and engaging musical by Stephen Flaherty and Lynn Ahrens (Ragtime, Once On This Island). The story is based on Horton Hears a Who and Horton Hatches an Egg, intertwined with gazoogles of other Seuss books and characters, all as seen through the eyes of a young reader who gets named JoJo and our narrating Cat in the Hat who wears many hats throughout the show.
It starts with Horton hearing voices, but are they real voices or does he just think he hears them? The lives of all the Whos down in Whoville depend on him believing in them and protecting them, as their precarious existence on a tiny speck of dust grows more precarious by the moment when the other animals of the Jungle of Nool decide Horton is nuts and that his precious speck has got to go. Will Horton risk everything to save these tiny people only he can hear and nobody can see? The loyalty of Horton and the imagination of a young daydreamer named JoJo may hold the key as the lives of the Whos hang in the balance, hovering just inches above a hot, steamy kettle of beezlenut oil.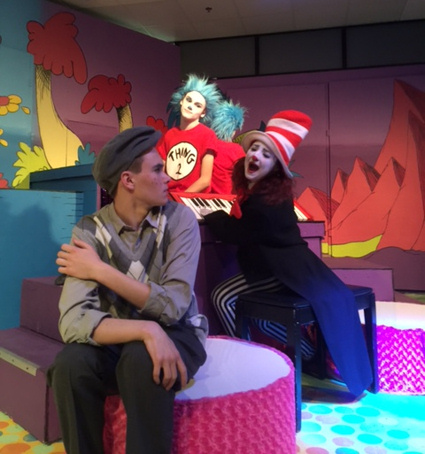 THE PRODUCTION:
The team at Starlight Musical Theater starts drawing you into the world of Dr. Seuss the moment you walk in the door, handing each patron a colorful clover upon which a speck-sized planet full of whos may be nestled. The colorful stage, sets, and Seuss-inspired background painting (Dorann Matson, Glenda Matson, and Mike Rippenkroeger) transports you further into the world. And as the show begins, snazzy costumes by Ashley and Yvette Gibbons, whimsical hair designs by Jean Tanton, Victoria Fricker's fun choreography that makes great use of the oft-crowded stage, and imaginative directing by Christian Graca and Susan Gibson filled with clever touches, all combine to help take us on an immersive journey. That includes the audience becoming the poppy field that a desperate Horton has to weed through in search of the desperate whos.
That talented cast of whos and jungle animals clearly relish guiding us through the journey, led by the charismatic Savoy Graca as the narrating Cat in the Hat who can happily needle her fellow cast members one moment (amusingly testing Horton's good-natured patience as a gravelly voiced lounge singer singing right in his sensitive ear) or comforting a sad JoJo with a feline head nudge. Fifth grader Malena Martinez shines as said JoJo with big vocals and even bigger awe at the crazy world popping up around her. That's a world centered around Horton the Elephant, and Brandon Brown is perfect in the role – both lovably loyal, sincere, and subtly hilarious. Equally hilarious is the one-feathered-tailed bird secretly serenading Horton with a little more than four hundred love songs, with McKenna Kollman using a trifecta of voice, body language, and charming personality to create a totally endearing Gertrude.
Caitlyn Martinez is a star as the vain and flamboyant Amazing Mayzie, adding great humor throughout and a moment of pain when surprised by her own sudden realization of loss as she leaves her egg with Horton. Kenzie Brown and little Calista Quint knock out sass and strong vocals as the Sour Kangaroo and her Young Kangaroo. Jesse Reed and Maya Lai, the adorable Jane and Michael Banks from Starlight's recent production of Mary Poppins, reunite (and transpose genders) as entertainingly strained parents Mr. and Mrs. Mayor. William Rippenkroeger is a strict and mostly fearless General Schmitz to a group of amusingly uncertain, sometimes petrified cadets. Falin Ossipinsky and Hayden Miller are busy and acrobatic as the Cat's Thing 1 and Thing 2. Espen Lai is an enthusiastic mini-Vlad Vladikoff excited to get the clover from the mean monkeys (Will Rippenkroeger, Faith Brown, and Camryn McCullers) and gleefully toss it into the audience. Guest Actor Christopher Martinez is a gift as the Grinch, joined by his happy, trusty sidekick Jordyn Fischer who is a rip as Max with endearing expressions and body language (and sad frustration among her injured Who-ville friends when she's fitted with her canine cone of shame). Julia Burks, Cambria Cascio Maynard, and Harleigh Irizarry are terrific as our always saucy tour guide Bird Girls.

Photo by Jean Tanton
So many of the greatest scenes are the group numbers delivered by the cast. The energetic opening number, the cheeky jungle creatures giving Horton a hard time with Biggest Blame Fool, the ridiculously cute whos politely introducing themselves, the How Lucky You Are act one finale (nice reactions to sound effects of things falling apart offstage as "things could be worse" get worse), a heartfelt and beautifully sung Solla Sollew lullaby, a passionate trial for the fate of the whos, and a finale filled with the wonder and promise of new worlds still to be dreamt.
Performed January 29 - February 13, 2016
Rob Hopper
Facebook
Instagram

Executive Director
National Youth Arts
~ Cast ~
JoJo: Malena Martinez
Cat in the Hat: Savoy Graca
Horton the Elephant: Brandon Brown
Mr. Mayor: Jesse Reed
Mrs. Mayor: Maya Lai
Gertrude McFuzz: McKenna Kollman
Mayzie LaBird: Caitlyn Martinez
Sour Kangaroo: Kenzie Brown
Young Kangaroo: Calista Quint
General Schmitz: William Rippenkroeger
Bird Girls:
Julia Burks
Cambria Cascio Maynard
Harleigh Irizarry
Wickersham Brothers: 
Will Rippenkroeger
Faith Brown
Camryn McCullers
Yertle the Turtle: Beth Amerine
Grinch: Christopher Martinez
Max the Dog: Jordyn Fischer
Vlad Vladicoff: Espen Lai
Cindy Lou Who: Sariah Riddle
Thing 1: Falin Ossipinsky
Thing 2: Hayden Miller
Elephant Bird: Kyla Northern
Jungle of Nool-ians:
Hailey Forbis
Kyla Northern
Ryenne Morgan
Isabella Thompson
Katie Kirch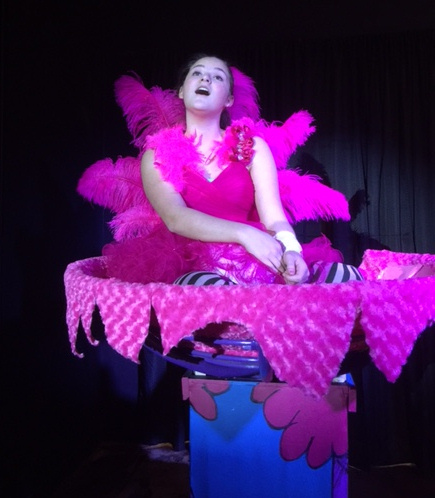 Whoville-ians:
Espen Lai
Kayla Hindi
Beth Amerine,
Austin Betts
Divya Dabholkar
Logan Juncaj
Sariah Little
Cadets:
Hailey Forbis
Ryenne Morgan
Katie Kirch
Logan Juncaj
Puppeteers/Hunches:
Hailey Forbis
Will Rippenkroeger
Camryn McCullers
Faith Brown
Calista Quint
Jordyn Fischer

Director: Christian Graca and Susan Gibson
Musical Director: Thomas Graca and Eric Gibson
Choreographer: Victoria Fricker
Stage Manager: Rick Tejera
Properties Design: Susan Tejera
Scenic Design & Painter: Glenda Matson and Dorann Matson
Set Design & Builder: Mike Rippenkroeger
Costume Design: Ashley Gibbons and Yvette Gibbons
Hair and Makeup Design: Jean Tanton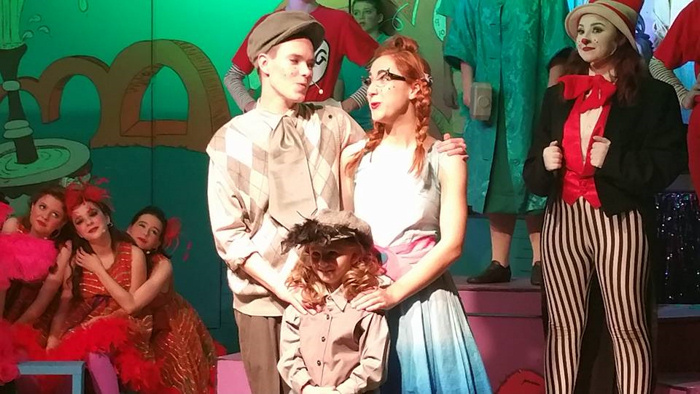 Photo by Stacy Gibbons

Photo by Jean Tanton

Photo by Stacy Gibbons