THE SHOW:
Lyrics and Music by Clark Gesner, based on the characters created by cartoonist Charles M. Schulz, debuted on Broadway in 1967
For more than sixty years Charles Schultz's Peanuts comic strip, and the beloved animated television specials it spawned, have made us all commiserate and find comfort in the lovable loser who keeps trying to kick that football no matter how many times Lucy pulls it away. Clark Gesner's musical adaptation of the comic strip allows the characters to come to life on the stage in a series of monologues, scenes, and musical numbers that remind us just how hard it is to face the challenges of growing up...especially if you're named Charlie Brown.
THE PRODUCTION:
The opening monologues begin in Starlight's darkened theater with a spotlight moving from one familiar Peanuts face to another, the faces painted on large blocks that each respective but unseen actor stands upon, the cartoon characters speaking to us until the last opening monologue of Charlie Brown when the spotlight slowly rises to reveal the actor. That's just the first of countless touches by Director Christian Graca and her group as they brilliantly bring to life the Peanuts gang in all their comic and touching genius in this heartfelt, shouldn't-be-missed homage to the mind of Charles Schultz.
At the heart of it all is Skyler Washburn as Charlie Brown, his humor natural, his loneliness and
heartbreak palpable, his quickness to renewed hope inspiring. A couple highlights include his tortured lunchtime as he pines to be noticed by the Little Red-Haired Girl (silent but delightful reactions by Allison Weston) and Charlie Brown's rollercoaster of a kite-flying attempt (cool kite props for the whole cast) that ends tragically in the branches of a tree (Hanna Grossenbacher as the "Kite-eating Tree" who grabs his kite with her branches, stares at Charlie for a moment, and then happily, coldly crumples his kite). Brandon Brown shines as Charlie's lovable dog Snoopy, with Brandon bringing humor, personality, and charisma as he melodramatically fights off the Red Baron (in a doghouse that magically rises up into the air while his scarf streams out behind him) and celebrates Suppertime with a magnificent song-and-dance, always closely accompanied by his hilarious silent comedy partner in Woodstock (Molly Jimmerson).
Savoy Graca is a riot as a quintessential Lucy, strong and dominating and relishing the chance to torment Charlie Brown, in this production teaching an eager and gullible Rerun (Will Rippenkroeger) questionable facts, and also sharing an unusually nice moment with her little brother as getting to know herself during a crabbiness survey hits hard. Dylan Rinehart is said little brother Linus, delivering a terrific performance in just his second theatrical role as he deals sensibly with a temperamental sister and deals emotionally with a serious blanket addiction that plays out in a great My Blanket and Me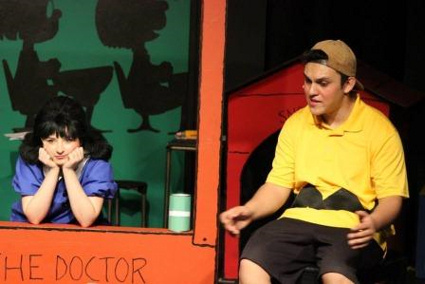 scene featuring a charming dancing blanket by Chelsea Carll. Griffin LeBlanc is an amusing Schroeder trying his best not to lead on Lucy, getting lost in a book report, and leading a lively celebration of Beethoven Day. While the highly expressionable Lilly LeBlanc is a hit as Charlie's baby sister Sally, portraying a struggling student artist, a groundbreaking philosopher, and a sprinkling of borderline personality disorder.
Elsewhere are strong performances by Quincy Janisse and Jesse Pike as duo Peppermint Patty and Marcie, often hanging out at their desks underneath the silhouettes of their comic strip personas above them. Those set pieces of character silhouettes along the back walls (Mike Rippenkroeger and Glenda Matson on sets) work beautifully with their characters living right beneath them. Together that cast of characters work like a team with each member of the ensemble adding much, whether in the baseball game or an outrageous rabbit hunt choreographed by Nathalie Velasquez (throwing in a few over-the-top classical musical dance snippets). It all ends on a warm, powerful note as the characters sing of the things that bring them Happiness, each going into the audience to draw up to the stage a family member or friend – "those who sing with you" and have brought happiness to their lives.
Performed January 30 - February 14, 2015
Rob Hopper
Facebook
Instagram

Executive Director
National Youth Arts
~ Cast ~
Linus: Dylan Rinehart
Charlie Brown: Skyler Washburn

Sally: Lilly LeBlanc
Schroeder: Griffin LeBlanc
Snoopy: Brandan Brown
Lucy: Savoy Graca
Violet: Caitlyn Martinez
Frieda: Chelsea Carll
Peppermint Patty: Quincy Janisse
Marcie: Jesse Pike
Rerun: Will Rippenkroeger
Woodstock: Molly Jimmerson
Little Red Haired Girl: Allison Weston
Lucinda: Hanna Grossenbacher
Rabbits:
Hanna Grossenbacher
Caitlyn Martinez
Jesse Pike
Allison Weston
Dancing Blanket: Chelsea Carll
Kite-eating Tree: Hanna Grossenbacher

Director: Christian Graca
Musical Director: Thomas Graca
Choreographer: Nathalie Velasquez
Stage Manager: Rick Tejera
Properties: Susan Tejera
Set Design & Painter: Glenda Matson
Set Design & Builder: Mike Rippenkroeger
Costume: Dorann Matson