THE SHOW:
Music by Alan Menken, Lyrics by Howard Ashman and Tim Rice, Book by Linda Woolverton. Adapted from Disney's 1991 animated film and based on the fairy tale by Jeanne-Marie Le Prince de Beaumont.
Disney's hugely successful film became the first animated film to be nominated for a Best Picture Oscar, and just three years later became the first Disney animated film to be turned into a Broadway musical. The tale as old as time features a prince who has been transformed into a beast by a curse, punishing him for his coldness to a stranger in need. The only way to break the curse is for him to fall in love, and earn her love in return. Secluded in his now enchanted castle where all the residents are turning into "things," the beauty Belle arrives just as the deadline to reverse the curse is approaching. But he'll have to transform his personality, and Belle will have to learn to love a beast, before an enchanted rose's last petal falls. The magical score includes songs written for the stage including Home and If I Can't Love Her, and classics from the movie including the title song and Be Our Guest.
THE PRODUCTION:
It's a big show for a small stage, but Starlight Community Theater has a knack for pulling those off in their great little space in northern Phoenix. Lauren Michaud is their beauty Belle, bringing excellent vocals and genuine heart to the role. Opposite her is Denim Glasheen whose head is completely covered by a large Beast mask, doing well bringing his character to life with his voice and movements. The two are terrific as they are nervously excited on their first date. Gaston/Griffin LeBlanc is amusingly brash and full of himself even when down in the dumps, and Josh Pike idolizes him as an enthusiastic sidekick Lefou, assisted by three fantastically determined Silly Girls (Rachel Prickett, Chelsea Carll, and Lilly LeBlanc).
The enchanted objects include Caitlyn Martinez as a fun and lively Lumiere. Fourth grader Calista Quint is an expressionable Cogsworth whose pragmatic exterior gives way to wiping away a tear while watching Beast and Belle find romance. Savoy Graca is a funny and flirty feather duster, Holly Erickson an operatic diva wardrobe, and Kayla Dewees a motherly Mrs. Potts to her adorable Chip (Malena Martinez). This junior version of the show gets narrated nicely by the trio of Jesse Pike, Kate Jolley, and Hayden Miller. And the cast shines as the nosy villagers in the big opening number, happy bar patrons in Gaston, and as the many enchanted objects inviting us to Be Our Guest.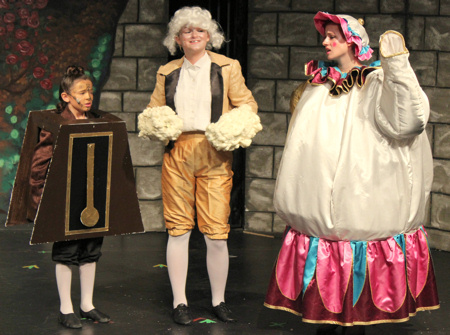 Peter Wilson directs the show, with Nathalie Velasquez expertly choreographing such numbers as Be Our Guest and Gaston for the small stage. Mike Rippenkroeger's set uses every nook and cranny for the many different settings, aided by a projector and a few rolling multi-sided panels for backdrops. Sam Utpadel handled the costumes and Geri Horacek some nice hair and makeup.
It all looked good, and on opening night indirectly added more to the show than planned with some very funny live theatre moments and opportunities for adlibs. When kindly father Steven Bunting as crazy, old Maurice sneezed, his wig flew off his head. Chip's cup handle got wedged in the tight space trying to exit the stage during Be Our Guest and, after quickly assessing the situation, Chip got a humorous little shove from behind to poke him through. And in the scene immediately following the Be Our Guest dinner show, when a round white couch set piece rolled unexpectedly from the side back into the scene, Caitlyn Martinez as Lumiere stayed in character to take charge – pushing the couch back where it came from while admonishing the enchanted set piece by telling it, "Oh my goodness! We're done with the show!"
Performed September 12 - 27, 2014
Rob Hopper
Facebook
Instagram

Executive Director
National Youth Arts
~ Cast ~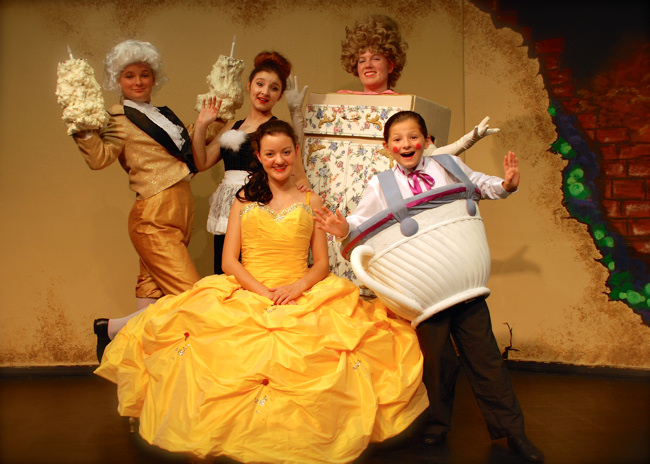 Narrator/Lady with a knife: Jesse Pike
Narrator/Lady with a cane: Kate Jolley
Narrator/Fish Man: Hayden Miller
Narrator/Lady with a baby/A Mother: Harleigh Irizarry
Beast/Prince: Denim Glasheen
Enchantress/Hat Seller/Servant: Ria Vir
Belle: Lauren Michaud
Aristocratic Lady/Servant: Addi Drew
Egg Man/Servant: Eddie Novicki
Sausage Curl Girl/Dessert: Anna Kerr
Sausage Curl Boy/Wolf/Dessert: Coli Martinez
Sausage Curl Father/Guard: Houson Ortloff
Monsier D'Arque: Will Rippenkroeger
Baker/Servant: Jessica Reed
Marie/Dessert: Shayna Weiss
Candle Man/Wolf/Servant: David Wilson
Milkmaid/Dessert: Brylynn Hughes
Shepherd Boy/Wolf/Servant: Caden Johnston
Bookseller/Servant: Calvin Novicki
Gaston: Griffin LeBlanc
Lefou: Josh Pike
Silly Girl/Servant: Rachel Prickett
Silly Girl/Servant: Chelsea Carll
Silly Girl/Servant: Lilly LeBlanc
Maurice/Servant: Steven Bunting
Cogsworth: Calista Quint
Lumiere: Caitlyn Martinez
Babette: Savoy Graca
Mrs. Potts: Kayla Dewees
Chip: Malena Martinez
Madame de la Grande Bouche: Holly Erickson

Director: Peter Wilson
Assistant Director: Lindsey Martinez
Musical Director: Raquel L Jarvill
Choreographer: Nathalie Velasquez