THE SHOW:
Frank Wedekind's controversial play explicitly portraying adolescents dealing with their new sexual desires, as well as violence and abortion, has awoken cries for censorship since its inception at the end of the nineteenth century. But its musical version by Duncan Sheik and Steven Sater, opening on Broadway one hundred years after the first production of Wedekind's play debuted in Germany, went on to become a huge hit and earned the 2007 Tony Award for Best Musical.
More outcries followed the story as it became available to regional theatres, including youth theatres. The show is, indeed, about youth – teenagers living in a repressive society where they are still told of baby-toting storks. Where physical and sexual abuse of children is kept hushed. Where adolescents wanting to understand the changes they're undergoing and the hormones flooding their bodies, feeling unable to seek advice from those who might best help, are instead forced to rely on whispered rumors and myths. Or on uninformed experimentation. All resulting in confusion, shame, and tragedy. In some homes as true today as a century ago.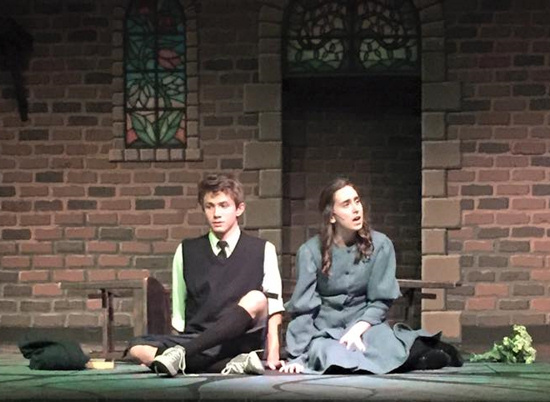 THE PRODUCTION:
Director Kenny Grossman and his group at Spotlight Youth Theatre in Glendale, Arizona deliver a powerful production that doesn't shy away from the mature content and features a ton of talent. That includes Vincent Pugliese who brings his wide vocal and emotional range to the bright and charismatic Melchior, a student who "doesn't believe in anything" and has an academic understanding of the female anatomy. Payton Bioletto is fantastic as the initially naïve Wendla whose eyes are opened to others and to herself through the abuse of her friend Martha and her budding relationship with Melchior. Payton and Vincent beautifully portray that relationship from excited awkwardness to facing ultimate loss.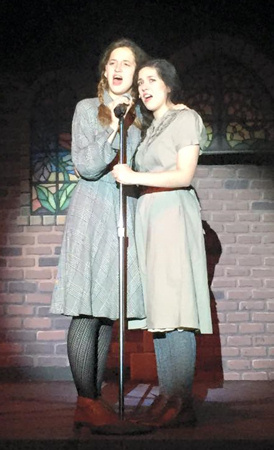 Sam Primack nails his role as the angst-ridden Moritz suffering, often humorously, from newfound passions, while suffering even more painfully from a father who shames him for academic failures. Sophia Deyden is his now worldly childhood friend Ilse, joining to create two of the most devastating scenes of the story including her reunion with Moritz where for a fleeting moment she seeks to reclaim a happier time in her life with Don't Do Sadness/Blue Wind, and earlier joining Hahnna Christianson as two girls facing their abuse as they lead The Dark I Know Well. A bit of welcome comedy relief includes Michael Schulz's hilarious reading of Othello in the bathroom and his equally hilarious seduction scene with Brandon Reyes, as well as piano tutor Brenda Goodenberger fulfilling student Spencer Claus's piano lesson fantasy. Brenda also impresses as Wendla's and Melchior's mother, with her real-life husband Ken Goodenberger taking on the roles of The Adult Men including a brutal father shattered by the repercussions of his words.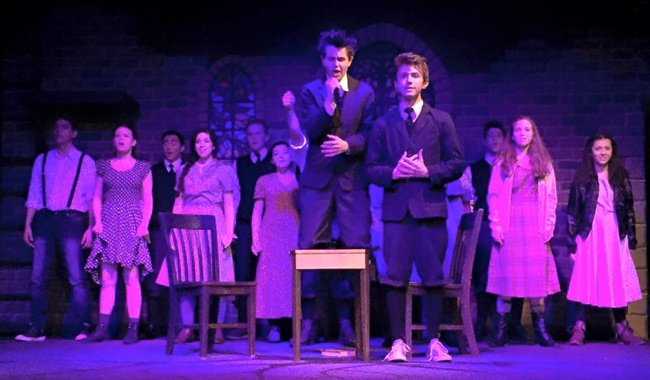 The entire cast is amazingly talented, and their group numbers elevate this show to new heights. Jasmine Bassham and Kathryn Robinson join Martha, Ilse, and Wendla for a terrific Mama Who Bore Me, the male students rock The Bitch of Living, while the entire cast shines in My Junk, an emotional funeral in Left Behind, an amusing Totally Fucked led by Melchior, and ending with a stunning choral rendition of The Song of Purple Summer. Musical Director Mark 4Man and his band are the perfect complement to these sensational talents saturating the appropriately intimate space at Spotlight with a night of remarkable musical theatre.
Performed January 15 - 31, 2016
Rob Hopper
Facebook
Instagram

Executive Director
National Youth Arts
~ Cast ~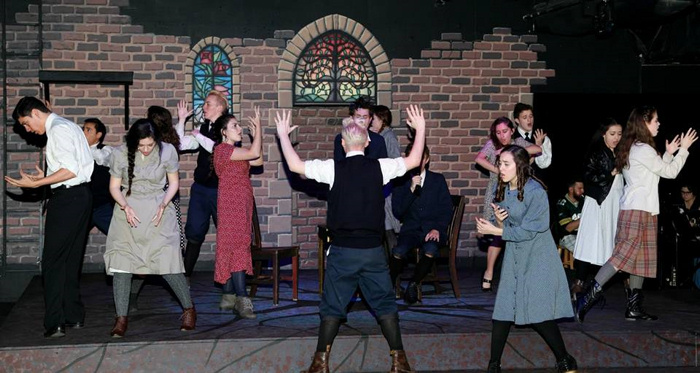 Add Artist Page
~ Girls ~
Wendla: Payton Bioletto
Martha: Hahnna Christianson
Thea: Jasmine Bassham
Anna: Kathryn Robinson
Ilse: Sophia Deyden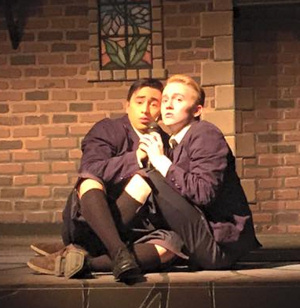 ~ Boys ~
Melchior: Vincent Pugliese
Moritz: Sam Primack
Hanschen: Michael Schulz
Georg: Spencer Claus
Otto: Jeremy Yampolsky
Ernst: Brandon Reyes
Ensemble:
Jacob Herrera
Ali Giordano
Sarah Pansing
Megan Montoya
Adult Women: Brenda Goodenberger
Adult Men: Ken Goodenberger

Director: Kenny Grossman
Music Director: Mark 4Man
Choreographer: Lynzee 4Man
Costume Design: Naomi Jordon and Andi Marie Jordon
Make-Up Design: Angel DeMichael and Spencer Claus
Hair Design: Angel DeMichael
Set Design: Bobby Sample and Kenny Grossman
Lighting & Sound Design: Josh Hontz