THE SHOW:
Rick Abbot's comedy Play On! takes us through tech week and opening night of a community theatre production staging a new play called Murder Most Foul. But it's not the Agatha Christie tale. Instead, the play within the play is a new murder mystery by new playwright Phyllis Montague who keeps wanting to completely change her script and is driving the director and quirky cast crazier than they'd usually be. Reminiscent of the bigger hit Noises Off! (though slightly preceding it historically), a good group of comedic actors can make this an entertaining night of behind-the-scenes theatre.
THE PRODUCTION:
Director Bridget O'Neill and the team at Seton Catholic Preparatory High School in Chandler, Arizona did a great job with this one, with the small cast playing off each other well and with excellent timing. Kelly Fitzsimmons is our director within the play as Gerry Dunbar, assisted by her disgruntled techies Haley Pugh and Maya Chavez, trying to remain cool and professional as her flighty playwright Phyllis Montague (Serena Hudson) keeps butting in with terrible new ideas that would blow up her already rickety murder mystery script. Serena easily creates the grating personality irritating everyone involved in her play, the artistic earnestness that's driving her to want to perfect her script, and the sincerely hurt feelings when she's rebuffed.
The actors within her play include Bailee Dawson and Andy Vega portraying older married actors Henry and Polly Benish, who are in turn playing the Lord Dudley and Lady Margaret of the estate. They work very well together with Andy having a nicely understated sense of humor and Bailee about ready to kill other cast members. Particularly Saul, with Robbie Culibrk mercilessly teasing Polly, considering shooting himself rather than his murder victim during
one of Phyllis's rewrites, and whose third-act drunkenness makes their "opening night" all the more outrageous. Audrey Pfeifer is hilarious as the ditzy and melodramatic Violet Imbry champing at the bit for her romantic scenes opposite her equally ditzy co-star Billy Carewe (Austin Wiegel), the latter humorously joining Saul in getting juiced for opening night. While too young for a drink but needing something for nerves is student newbie actress Smitty played by an amusing Sarah Thompson.
The cast does admiral work as they switch in and out of their roles as community theatre actors and their roles in Murder Most Foul, making mistakes on purpose, delivering mixed-up dialogue as the script goes through its rewrites, and having it all come together as the play all unravels for Murder Most Foul's opening night.
Performed October 18 - 26, 2013
Photos by Frances Pfeifer
Rob Hopper
Facebook
Instagram

Executive Director
National Youth Arts
~ Cast ~
Add Artist Page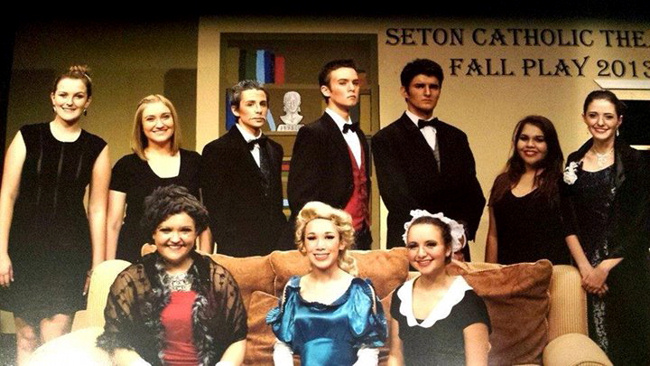 Aggie Manville: Haley Pugh
Gerry Dunbar: Kelly Fitzsimmons
Henry Benish: Andy Vega
Polly Benish: Bailee Dawson
Marla "Smitty" Smith: Sarah Thompson
Billy Carewe: Austin Weigel
Saul Watson: Robbie Culibrk
Violet Imbry: Audrey Pfeifer
Louise Peary: Maya Chavez
Phyllis Montague: Serena Hudson

Stage Manager: Maria Rojas
Assistant Director: Hailey Trilk
Technical Director: Daryl O'Neill
Director: Bridget O'Neill