Grover's Corner is just an ordinary, turn-of-the-century small town in the exceptionally ordinary state of New Hampshire. Nothing too newsworthy happens there. Nobody too famous has lived there. There's nothing remarkably special about it at all, but then that's why it's so special! For although not much happens there that's ever likely to make history books full of kings and wars and whatnot, it was in little towns like these that the vast majority of ordinary people lived out their ordinary lives. So if you want to know what it was like for most people to live in America a hundred years ago, we need look no further than the little town of Grover's Corner, New Hampshire – the setting of Thornton Wilder's classic award-winning play from 1938.

A play about everyday life? And performed with a scarcity of props and sets?? That may sound a bit dull, but Wilder's unusual play reveals the extraordinary nature of the everyday, drawing us into both a community and the individual lives of people we can all recognize, traveling through their experiences with humor, sadness and familiarity, while not fully realizing till it's too late just how truly special every experience and every moment was. And this production captures the message and the emotions of Our Town like no other.

Introducing us to the town and the townsfolk is the stage manager – or in this case three stage managers. Cloteal Horne, Brian Polk, and Amanda Ruud create an easy blend as the omniscient narrators, with their natural performances adding a sympathetic and somehow comforting dimension to the show. They paint us a complete picture of the town through use of historical experts (such as the initially nervous then unstoppably talkative Professor Willard played by Erin Petersen), lots of demographics, glimpses into the lives and futures of several run-of-the-mill residents (a newsboy, the milkman, the town gossip, the town drunk), and especially by letting us into the residences of the Webb and Gibbs families – next-door neighbors who become tied even closer by the courtship of their eldest children.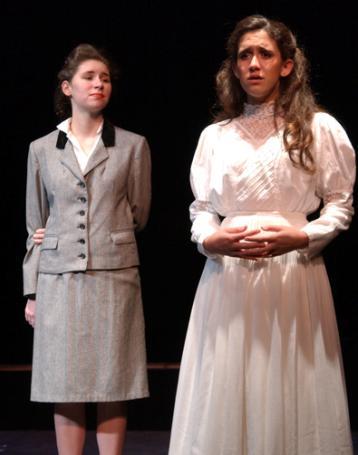 In the first act, George Gibbs and Emily Webb are young high school students who seem closer as neighbors than they do personality-wise. Emily is the smartest girl in school who, according to her mother, is also "pretty enough for all normal purposes." George is not quite so interested in his studies. But they both have a similar goodness and wisdom inside, and their amusingly nervous and awkward first date will lead into a wedding – one of those ordinary yet very special events.

Alex Fleming is terrific as the not-so-bright but good, loyal, and often funny George, humor highlighted by a hilarious conversation between George and his uncomfortable future father-in-law Mr. Webb (Phillip Bowen) on the morning of the wedding. Emily Shackelford gives a tremendous performance as the bright, kind but straight-forward Emily. It is through her moving portrayal that the third and final act drives home the play's powerful message when Emily is given a chance to see how beautiful and precious life is, and how quickly it flies by, all practically unnoticed until it is gone too soon.

Other members of the exceptional cast include Lisha Brown as the sweet and worrisome Mrs. Gibbs, Jordan DuBois as her often grumpy but amusing husband, Stephanie Brown as their chatty young daughter, Rachel Foodman as the down-to-earth and matter-of-fact Mrs. Webb, Katie Palmer as the talkative and highly sentimental Mrs. Soames, Chelsey Clair as the charismatic newsboy, and Kelly Dreyer and Arielle Pardes sitting on either side of the stage while they make the show's sound effects with a number of different gadgets. Margaret Hagar's earth-toned, period-looking costumes, Tony Cucuzzella's understated sets (not to mention making it truly rain on the funeral!), and the subtle yet dramatic lighting by Ginger Harris all worked to great effect throughout. Director Desha Crownover deserves great praise for bringing these talents together and her ability to draw out the nuances of this play with her insight and her vision – especially in the perfectly staged final act that moved the audience to tears for all those moments that we and the characters have rushed through.

Performs through January 23, 2005.

Rob Hopper
National Youth Theatre

~ Cast ~


Stage Managers: Cloteal Horne, Brian Polk, and Amanda Ruud
Sound Engineers: Kelly Dreyer, Arielle Pardes
Dr. Gibbs: Jordan DuBois
Joe/Si Crowell: Teddy Fantano
Howie Newsome: Chelsey Clair
Mrs. Gibbs: Lisha Brown
Mrs. Webb: Rachel Foodman
George Gibbs: Alex Fleming
Rebecca Gibbs: Stephanie Brown
Wally Webb: Josh Segui
Emily Webb: Emily Shackelford
Professor Willard: Erin Petersen
Mr. Webb: Phillip Bowen
Woman in the Balcony: Catherine Miller
Man in the Auditorium: Josh Herren
Lady in the Box: Lauren Schulz
Simon Stimson: Seth Morris
Mrs. Soames: Katie Palmer
Constable Warren: Jesse Gonzalez
Sam Craig: Cassandra Jerkins
Joe Stoddard: Jillian Stewart
People of the Town:
Jesse Gonzales
Chelsey Clair
Jillian Stewart
Teddy Fantano
Lauren Schulz
Josh Herren
Erin Petersen
Cassandra Jerkins
Amy Andreasen
Samantha Rogers
Brentan Schellenbach
Catherine Miller
Maggie Foster
Alice Cash
Abigail Andreasen

Director: Desha Crownover
Set Design: Tony Cucuzzella
Lighting Design: Ginger Harris
Costume Design: Margaret Hagar