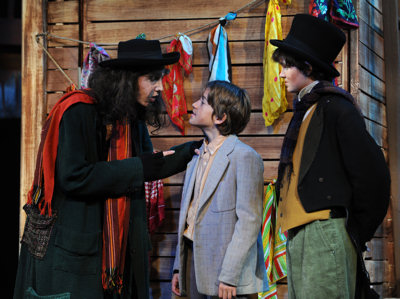 As the holidays are fast approaching, one right after the other, we are reminded of the scents and sights that we associate with this time of the year. Christmas decorations are popping up everywhere and Santa may have already appeared at your local mall. But one thing is always clear during this time of year, storytelling is a way these holidays have kept alive and thriving. No story is more well known among the general population than Charles Dickens' A Christmas Carol. The majority of Dickens' stories have been made popular by many formats of media including film, television, and theatre. Some have been flops in the theatrical form, like Tale of Two Cities, but others have thrived, like the classic musical hit Oliver! The majority of theatres across this nation have at one time or another produced Oliver!, and San Diego Junior Theatre is no exception.
The recent production, directed by executive director Will Neblett, has all of the elements of a timeless musical theatre piece and all of the heart a cast could give to it. As Oliver, Spencer Wilhelmy is taller than the average boy who is cast in the role, but he gives it the passion and has a voice to boot. His mentor and close friend, The Artful Dodger (Ben Sutton) is cunning and slick with a spot on accent. Rounding out the supporting cast is Rachel Liuzzi as Nancy. Her superb singing voice and acting create a balance in the character which helped the audience understand why she would love a man like Bill Sykes (Vander Turner). Turner doesn't hold back as the best pick pocket in London and his rendition of "My Name" leaves the audience and ensemble terrified. Rounding out this group of fantastic actors is Morgan Hollingsworth as Fagin. Hollingsworth holds his own on any stage but especially as this character. From his walk to his glorious singing, Morgan owns this role as his own and creates a likable yet conniving character. (Fun Fact: Morgan's older brother played the same role in the last production SDJT did of Oliver!)
As the featured cast, this group of thespians proved that there is no such thing as a small part. Lauren Green (Bet) has amazing energy and a voice to match it. As the Sowerberry's, Austin Klich and Paige Pendarvis have great chemistry and comedic timing. Michael Covington proves to be a great talent as Mr. Bumble. Ben Shaffer plays the overtly rude Noah Claypole and was a great standout among the ensemble. And last but not least, Alex Dunbar conveys the only kindness and honesty Oliver might ever see in another human.
The ensemble, which had a wide range of ages and heights, had fantastic energy that most actors would hope to have. Jennifer Winspear's choreography is well executed by the cast and suits the time period and the show perfectly. Richard Morrison's musical direction adds to the already lush score. Tony Cucuzzella's set and Matt Novotny's lighting is incredibly pleasing to the eye and collaborates well especially on an aesthetic level. And for the final touches, Walter Allen's costumes add ambience and Francia Cohen's amazing hair and make-up top off the look to create any look needed.
Performed October 23 - November 8, 2009
Photos by Ken Jacques
Catherine Miller
National Youth Theatre
~ Cast ~
Oliver: Spencer Wilhelmy
Mr. Bumble: Michael Covington
Widow Corney/Chorus: Rachel Baum
Mr. Sowerberry/Chorus: Austin Klich
Mrs. Sowerberry/Chorus: Paige Pendarvis
Charlotte/Chorus: Marissa Moorhead
Noah Claypole/Chorus: Ben Shaffer
The Artful Dodger: Ben Sutton
Fagin: Morgan Hollingsworth
Nancy: Rachel Liuzzi
Bet/Chorus: Lauren Green
Charlie Bates: Josh Shtein
Mrs. Bedwin/Chorus: Kate Jamison
Mr. Brownlow/Chorus: Alex Dunbar
Mr. Grimwig/Chorus: Matthew Pospisil
Old Lady/Chorus: Jessica Isbell
Old Sally/Chorus: Audrey Atwater

Workhouse Orphans/Fagin's Gang:
Alana Austin
Caterina Brown
Gage Bulette
Julian Coker
Connor Cruz
Megan Decker
Gabriella Edwards
Sydney Rose Horowitz
Hunter Katz
John Miranda
Ruby O'Brien
Scott Roberts
Avery Solsbak
Sam Supranovich
Alexis Tenney
Sean Waters
Teia Shannon Wright
Juliette Young

Chorus:
Jack Adkins
Truly Bailey
Samantha Canela
Kelly Doran
Corey Hable
Chris Huber
Charly Montgomery
Eric Nelson
Sophia Oberg
Darian Spencer
Elena Trueba
Jenna VanKummer
Spencer Williams

Director: Will Neblett
Choreographer: Jennifer Winspear
Music Director: Richard Morrison
Sound Design: Robin Whitehouse
Set Design: Tony Cucuzzella
Lighting Design: Matthew Novotny
Costume Design: Walter Allen
Hair and Make-up Design: Francia Cohen
Stage Manager: Sophie Eakes