It was eight years ago and just a few miles away in La Jolla where Thoroughly Modern Millie was born, catapulting the show and its lead Sutton Foster into Broadway stardom. And now the Tony winner is seeing its debut at the Casa Del Prado Theatre with San Diego Junior Theatre, one of the oldest and most successful youth theatre companies in the nation.

It's a big, fun, jazzy show put on in a big, fun, jazzy way under the direction of Steve Anthony, whose successful career includes being part of the workshop for A Chorus Line (and being the inspiration for part of one of the show's characters). He's directing a cast led by Millie veteran Catie Marron, who had already earned a National Youth Theatre Award for her performance as Millie at the San Diego School of Creative and Performing Arts. Her reprise is even more impressive, with a terrific voice belting out such numbers as the big Gimme, Gimme, and a knack for the personality of this charming character who leaves Salina, Kansas for New York City with big dreams of becoming a modern woman and marrying her yet-to-be-found boss for money.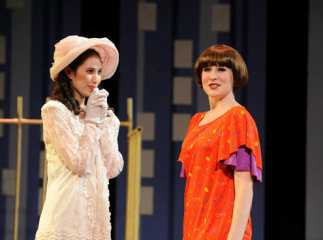 She is joined by Kiefer Shackelford as Jimmy Smith, the street-smart New Yorker who unexpectedly finds himself tripped up, side-swiped, and knocked head over heels by the new girl in town. His big solo What Do I Need with Love usually has Jimmy breaking out of a jail cell only to return on the chance of getting a date with Millie. In this production, Jimmy's escape from jail appears to be a mental breakthrough rather than a physical one, and includes Kiefer playing a piano that suddenly appears in jail with him. But can he stop Millie from chasing after her rich boss, Trevor Graydon III? Trevor Johnson plays his namesake here as the confident and manly Graydon who suddenly transforms into a lovesick puppy in I'm Falling in Love with Someone in a terrific duet with Miss Dorothy Brown. Devon Hollingsworth is a sweetly innocent, romantic debutante with a surprising sense of humor, not to mention a stunning vocal performance.
And then there's the sinister, melodramatic subplot, of which Miss Dorothy may be the next victim. The mysterious Mrs. Meers is selling her young, beautiful actress hotel guests who are "all alone in the world" off into white slavery. And Meagan Rossin is a riot as Meersie, using voice (singing, accent, struggling to communicate with her Chinese assistants) and body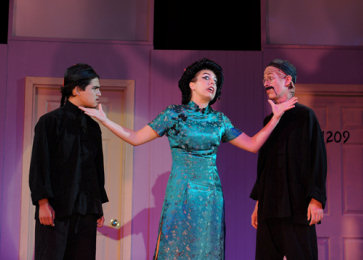 language brilliantly, including taking out a huge syringe to inject poison into an apple, slipping the syringe into her garter, and then using a little pause and glance out into the audience, as if daring us to say anything or warn Miss Dorothy. None of us did.

Her assistants include a boyishly sweet and romantic Ching Ho (Alex Salomon) and an amusing Bun Foo (Ryan Luster) whose communications with Mrs. Meers are exceptionally funny thanks to his timing and movements. Elsewhere, Madeleine Barker impresses as the plain-speaking, smooth-singing jazz star Muzzy Van Hossmere who captures the period nicely. Joy Newbegin turns in a witty performance as head secretary Miss Flannery, complete with an Irish accent. And Erin Petersen is a hoot in multiple small roles including a southern Ethel Peas and a most memorable drunken Dorothy Parker. The ensemble of singers and dancers had it all down, especially igniting the stage in the Act Two opener Forget About the Boy.

Director Steve Anthony put together a high-quality production. Lynn Choplin put together a terrific array of 1920s-style dresses and suits, and Richard May complemented those with several stylish wigs. Jay Heiserman, an Emmy Award-winning set designer (The Ellen Degeneres Show), designed the professional sets highlighted by the New York City skyline. There were some technical issues with the projection of subtitles (translating the words of Ching Ho and Bun Foo) onto a drooping laundry line, but it was clever in theory. Overall, a thoroughly entertaining production of one of the biggest musical hits ever launched from San Diego.

Performs July 25 - August 10, 2008

Rob Hopper
National Youth Theatre

Photos by Ken Jacques

~ Cast ~
Millie Dillmount: Catie Marron
Jimmy Smith: Kiefer Shackelford
Mrs. Meers: Meagan Rossin
Miss Dorothy Brown: Devon Hollingsworth
Ching Ho: Alex Salomon
Bun Foo: Ryan Luster
Miss Flannery: Joy Newbegin
Mr. Trevor Graydon: Trevor Johnson
Muzzy Van Hossmere: Madeleine Barker
Ensemble:
Truly Bailey
Maddie Baldwin
Desiree Corriente
Rissa Dickey
Angela Evers
Jacob Fineman
Donny Gersonde
Philip Greenberg
Alejandra Jimenez
April Kaneaster
Jenna Locke
Ryan Luster
Erin McGeeney
Julian Montijo
Krisoff Sam Padua
Lizzy Palmer
Olivia Peck
Erin Petersen
Rachel Peterson
Olivia Puckett
Molly Salas
Alex Salomon
Robert Vander Turner
Jill Vaughn
LaVon Wageman
Marianne Zumberge

Director/Choreographer: Steve Anthony
Music Director: Richard Morrison, Patrick Marion
Set Design: Jay Heiserman
Lighting Design: Matthew Novotny
Costume Design: Lynn Choplin
Hair Make-up Design: Richard May
Sound Design: Robin Whitehouse
Stage Manager: Sarah White