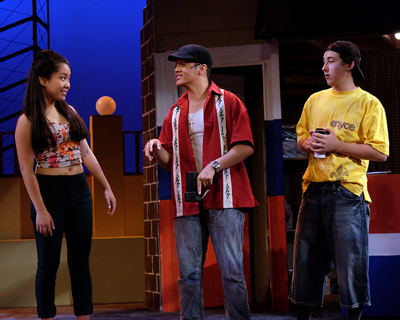 So, what show is worth spending 90 minutes to find parking for? San Diego Junior Theatre's In the Heights, of course! Carlos Mendoza's cast of In the Heights is fabulous and extremely talented! You probably wouldn't believe me if I said that I enjoyed this cast's performance much more than the National Broadway tour. It is the truth. Not to take anything away from the hard-working artists on tour who are definitely talented. However, I found these young artists to be so much more energetic and the chemistry of the cast was fantastic.
In the Heights is a story about family, hopes, dreams and the everyday struggle of a New York Latino neighborhood called Washington Heights. The story isn't too unusual but the music and lyrics written by Lin Manuel-Miranda and the book by Quiara Alegria Hudes takes the story to new "heights" with its contemporary score flavored with rhythmic salsa beats.
Director Carlos Mendoza cast and directed this show beautifully. Michael Garcia is a believable Usnavi, and he leads the cast terrifically throughout. His vocals and acting are very impressive and it wouldn't be surprising to find him reprising this role in a professional capacity. He is not alone in his ability to convey the text and meaning of this show. Vanessa Orozco plays Nina, a Stanford dropout who has lost her scholarship after trying to hold two jobs. Orozco brings a nice balance of vulnerability and strength to the character. She displays gorgeous vocals in "Everything I know," and after her performance I am certain I heard sniffles in the audience. Nina's love interest, Benny, is played by David Coffey. Benny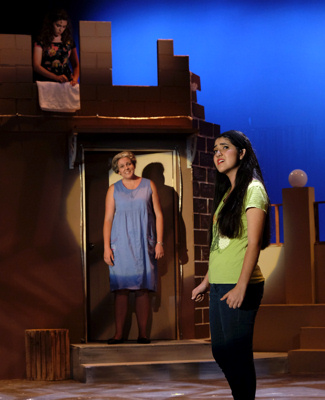 tries hard to be accepted by Nina's father, Kevin (Isaac Brieske) who is also Benny's employer. Coffey is able to portray his character's angst in dealing with Nina's father as well as his feelings for Nina. Despite their youth, Coffey and Orozco are committed to their characters and have great chemistry. "When You're Home" contained great staging and "Sunrise" was telling of Nina and Benny's developing relationship.
Isaac Brieske expresses the challenges he is faced with as a Father and provider in "Inutil," and does it excellently. Yasmin Ruiz is a perfect match for Camila, who is Kevin's wife and Nina's mother. Ruiz reads mature onstage, which is perfect for this role, and she was on fire in "Enough". Her vocals shined in "Siempre".
Other great performances came from Sam Brogadir as Sonny, Samantha Wang as Vanessa, and Jazley Genovese as abuela Claudia. Brogadir's Sonny is a great match for Garcia's Usnavi, and the interaction between Sonny and other characters is fun to watch on stage. Wang, who portrays Vanessa, is great in "It Won't Be Long Now". There is some wonderful playfulness between Vanessa and Usnavi in "Champagne". A versatile Miss Genovese plays a dynamic Abuela Claudia and "Paciencia y Fe" is quite memorable.
Some real standouts in our featured roles were Nisa Mercado as Daniela, Natasha Portnoy as Carla, Mashun Tucker as Graffiti Pete, and Connor Marsh as Piragua Guy. Let's start with Piragua Guy, because I can still hear the yells and hollers from his performance. It may be a small role, but the role calls for some powerful singing with charisma, and Mr. Marsh does deliver both. Mr. Marsh possesses great vocals and wonderful stage presence.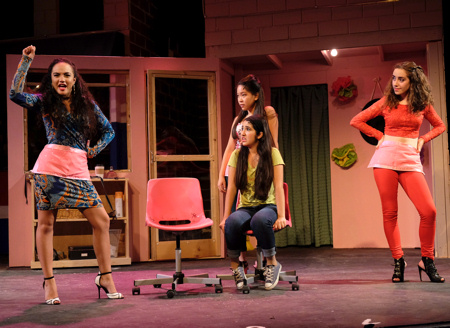 Ms. Mercado gave an excellent performance in "Carnaval del Barrio" along with Ms. Portnoy, who also was a sassy and fun Daniela. "No me Diga" was solid. Mr. Tucker was a memorable Graffiti Pete. For some reason, this character is more present in this production, which means this actor brought this character to life and made him a real person.
Kudos to all of these actors and even more praise to Carlos Mendoza for his admirable direction of this production. Mendoza built a marvelous ensemble. They provided exceptional support for the cast of leads and supporting roles. Some of my favorites musical numbers were "96,000" and "The Club/Blackout". I love the harmonies and overlays this musical's score has, and when sung by talented singers it is breathtaking.
Mendoza's choreography was solid, Tony Cucuzella's set design was a perfect backdrop for Washington Heights, and Matthew Novotny's lighting was consistent and enhanced every scene. Overall, a truly enjoyable theater experience in Balboa Park. In the Heights was worth the drive and parking hassle, and my one complaint is that it was the closing show. 
D. Jacqueline Young
National Youth Arts