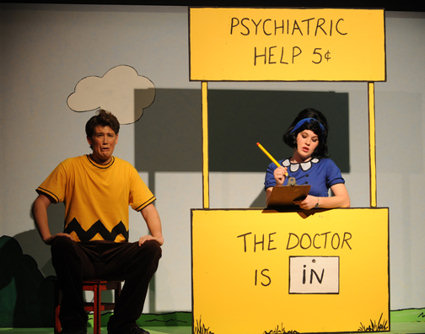 Sixty years after the original Peanuts comic was printed, and ten years after the last Charles Schultz creation, San Diego Junior Theatre brings the characters back to life for another run with the hit musical You're a Good Man, Charlie Brown. In this case, literally. That's thanks to Set Designer Tony Cucuzzella's clever and absolutely perfect two-tiered comic strip background that looks just like it was cut out of the Sunday paper and blown up on the stage, used to great effect throughout in Director Desha Crownover's creative and hilarious production.

The show is a musical romp through the characters of Peanuts using song and dance and little snippets, some pulled straight from the strip. With, of course, everybody's favorite loser Charlie Brown at the center who keeps trying even when he knows he's just gonna fail. Alex Dunbar is our title character, and he's got the lovable loser thing down pat whether he's being humiliated (and humiliating himself) at lunch, once again trying to fly a kite or trying to win a baseball game, or being on the receiving end of some painful therapy by 5-cent psychiatrist Lucy.

Marianne Zumberge being said psychiatrist, with loads of humorous vanity and crabbiness and a melodramatic attempt to woo piano-playing Schroeder (who slaps her hand away when she dares to try to touch one of his piano keys). That's Austin Klich as an amusing and dynamic Schroeder intent on commemorating, and not commercializing, the big, inspiring Beethoven Day celebration accentuated with a fantastic ensemble performance.
Of course, any day can be filled with inspiration so long as you've got your trusty blanket. Did you ever wonder what the uber-intelligent and philosophical and very blanket-dependent Linus would do if he had FIVE blankets? And they danced with him and hugged him and comforted him with a light tap on the cheek when he cried? You'd end up with the best My Blanket and Me ever featuring choreography by Jennifer Winspear, Vander Turner as Linus, and Alana Fineman as Linus's Blanket (great costume by Lisa Forrest) who are hilarious together, and even better when they've got their four other blankets (Brooke Collins, Sophia Oberg, Jenna Dern, and Casey Purlia Johnson) joining in the blanketfest that includes everything from a kickline to your classic Peanuts dancing.
Then there's the rest of the Peanuts gang. Maddie Baldwin is a hoot as little Sally who makes a lucid and compelling case for upgrading her wire hangar sculpture, pours forth her inner drill sergeant to chase rabbits across the stage, and knocks out a hilarious My New Philosophy filled with a number of dubious philosophies that would drive Socrates into chugging hemlock. Then there's her extremely dangerous predilection to jump rope rage. Jordon DeLeon is a tomboyish Peppermint Patty who texts during glee club rehearsal, while Pig Pen (Ben Sutton) grosses people out and steps on bugs during his nature lesson from Lucy, and Lauren Green as Patty loudly shares some of her little-known and potentially embarrassing inclinations just as everyone else in glee club suddenly stops talking.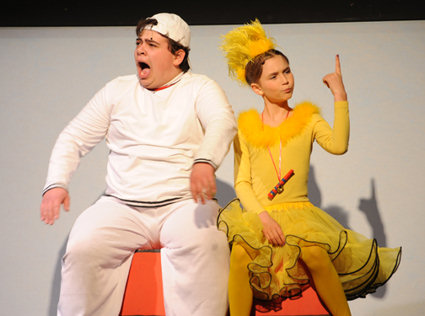 And then there's Snoopy. Jordan Bunshaft, who as a beagle looks inconceivably identical to Vizzini (Wallace Shawn) from The Princess Bride, didn't let a little fractured ankle during final dress rehearsal stop him from taking on The Red Baron. This three-legged dog is a riot with his expressions, comic timing, and personality as he contemplates a dog's life, hangs with his best friend Woodstock (a lively, humorous, and delightful Kaleolani Laymon), assists in rabbit hunts from his house, and hunts Red Barons from his house in a fantastic scene complete with old World War I dogfight footage in the background and Violet (Rachel Liuzzi) singing dramatic background music into a big radio microphone. But nothing makes him happier than a huge, tasty Suppertime with all his friends helping him enjoy the musical feast.
Now that's Happiness, as is a great ensemble and design team that can make you wish this comic strip never had to end.
Performed January 8 - 24, 2010
Rob Hopper
Facebook
Instagram

Executive Director
National Youth Arts
~ Cast ~
Charlie Brown: Alex Dunbar
Lucy: Marianne Zumberge
Linus: Vander Turner
Sally: Maddie Baldwin
Snoopy: Jordan Bunshaft
Schroeder: Austin Klich
Marcy: Madeline Harvey
Patty: Lauren Green
Peppermint Patty: Jordon DeLeon
Pig Pen: Ben Sutton
Rerun: Mark Barahura
Frieda: Kelly Doran
Shermy: Chris Huber
Violet: Rachel Liuzzi
Woodstock: Kaleolani Laymon
Linus's Blanket: Alana Fineman
Other Blankets:
Brooke Collins
Sophia Oberg
Jenna Dern
Casey Purlia Johnson
Ensemble:
Brittney Aceron
Michael Barahura
Kailey Berry
Brooke Collins
Jenna Dern
Katee Drysdale
Alana Fineman
Danny Helms
Colette Huber
Kate Jamison
Kimberly McVeigh
Sophia Oberg
Casey Purlia Johnson
Ruby Ross
Kayla Solsbak
Claire Sparr
Anna Strickland
Isaac Taylor
Spencer Williams
Brennen Winspear

Director: Desha Crownover
Choreographer: Jennifer Winspear
Music Director: Richard Morrison
Sound Design: Robin Whitehouse
Set Design: Tony Cucuzzella
Lighting Design: Cynthia Bloodgood
Costume Design: Lisa Forrest
Hair and Make-up Design: Richard May
Properties: Karen Bohrer
Assistant Director: Erin Petersen
Lighting Assistants:
Kara Kerr
George Daye
Rissa Dickey
Julio Jacubo
Dance Captain/Student Lighting Assistant: Michael Barahura
Interpretive Services Coordinator: Stage Signs
Interpreters: Carla Izaguirre, Nadine Walters Valentein
Show Photography: Ken Jacques
Lobby Shots: Tim Whitehouse