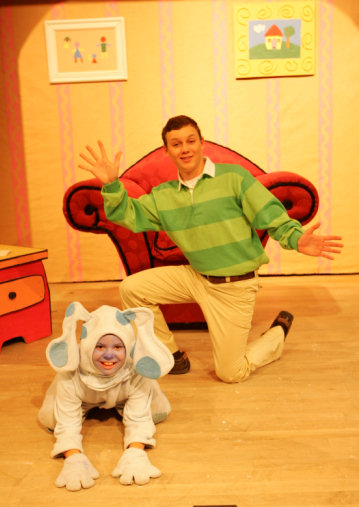 Sometimes less is more when it comes to the art of theatre. This was especially true in the case of San Diego Junior Theatre's premiere production of Blue's Clues. In this 45-minute delightful replication of the hit children's TV-show, Director/Choreographer Becky Cherlin-Baird, along with her cast of extremely talented kids, takes us on an incredible adventure to find Blue's most spectacular place! This fantastic production seemed to have popped or "skidooed" right from the TV screen and onto the stage.

 

The sets (Cynthia Bloodgood) and costumes (Kimberly Myers) were a perfect adaptation of the television show.

 

In this JT premiere of the stage version of Nickelodeon's popular show, Cherlin-Baird demonstrated creative, interactive and age-appropriate direction and choreography.
The audience, led by the friendly man in the green-striped shirt: Steve, was taken through a wonderful adventure as they searched for the most spectacular place on earth. Blue, Steve's playful dog, has left clues for Steve and the audience to find. While along their journey, they run into some familiar faces as well as some unlikely and mismatched characters.  Their journey brings them from Steve's house to Storybook Forrest and even to outer space. Eventually their journey to find Blues' clues leads them to conclude that Blue thinks that HOME is the most spectacular place. 
Jacob Sampson (Steve) shows great maturity as he leads the audience with his mischievous dog, Blue (Sierra Ottilie-Kovelman) on her journey to find the most spectacular place. Sampson handles the demands of the role with great ease and is comfortable leading an audience of young children (including occasional interruptions from overly excited children). The team of characters created one of the most well put-together ensembles, which included musical harmonies, choreography, and a presence that radiated off the stage and into the hearts of the young audience members. The production was clean, well staged and simple yet appropriately choreographed.  Each performer clearly comprehended the depth of their characters, as well as exuding immense amounts of confidence and stage presence beyond their years.  Every inch of the stage was used to the fullest extent to create an imaginative world for young children.
The small and intimate stage setting allowed for a personal and friendly atmosphere that welcomed children to participate in the show and sing along in their seats with one of the most adorable interactive children's musicals. Audience members enjoyed the playful plot and endearing characters.
This charming children's musical is a perfect outing for families with young children. Parting ways with Steve and his friendly dog Blue at the conclusion of the show was bittersweet, but they left behind numerous children glowing with grins from ear to ear.
Performed September 12-28, 2008
Ashley Twomey
National Youth Theatre
Photo by Daniel Baird
~ Cast ~
Steve: Jacob Sampson
Blue: Sierra Ottilie-Kovelman
Mama Bear: Jenna Dern
Mrs. Pepper: Olivia Lindsay
Paprika: Donovan Dustin
Big Bad Wolf/Jupiter: Dominique Alexi
Bunny Slipper #1/Earth: Danielle Dawson
Bunny Slipper #2/ Pig #2/Pluto: Maya Hertz
Horace/Venus: Zena Ramirez-Blantz
Letter #1/Grandma: Kristina Stoia
Letter #2/Baby Bear/Mars: Devyn Soldner
Mailbox/Saturn: Hanna Samson
Mr. Salt/Giant: Nathaniel Pick
Pail/Jack: Gabriella Leibowitz
Papa Bear/Uranus: Joseph Wineman
Pig #1/Mercury: Alana Austin
Pig #3/Shooting Star: Caterina Brown
Shovel/Goldilocks: Shir Gershon
Slippery Soap/The Sun: Emma Wineman
Tickety Tock/Neptune: Sierra Kindig
Director: Becky Cherlin Baird
Musical Director: Robin Whitehouse
Set Designer: Cynthia Bloodgood
Lighting Designer: Tony Cucuzzella
Costume Designer: Kimberly Myers
Sound Designer: Robin Whitehouse