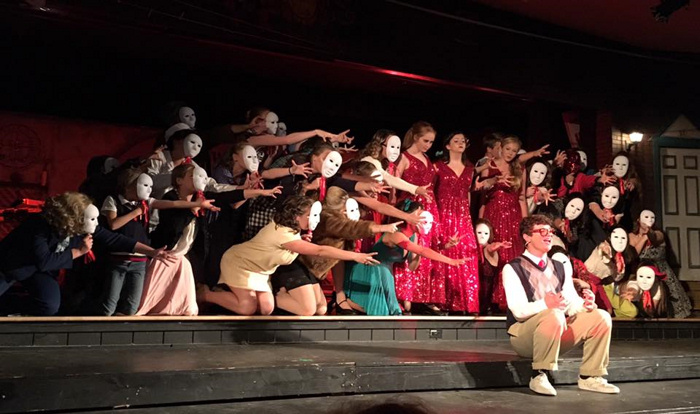 FEEEED ME SEYMOUR!!

If you want a good laugh, a good cry, and have your emotions tested, then this is the place to be. For the next few days, October 5th, 6th, and 7th, San Clemente High School Theatre Arts will be presenting the final edition of their newest production at the Triton Center on campus.

Yes, San Clemente High School Drama Boosters invites young and old to "Little Shop of Horrors," a tongue-in-cheek, man-eating plant musical comedy romp from the fevered minds of Howard Ashman and Alan Menken. In this production at SCHS, Director Laurie Mason has assembled a strong cast with impressive vocal and comic chops that delivers a very entertaining evening, complete with doo-wopping, hand-jiving, street-smart urchins, a sadistic dentist, a carnivorous alien venus fly trap, and sort of a "Dream Girls" Greek chorus. The show began September 28th and as of this date has only four performances left!

The musical send-up is based on the low-budget 1960 film by Roger Corman that centers around a nerdy, skid-row flower shop worker named Seymour who finds out his venus fly trap can speak, all the while mooning after his lovely, wounded co-worker, Audrey.

The more familiar remake was done in 1986 which starred Rick Moranis, Ellen Greene, Vincent Gardenia, Steve Martin, James Belushi, John Candy and Bill Murray, along with Levi Stubbs providing the voice of Audrey II. The musical premiered before the film remake in 1982 and had a five-year run, with 2,209 performances, which at that time was the highest-grossing show in off-Broadway history.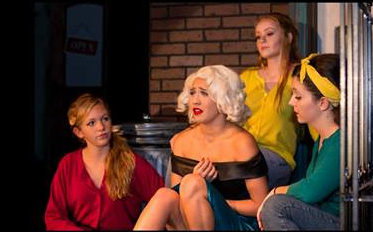 As the Greek Chorus members Crystal (Emma Rhoades), Ronnette (Carlie McCleary) and Chiffon (Emma Dawson) introduce us to the neighborhood and a failing Skid Row flower shop, we find our nebbish amateur botanist, Seymour Krelbourn, bringing in an unusual plant which he has christened Audrey II. The plant immediately turns into an exotic customer attraction, bringing sheltered Seymour media attention, wealth and the love of his life - Audrey, a vivacious dumb blonde with serious self-esteem issues. The catch is that the plant craves human blood which Seymour must provide, a Faustian bargain with bone-chilling repercussions.

Zach Thomas and Francesca Monson portray the hapless romantic couple, avoiding the broadly comic voices often associated with Seymour and Audrey in other shows. As the shy and reserved Seymour attempts to care for his sick, but bloodthirsty Venus Fly Trap and appease his mean-spirited boss Mr. Mushnik (Zack Mallgrave), he finds Audrey already romantically involved with a sadistic dentist (Justin McCoy). McCoy's role as the abusive and soon-to-be eaten boyfriend, Orin, was one of the audience favorites, especially with his show stopping number, Dentist! His energetic singing and comedic timing was refreshing. Player Mallgrave wears the role of flower shop owner Mushnick comfortably, particularly in a duet with Thomas ("Mushnick and Son") in which they sprint through a variety of ethnic dance steps. "Fiddler on the Flower Shop"?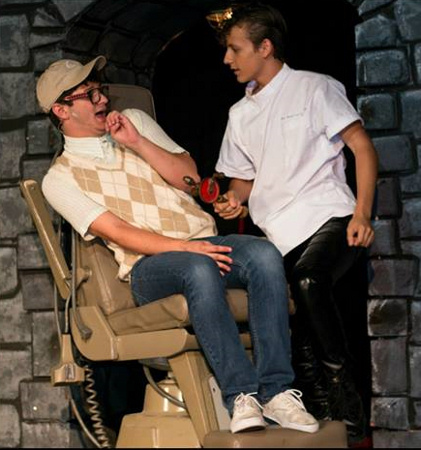 The singing was extremely good overall, especially that of Audrey, and of all things Audrey II (the show's true star) voiced by Braxton McGrath, and with occasional puppets manipulated by Zach Thomas, Cole Dahlquist and Sam Davis. Managing to create an interesting love triangle between the Audreys and Seymour by the end of the first act, Audrey II starts purring to the gullible Seymour about hunger pangs before escalating into the full-out show-stopper "Feed Me!"

Zach Thomas instantly connects with the audience, imbuing his Seymour with an innocence and purity that makes you want him to succeed. It's heartbreaking when things don't go his way. They both get us emotionally invested in their tenuous happiness as they belt out the score's best number, "Suddenly Seymour," about their unexpected, spontaneous feelings for each other.
In just over two hours San Clemente High School Theatre Arts presented a joyous show that caused its sold-out audience to cackle with belly-shaking laughter. Both cast and crew picked up "Little Shop of Horrors" and carried the show to seamless artistic heights.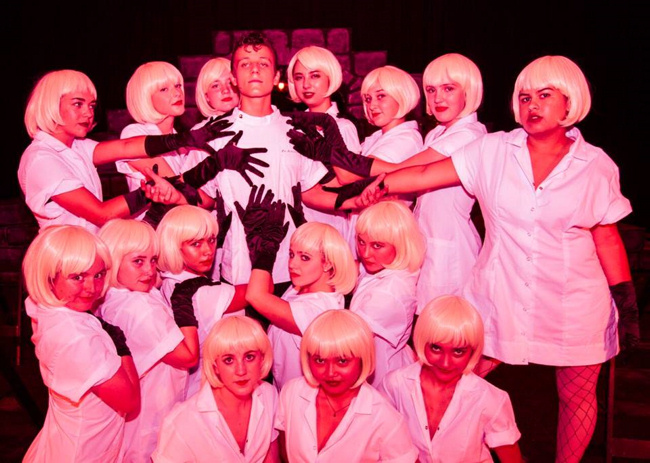 The effective prop values by Abby Ambach, especially on the various Audrey II puppets, and the appealing scenic design, led by Malcolm Morrison, were surprisingly detailed and represented well the gritty streets of Manhattan. Chloe Dahlquist and Sam Davis were stage managers; sound was managed by Collin Meyer; lighting leads were Annie Reyland and Addy Awtry; makeup/hair by Riley Abbott; costuming supervised by Maya Howie. Director Laurie Mason received her BA from UCLA, School of the Arts and attended high school herself at the esteemed arts schools, OCSA and Los Alamitos.

This show is recommended highly for the whole family. Get your tickets now before it's too late (starting at $10). http://schstheatrearts.com/tickets/

Performed September 28 - Ocotober 7, 2017

Chris Daniels
National Youth Arts

~ Cast ~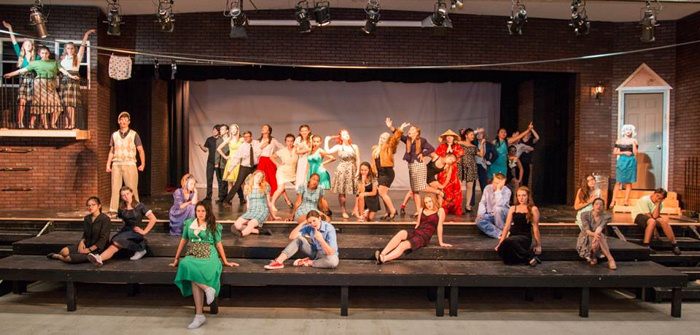 Add Artist Page

Seymour Krelborn: Zach Thomas
Audrey: Francesca Monson
Mr. Mushnik: Zack Mallgrave
Crystal: Emma Rhoades
Ronnette: Carlie McCleary
Chiffon: Emma Dawson
Audrey Two: Braxton McGrath
Orin Scrivello: Justin McCoy
The Voice: Jillian Greene
Bums: Robby Vilar, Joel Craft, Vincent DaCunha
Little Audrey: Taylor Mason
Little Seymour: Amanda Baer
Bernstein: Natalie Zanzonico
Mrs. Luce: Lainey Reyland
Skip Snip: Ashely Seng
Patrice Martin: Sophie White
Customer: Avery Sayler
Interviewer: Karina Repaire
Chinese Man: Abby Ambach
The Flasher: Ezekiel Wilcox
Radio Singers: Sydney Belden, Abbi Gutierrez, Viviana Moiso, Maggie Anderson, Sophie Matossian, Cambria Douglas

Dental Hygienists: Celina Gonzalez, Karina Repaire, Sydney Belden, Abbi Gutierrez, Avery Hazeleur, Maggie Anderson, Viviana Moiso, Natalie Zanzonico, Brie Simard, Sophie Matossian, Avery Sayler, Kiana Reid, Ashely Seng, Cambria Douglas, Brianna Blashill

Closed For Renovation: Cara Sanchez, Nyah Kaysen, Adam Bell, Liz Giacchetti, Abby Ambach, Vincent DaCunha, Lainey Reyland, Kira Aguilera, Joel Craft, Robby Vilar, Chloe Schweer, Jordan Jackson

Mushnik and Son: Jordan Jackson, Lexi Stein, Brianna Bashill, Jillian Greene, Bella Charley, Asheley Seng, Kiana Reid, Natalie Zanzonico, Sophie White, Maggie Anderson, Brie Simard, Sophie Matossian, Celina Gonzalez

Call Back In The Morning: Sam Davis, Skyler Boyd, Lainey Reyland, Asheley Seng, Cambria Douglas, Brie Simard, Lexi Stein, Brianna Blashill

Audrey 2 Puppeteers: Cole Conklin, Ben Thomas

Director: Laurie Mason
Costume Designer: Maya Howie (designer/alumni), Caitlin Condon, Ashlynn Blomker, Cambria Douglas, Bella Charley, Celina Gonzalez
Set Designer: Malcolm Morrison (lead), Meranda Franco, Cameron Kadell, Sonora Wells, Emily Colson, Justin McCoy, Jordan Jackson, Sophie White, Adam Bell, Lainey Reyland, Sophie Matossian, Delaney Wallace
Lighting Designer: Annie Reyland (designer/alumni), Addy Awtry (lead), Matt Condon, Luis Diaz
Sound Designer: Collin Meyer (lead), Weston Lewis, Tommy McCulloch, Lorenzo Marino
Hair/Makeup Designer: Riley Abbott (lead), Emily Eberhart, Sophie Wehr, Ashely Seng, Natalie Zanzonico
Choreographer: Laurie Mason