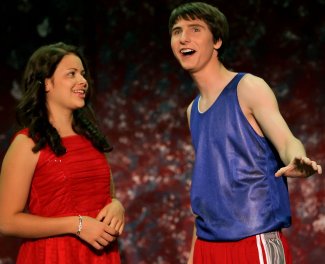 Can jock Troy Bolton and brainiac Gabriella Montez find romance without peer pressure interfering? Possibly, if they both agree to meet on the neutral ground of their high schoolís drama department. Though thatís hardly neutral ground so far as the schoolís prima donna thespian star Sharpay Evans is concerned, as Sharpay wants Troy for herself. Almost as much as she wants the lead role for herself!

The popular Disney Channel movie has become a phenomenon on youth stages across the country, filling up every seat in the house. As it did in Riverside Youth Theatreís recent production where Director Debbie Wolgemuth and her cast and crew treated their audience to a very fun, often creative, and always energetic performance.

They begin their production the way the film does, with the New Yearís Eve party where Troy and Gabriella get pushed together into a karaoke song, surrounded by partygoers who begin dancing to The Start of Something New. Brad Stephens plays a likeable Troy Bolton. Heather Noriega gives Gabriella a very real personality, beginning as a shy and reluctant singer who slowly feels more and more comfortable with Troy. Together they do a nice job with their duets.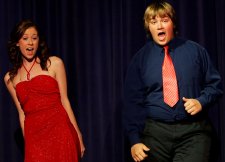 Sallie C. Griffin is a flirty and funny Sharpay with great personality as the jealous diva, but with a fragile side hiding just underneath, scared no one will care about her if sheís not a star. Aaron Wolgemuth is her eight seconds-younger twin brother who is just beginning to assert himself, but he has no trouble asserting himself in their auditions when he shakes his groove thing, with Sallie and Aaron demonstrating great charisma and moves in What Iíve Been Looking For and Bop to the Top. But Troy and Gabriella arenít their only competitors in those auditions. The schoolís theatre director Mr. Darbus desperately seeks out other auditions from the audience. When a young girl pipes up and sings a few lines of What Iíve Been Looking For, Sharpay glares angrily and nervously at both her new rival and at Mr. Darbus for giving the girl a chance.
Said Mr. Darbus is given truly a singular performance by Brian Jerz who offers a flamboyant and creative take on the male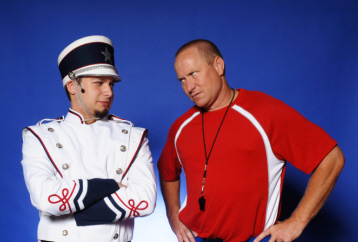 version of Darbus, adding to the role in many successful ways and doing it all with terrific expressions and body language. He lectures like an over-the-top Shakespearean monologue, punctuates all of the amusing auditions with hilarious reactions, and fights with melodramatic gusto his nemesis basketball coach (played by the adult member of the cast, Michael Lankford, who is in a constant state of rage). And Brian does it all in one outrageous costume after another, from a fancy bandleader get-up to a black leather vest suit to some glittery stuff.

Other highlights include a well-choreographed Keep Your Head in the Game featuring the basketball players, some amusingly artsy thespians, and some especially high-energy injections by an enthusiastic and talented group of cheerleaders (partially choreographed by one of the standout cheerleaders Alison Ogilvie) who rally the high school for the big basketball game with Pump Up the Jam and some techno music. It all ends on a strong note with the big cast number Weíre All in This Together that has Mr. Darbus pulling dance partners out of the first row of seats and gets followed by a standing ovation.

Performed May 11-20, 2007.

Rob Hopper
National Youth Theatre

~ Cast ~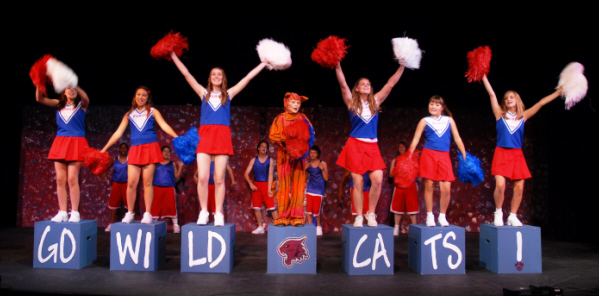 Troy Bolton: Brad Stephens
Gabriella Montez: Heather Noriega
Sharpay Evans: Sallie C. Griffin
Ryan Evans: Aaron Wolgemuth
Chad Danforth: Dylan Maurer
Taylor McKessie: Rebecca Park
Coach Bolton: Michael Lankford
Darbus: Brian Jerz
Zeke Baylor: Tanner R.T. Lauvai
Jackie Scott: Makenzie Denholtz
Kelsi Neilson: Taylor Mahaffey
Martha Cox: Brittnee N. Avalos
Ripper: Cody Noriega

Brainiacs:
Emily Bello
Mikayla Dyer
Jonathan Esqueda
Gina Guidoli
Jonathan Lane

Cheerleaders:
Marielle Bustamante
Lauren Lankford
Alison Ogilvie
Ashley Nollette
Megan Park
Kendall Quan
Hannah Wolgemuth (Mascot)

Jocks:
Van Baum
Vincent Baum
Bradley Graham
Anthony Pacheco
Michael Read
Tommy Waddell

Skaters:
Elizabeth "Lizzie" Hicks
Brianna Kurtz
Charles Jenkins (Hawk)
Zach Morrissey (Mongo)
Alexis Montoya
Brook Petty
Amber White

Thespians:
Tatyana Alford
Lauren de la Puente (Susan)
Alexandra Flores (Trio)
Emma Hines (Trio)
Katie Lipow (Cathy)
Karli McMurray (Trio)
Anthony Pacheco (James)
Melissa Smith (Cyndra)
Emma Hines (Trio)
Karli McMurray (Trio)

Director: Debbie Wolgemuth
Choregraphers:
Robert Lopez
Radames & Stacey Montes
Alison Ogilvie
Megan Park
Debbie Wolgemuth
Music Director/Sound Design: Steve Wolgemuth
Light Design: Jordan Smith
Stage Manager: Jacinda Pacheco
Costumes: Brenda Smith and Debbie Wolgemuth