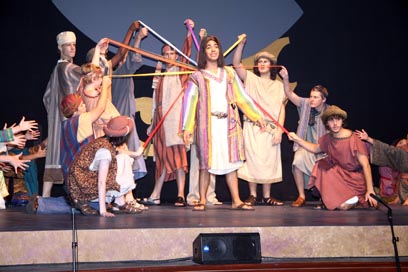 Dreams can drive us to do amazing things. But Joseph's dreams are making his eleven brothers a bit jealous. Perhaps Joseph really is being a bit "tactless and also rather dim" as he describes his dreams that depict his brothers' eleven small stalks of corn bowing down to Joseph's one large stalk of corn. Next thing the poor, surprised Joseph knows, he's being sold off to slavery in Egypt where things look bleak for the dreamer. After all, he doesn't speak Egyptian very well. But the narrators try to compel Joseph and us to take heart. As they put it, "we've read the book, and you come out on top."

The book they're referring to is Genesis, and this is the fun and whimsical musical retelling of the story of Joseph and his coat of many colors from the early collaboration between Andrew Lloyd Webber and Tim Rice. It is currently being staged by Riverside Children's Theatre in Vero Beach, Florida. And Director Kevin Quillinan and his cast do a great collaboration of their own by putting together a show filled with great humor and great singing within the walls of the large, newly renovated Riverside Theatre.

Leading us through the story are a couple of charming 16-year-old actors who share the role of the Narrator. Susan Moore, from Vero Beach High, has a great voice and style. Abby Colella, returning from school in Massachusetts to spend her summers in her hometown, has a natural sense for comedy with terrific expressions and stage presence. Together they playfully interact with the others characters who are led, of course, by Joseph, here played by his namesake, 19-year-old Joseph Ruel from Texas State. With strong vocals and a naively likeable demeanor, Joseph Ruel takes us from his happy-go-lucky youth, to his despair in prison (highlighted by the haunting Close Every Door number), to his sudden and prosperous rise in Pharaoh's court, and finally to his mixed emotions as his eleven brothers return, not recognizing him as the brother they had sold to Ishmaelites so many years ago. Joseph's reaction of love, pain, and forgiveness as his brothers have their heads bowed, groveling to the Egyptian leader, adds nicely to the heartwarming story.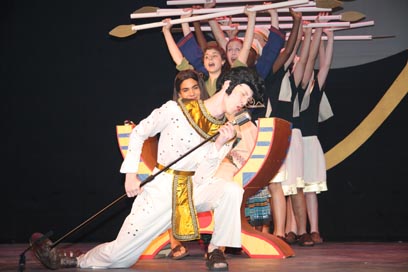 The rest of the cast is full of exceptional performances, beginning with the swivel-hipped King of Egypt/King of Rock Jamie Jones who, in hilarious over-the-top fashion, channels Elvis Presley's signature moves and voice, turning in the hip action even when pacing anxiously awaiting Joseph's interpretations of his dreams (a.k.a. "the things he saw in his pajamas"). He turns on the charisma so high that several of his female servants scream and faint dead away. Not to mention one male attendant…

Then there's the great group of brothers and their wives. Ben Earman captures the humor of the twangy country-western dirge One More Angel as he breaks the news to their distraught father Jacob (Tim Chastain) of Joseph's untimely passing from wrestling with a goat – the lament aided by his operatic wife (Katie Lanahan) and the rest of the siblings and wives who can't wait till Jacob wanders off in misery so they can turn their dirge into a hoedown. Brother Chris Girard takes us into the despair and starvation of Those Canaan Days with the amusing and well-sung French ballad, not finding much comfort from his wife Sarah Simon who is bored and irritated, only going through the motions of dancing with him before she finally storms off in a grumpy huff (a development that appears to be welcomed by the brother). And then there's the hilarious Benjamin Calypso led by the dynamic Mark Lambert that turns a tense Egyptian throne room into a cool party, the Pharaoh's guards (Kimmy Zerega and Austin Carroll) turning their spears into limbo poles.

Kevin Quillinan's show excels on several other fronts as well. The scenic design by Jon Moses is set off by an Egyptian Eye of Horus through which we occasionally see various pertinent pictures such as portraits of famous Biblical scenes, pyramids, and a desert cactus. April Bowman's costumes are full of creative and colorful (but not overly colorful) clothing that look good together, long skirts for the narrators that sort of remind one of Joseph's Technicolor coat, and some funky 70's garb for the disco scene. The choreography highlights the comedy, including Joseph breezily tapping/pushing his brothers into kneeling positions as he describes his dreams of dominance, Pharaoh's dance, and the dancing of Simeon with his disinterested wife. It also works well in the big numbers that include the entire ensemble, from ages 5 to 19, who put on such energetic numbers in the Benjamin Calypso and the 70's Go-Go Dancers in Go Go Go Joseph that lifts up and inspires Joseph and all dreamers like him (especially those who dream about the 1970s!).

Performed July 20-29, 2007.

Rob Hopper
National Youth Theatre

~ Cast ~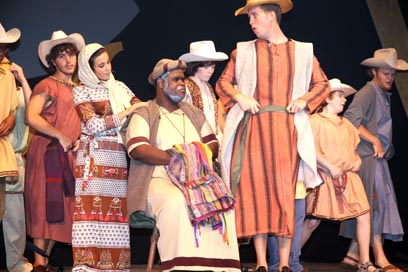 Joseph: Joseph Ruel
Narrators: Abby Colella, Susan Moore
Pharaoh: Jamie Jones
Jacob: Tim Chastain
Potiphar: Matthew Jones
Mrs. Potiphar: Bridgit Boulahanis
Baker: Brooke Snellings
Butler: Jenni Karabensh

~ The Brothers ~
Reuben: Ben Earman
Simeon: Chris Girard
Napthali: Mark Lambert
Levi: Quintin Smith
Isaachar: Alex Clark
Asher: Nate Karabensh
Dan: Jeff Liguori
Zebulon: Jay Wiggins
Gad: Matthew Jones
Benjamin: Theo Blumstein
Judah: Johnny Garde

~ The Wives ~
Reuben's Wife: Katie Lanahan
Simeon's Wife: Sarah Simon
Napthali's Wife: Bridgit Boulahanis
Levi's Wife: Amanda Reinhart
Isaachar's Wife: Katie Huntsberger
Asher's Wife: Alicia Almodovar
Dan's Wife: Jenni Karabensh
Zebulun's Wife: Shannon Maloney
Gad's Wife: Erin Dickerson
Benjamin's Wife: Elly Mohney
Judah's Wife: Kacy Carvajal
Jacob's Wife: Brooke Snellings

Ishmaelites:
Jamie Jones
Austin Carroll
Kaitlin Bell
Vanessa Velasquez
Camel: Cadence McCarthy, Kelli Adams
Goat: Kimmy Zerega
Prisoners:
Emily Jones
Nancy Carvajal
Kimmy Zerega

Pharaoh's Court:
Austin Carroll
Cadence McCarthy
Nancy Carvajal
Kelli Adams
Kimmy Zerega
Vanessa Velasquez
Kaitlin Bell
Emily Jones
Quintin Smith
Alex Clark
Jeff Liguori
Jay Wiggins
Matthew Jones
Johnny Garde
Katie Huntsberger
Alicia Almodovar
Shannon Maloney
Erin Dickerson
Elly Mohney
Kacy Carvajal

Children's Choir:
Taylor Beckmann
Rebekah Blumstein
Elizabeth A. Brewster
Halli Cardin
Greta Catherine Carter
Samantha Cass
Laney DeGroat
Caroline Granitur
Samantha Renee Hill
Abi Mecca
Marilyn Moore
Heather Nevins
Zoe Nevins
Ashley Rutz
Olivia Tardif
Chiara Villacorta
Christina Nicole Vivona

Director: Kevin Quillinan and Dee Rose
Music Direction: Karen Wiggins
Scenic Design: Jon Moses
Costume Design: April Bowman
Lighting Design: Mike Ramey
Sound Design: Karl Kern
Stage Manager: Alyssa Ruggerio
Technical Direction: Shawn Webber
Projections: Kevin Quillinan